14 March 2017
Prominent loyalist dies in UDA feud – muted response from unionist leaders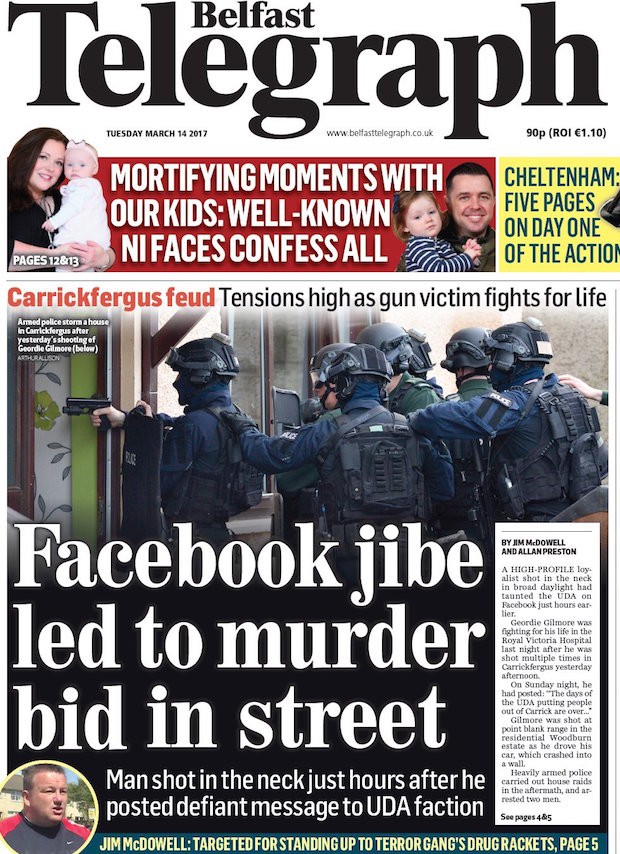 Last July, a mob of over 100 UDA members, some masked, surrounded Gilmore's home
GEORGE 'GEORDIE' GILMORE, the man shot and critically injured in Carrickfergus, County Antrim, on Monday died from his injuries today (Tuesday). Nationalists have remarked on the muted response from unionist politicians to the shooting.
Sammy Wilson, the DUP MP for the area, could only muster a limp condemnation, calling for the law to be "vigorously enforced in order to bring those involved to justice".
Sinn Féin MLA Michelle O'Neill condemned the murder and said:
"There is a duty on everyone in public life to work to end paramilitarism. That is the job of political leadership and Sinn Féin is committed to that task. I urge others to do the same."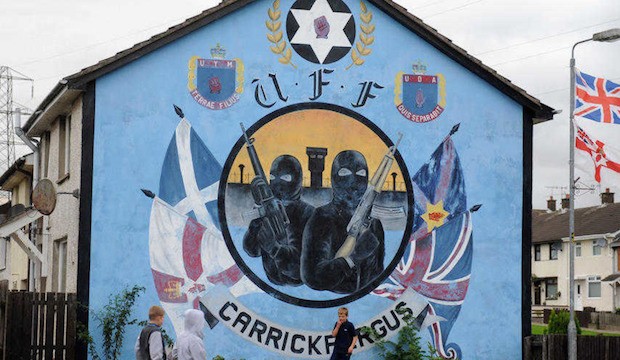 The attack on Gilmore took place in the coastal town which has been at the heart of serious UDA feuding over the past number of years
The feud is also being linked to an incident on Saturday 12 March when a doorman working in the Royal Oak bar suffered a severe beating after he was hit about the head with a fire extinguisher.
In the aftermath of the assault, when a number of men were arrested, Gilmore posted Facebook messages taunting the UDA. The 44-year-old wrote:
"Heard I'm getting the blame for the Oak . . . and I'm arrested. Well, I wasn't there and I'm not arrested."
He added:
"The days of the UDA putting people out of Carrick are over."
Last July, a mob of over 100 UDA members, some masked, surrounded Gilmore's home in the Glenfield estate where he had lived since 2013 after his luxury property at Sullatober Square in Carrickfergus was sold when he was convicted of mortgage fraud.
Gilmore and his brother Thompson were previously arrested and questioned about the killing and disappearance of Mark Gourley. The vulnerable 38-year-old was believed to have been abducted, murdered and secretly buried by the UDA in March 2009.
The "South East Antrim Brigade" of the UDA – which rejected the Good Friday Agreement and split from the main body of the loyalist group – has been embroiled in internecine feuding in recent years, with Gilmore once seen as a major figure who had fallen foul of the organisation.
While drugs and racketeering are at the heart of the feuding, the gang's reputation for sectarianism was highlighted with the killings of Gary Moore in 2000, Gavin Brett and Trevor Lowry in 2001 (both were Protestants killed in the mistaken belief they were Catholics), and postman Daniel McColgan and GAA player Gerard Lawlor in 2002.