1 March 2017
NUI Galway goes to the polls Thursday too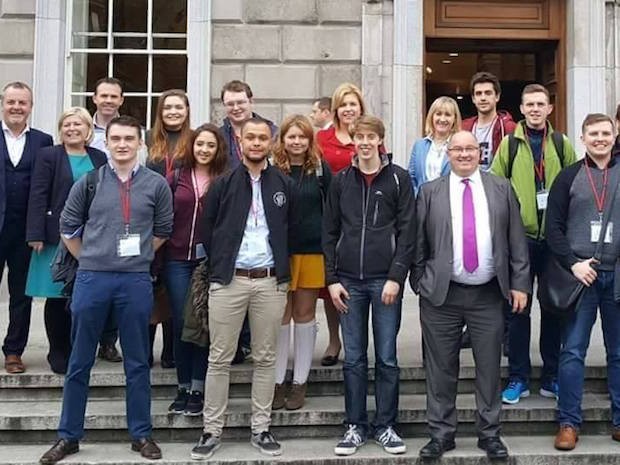 ON THURSDAY, it's not only voters in the North that go to the polls – NUI Galway students will be voting on an Students' Union referendum on the reunification of the island of Ireland.
The motion states:
"That NUI Galway Students' Union supports the reunification of the island of Ireland and calls on the state to hold a national referendum on the question of such reunification."
Sinn Féin NUIG, as the initiators of the referendum by gaining well over the 500 signatures required to hold the poll, are very clear on their message, a spokesperson told An Phoblacht.
Luke Mac an Bháird, Cathaoirleach of Sinn Féin Society NUI Galway, said:
"We are a republican society that believes in a united Ireland and are unapologetic for that fact. In the wake of Brexit, however, we have accelerated our calls for Irish unity and believe now is the time to end partition. It is bad enough that the small island of Ireland is divided within the EU, but the island of Ireland cannot afford an external EU border.
"As it has already been made clear, the majority of people in the North, including young people, voted to remain in the European Union and that vote must be respected to protect the opportunities for young people that the European Union brings.
"Our mission throughout this campaign will be to highlight and emphasise how students from the North won't be able avail of programmes such as Horizon 2020, Erasmus, Erasmus+, Creative Europe etc, which are all funding streams and opportunities for students and graduates to avail of.
"In addition, if 'Brexit means Brexit', a student from the Six Counties wanting to attend university in the 26 Counties will have to pay rates as if they are from a third country.
"This referendum is about standing up for the right of a student from Galway to easily and affordably study in Belfast, and for a student from Belfast to easily and affordably study in Galway.
"Sinn Féin NUIG will campaign on these issues amongst others that will have direct and severe consequences for students across this island. We are stronger united which is why students are now mobilising for Irish unity."