13 February 2017
Garda whistleblower has private meeting with Sinn Féin deputy leader and Justice spokesperson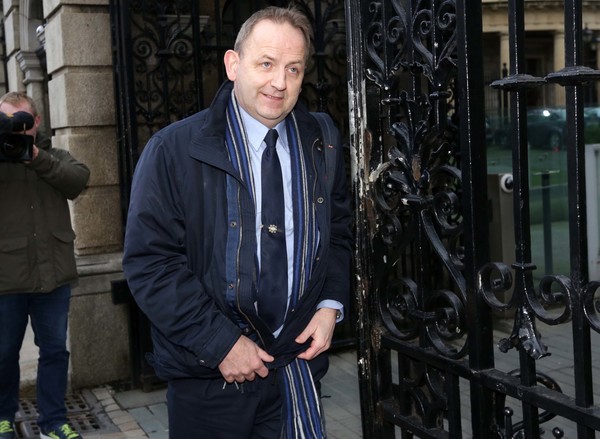 'When the person at the centre of the onslaught and scandal tells you they have no confidence in a Commission of Investigation then you have to take note of that'
GARDA WHISTLEBLOWER Maurice McCabe had a private meeting with Sinn Féin deputy leader Mary Lou McDonald and Justice spokesperson Jonathan O'Brien in Dublin late on Monday afternoon.
The TDs were shown the files held by the state's Tusla Child & Family Agency on Maurice and his family. Mary Lou described them as "deeply and profoundly shocking when seen written down . . . awful stuff".
● Mary Lou McDonald and Jonathan O'Brien met whistleblower Maurice McCabe
Maurice McCabe is "adamant" that a Commission of Investigation is not adequate or acceptable to him given "the smear campaign and the use and misuse of institutions of the state to launch a full attack on him, his character and on his family", Mary Lou said.
The Sinn Féin TDs said that, during "a very detailed conversation" with him, he reiterated his call for a full public inquiry.
"Clearly, when the person at the centre of the onslaught and scandal tells you they have no confidence in a Commission of Investigation, that the experience of the O'Higgins Commission of Investigation has left them so burned that they will not countenance another such process, then you have to take note of that. And we support Maurice McCabe's call for a full public tribunal of inquiry."
She said that Sinn Féin is telling the Government and Fianna Fáil and anyone else arguing for a Commission of Investigation that this option is therefore "defunct and must be taken off the table".
The Sinn Féin TDs were shown the Tusla files. Maurice told them that, of all the things that had happened to him, his wife Lorraine and their children over the past eight years, this aspect has been "the most devastating of blows to him and his family".
Maurice McCabe expressed no view on Sinn Féin's motion of no confidence in the Government to be heard in the Dáil on Wednesday although it was detailed by the two TDs. It would not have been fair or appropriate to ask him to be "dragged into matters of political controversy" by asking for his endorsement, Mary Lou said.
She said, however, that if Fianna Fáil is serious about accountability in this scandal, it will support Sinn Féin's motion of no confidence in the Fine Gael/Independent Government.
"Maurice McCabe was let down by An Garda Síochána, by Tusla, and by sections of the media and individuals within it," Mary Lou said.
"Maurice has now been let down by this government and the previous government. Now is the moment of reckoning and of calling all to account – and our firm position is that this happens through a general election."