2 January 2017
'Home Sweet Home' asks supporters to join in march to Finance Minister's office – Tuesday 12 noon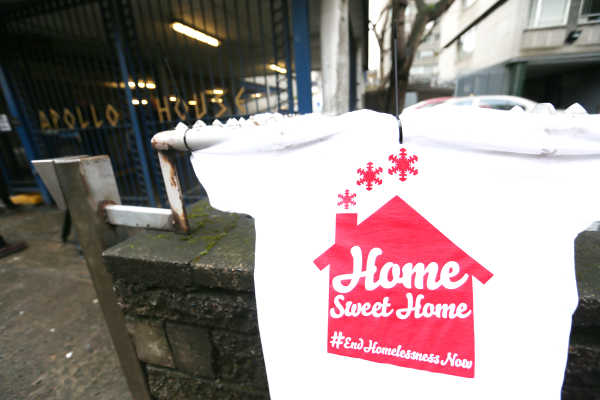 'The housing crisis is bigger than Apollo House. We just want homes'
WITH the court deadline of 11 January to vacate Apollo House fast approaching, residents and campaigners are asking for the Government to respond to their fears about what will happen if they are evicted next week.
They will march from Apollo House in Tara Street/Poolbeg Street, near Dublin's River Liffey, at 12 noon on Tuesday 3 January to the offices of the Minister for Finance.
There they will hand in an open letter to Finance Minister Michael Noonan, outlining his legal obligations to intervene in the housing crisis and to end homelessness.
Amongst residents' concerns are the prospects of returning to sleeping on the streets, having to move from hostel to hostel on a daily basis, sleeping on a mat on a floor in a crowded dorm, or being forced to stay in environments where alcohol and drug abuse is prevalent.
One resident said:
"We have been told that, after 11 January, Apollo House will close. We need safe, secure accommodation to make sure we are not on the streets after 11 January.
"The housing crisis is bigger than Apollo House. We just want homes."
So far, the state has failed to engage with the campaigners and residents in Apollo House, leaving residents and those supporting them feeling uncertain about their future.
Residents issued a powerful video appeal to the Government on Facebook on New Year's Day.
The latest figures on homelessness released by the Department of Housing show that there are almost 7,000 adults and children homeless across the country. In the space of one year, from November 2015, homelessness in Ireland has increased by 33.2%.
The figures also show that the number of families without a home living in emergency accommodation across the state during November has risen to 1,205 families.