16 May 2016 Edition
Exposed – 'Former nazi' masquerading as a journalist
Legal action by new Sinn Féin TD answers online hate campaign
Michael McGrath attempted to register the Irish National Socialist Party which was circulating leaflets calling for the jailing of gay people and the repatriation of "non-white doctors"
A 'FORMER' NAZI posing as a "journalist" is facing legal action over statements  he published about newly-elected Sinn Féin TD Kathleen Funchion on his "Kilkenny Journal" website and social media accounts, An Phoblacht has learned. 
Michael J. McGrath, who has described himself in the past as "Chief Lieutenant" of the nazi Irish National Socialist Party (INSP) – which was registered to his former home in Dominic Street, Kilkenny – is well-known for his extreme right-wing views and attempts to smear left-wing election candidates using the veneer of credibility afforded to him through his use of the now-defunct Kilkenny Journal newspaper's name.
McGrath has masqueraded online as the publication, using its credibility and name to spout his racist and anti-gay views. The Institute of Journalists previously wrote to McGrath asking him to remove references claiming membership of their organisation from his website. 
In the run-up to the Marriage Equality Referendum he caused outrage when a purported 'news story' appeared on the site entitled "Paedophiles set to pose as gays to marry and adopt kids." A barrage of criticism forced McGrath to remove the article.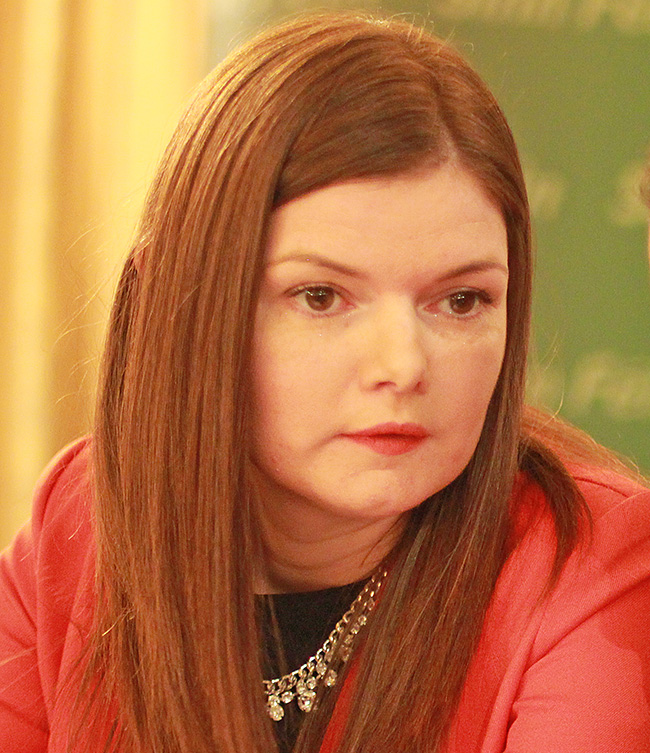 • Newly-elected Sinn Féin TD, Kathleen Funchion
McGrath's main target in recent years has been Sinn Féin, who he claims has "become a Trotskyist outfit" and is an "anti-national liberal elitist party".
McGrath has also thrown his weight behind new anti-immigration party Identity Ireland, whose attempt to launch an Irish version of Germany's anti-immigrant Pegida street organisation crashed when the tiny racist group was met with hundreds of anti-racist protesters in Dublin earlier this year.
McGrath has accused the media of being scared to report on immigration "for fear of being dubbed 'racist'" and claims the National Union of Journalists has "at its core a wicked policy for the immigrants to outbreed the natives so there won't be any Irish or English left in a century or so".
Complaining about Sinn Féin, foreigners and the LGBT community isn't McGrath's only pastime though. He also loves nothing more than engaging in feuds with druids! After all, he claims to be the "Arch Druid of Tara and All Ireland".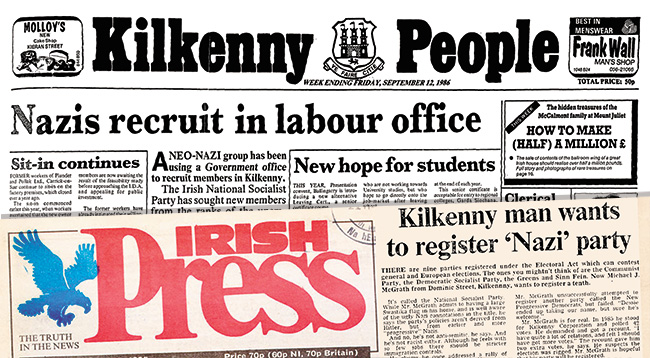 • Michael McGrath attempted to officially register his far-right National Socialist Party in 1990
Speaking to the Sunday Mirror in 2006, during the height of a feud between rival self-proclaimed druids, McGrath admitted he had called for the shooting dead of a rival but later said he regretted his comments:
"Connor [a rival druid] is a vicious little English pagan and I do wish he was dead. But some of the language I used about gay people was excessive. It was just done in the heat of the moment."
He also admitted to describing Hitler as "a genius" for the "economic miracles" in Germany but said he had "gone mad" by ordering the Holocaust. 
Bizarrely, McGrath occasionally denies being the same Michael McGrath who stood for election to Kilkenny Corporation in 1985. According to the Sunday Times, McGrath "promoted the repatriation of all non-white doctors". He polled 42 votes.
"There was another Michael McGrath who operated out of this same address in Kilkenny, but he was a totally different person. I heard he died over ten years ago in England," he once claimed.
During the same period, McGrath's INSP circulated a leaflet entitled "Smash AIDS blitzkrieg", signed by a Michael J. McGrath and listed at his former address. In it he called for gay people to be jailed. Senator David Norris read the entirety of the leaflet into the Seanad record, describing it as "clear and explicit incitement".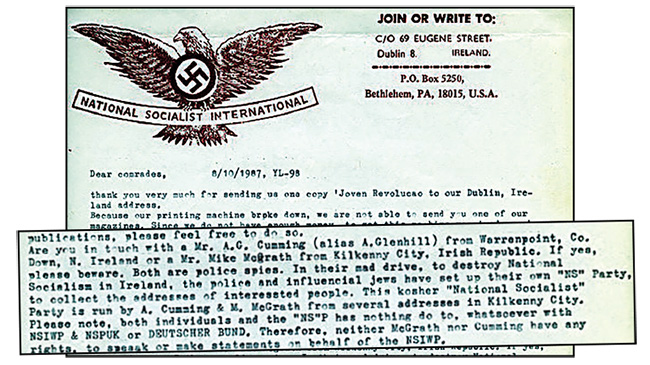 • A letter distributed by the neo-nazi NSWIP denouncing a "Mike McGrath from Kilkenny" as a police spy
Shortly afterwards, McGrath fell foul of the rival neo-nazi National Socialist Irish Workers' Party (NSWIP). A letter sent to members from the organisation's headquarters in Dublin's Eugene Street described a "Mr Mike McGrath from Kilkenny City" and another man from Warrenpoint as "police spies". It urged members to "beware" of the NSP which "has nothing to do with NSIWP or NSPUK".
Even before the use of social media, McGrath had form in distributing scurrilous material about individuals. In 1996 he received a suspended sentence for distributing an obscene letter about a local garda. 
The Sinn Féin organisation in Kilkenny says it hopes this legal action against McGrath will put an end to his vicious online campaign.