5 May 2016
5 May 1916 – Major John MacBride faces British guns again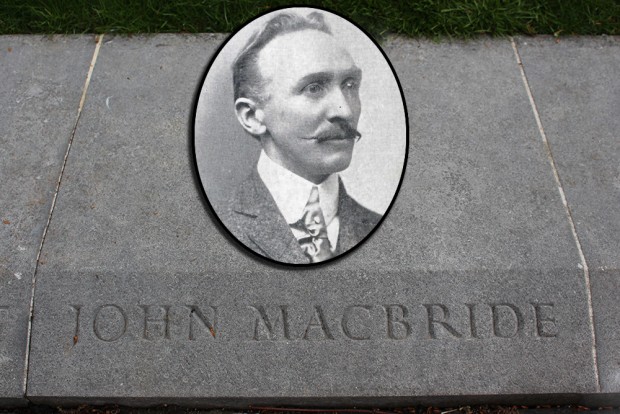 John MacBride was born at The Quay, Westport, County Mayo, in 1865.
He joined the Irish Republican Brotherhood (IRB) and was associated with Michael Cusack in the early days of the Gaelic Athletic Association. He also joined the Celtic Literary Society through which he came to know Arthur Griffith, the founder of Sinn Féin who was to remain a friend and influence throughout his life.
Beginning in 1893, MacBride was termed a "dangerous nationalist" by the British Government. In 1896, he went to the United States on behalf of the IRB. On his return he emigrated to South Africa
He worked in a gold mine outside Johannesburg. He was joined by Griffith and in 1898 they were both involved in the commemoration of the 1798 Rising in the Transvaal.
The following year he had a leading role in organising the Irish Brigade, a commando force of 300 Irishmen that fought on the side of the Boers in the war with Britain. MacBride became second in command of the force, holding the rank of major.
The force had considerable success in the field and was widely publicised and glamourised in Ireland where it was commonly referred to as 'MacBride's Brigade'. Some of the battles in which he fought included taking on Irish regiments of the British Army such as the Dublin Fusiliers.
(MacBride's reputation was so high in certain circles that in 1900 a group of republican activists put his name forward against the Home Rule candidate at a by-election in South Mayo but he did not win the seat.)
Following the war he moved to Paris, where he married Maud Gonne, and a year later his son Seán was born. His marriage with Maud failed and MacBride moved to Dublin, where he got work as a water bailiff with Dublin Corporation. While in Dublin he became deeply involved in Irish republicanism. However, because he was so well known to the British he was not involved in the planning of the Easter Rising.
On Easter Monday, while in Dublin to meet his brother, he found himself in the middle of the rebellion. MacBride offered his services to Thomas MacDonagh, whom he met on Grafton Street, and was appointed second-in-command at the Jacob's factory.
For his part in the Rising, MacBride was executed by the British on 5 May 1916, two days before his 51st birthday. Facing the British firing squad, he refused to be blindfolded, saying:
"I have looked down the muzzles of too many guns in the South African war to fear death and now please carry out your sentence."