3 May 2016
3 May 1916 – Executions of the Rising leaders begin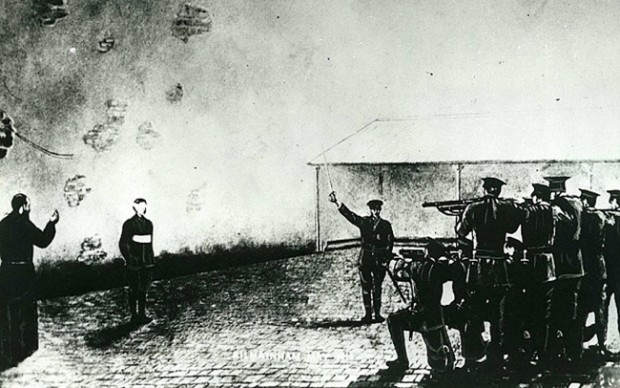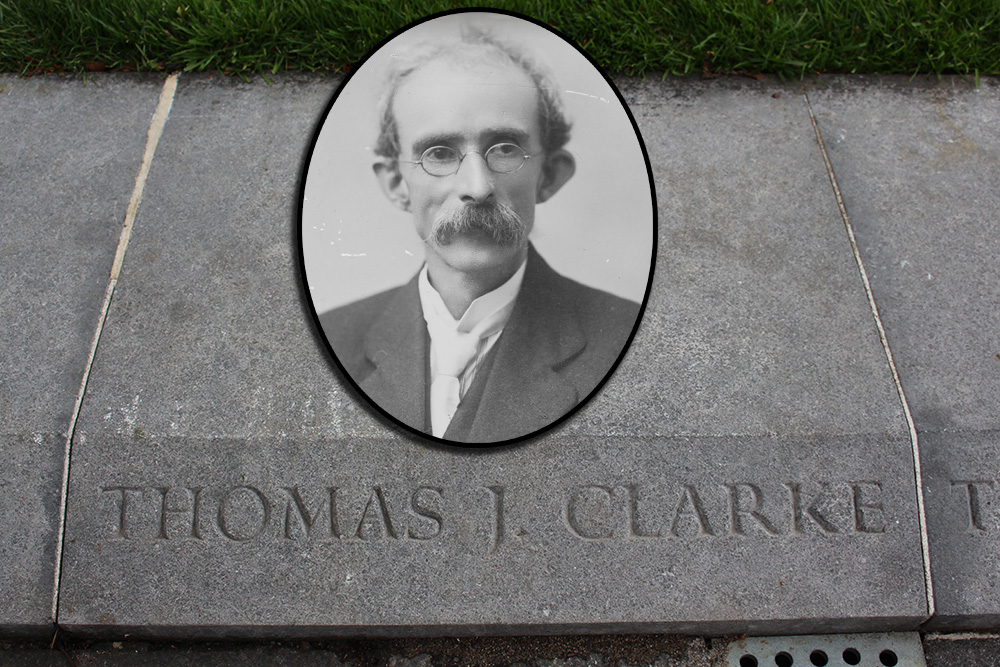 Thomas Clarke
IT HAS BEEN SAID that without Tom Clarke there would not have been a Rising.
It was Clarke who, although receiving little of the credit for the Rising's achievements, proved its inspiration. Tom Clarke was living proof of the continuity of the Irish freedom struggle with his involvement in the previous generation's attempts at a national revolutionary movement. Fifteen years in English prisons was his reward for involvement in the dynamite campaign of the 1880s when the IRB launched a series of bombings throughout major English cities – 15 years of woeful, degrading treatment in which many of his imprisoned comrades were driven mad by the torture and loneliness.
In a tribute fitting only for a revolutionary, it has been said that the largest police file in Dublin Castle was reserved for Thomas James Clarke.
Born in the Isle of Wight in 1858, his father, a County Leitrim man, was stationed there as a sergeant in the British Army. Later the family moved to Dungannon, County Tyrone. In 1881, already a member of the Irish Republican Brotherhood (IRB), Clarke emigrated to America. He married Kathleen Daly, daughter of fellow felon John Daly of Limerick, and in 1908 returned with his family to Ireland, determined to continue his efforts to achieve national liberation.
Settling in Dublin, Clarke bought a tobacconist store in Amiens Street and it became an underground hub of revolutionary activity where Clarke nurtured around him a group of young radicals who where to form the nucleus of the Rising .
Similar to all of the signatories, barring Connolly, Clarke's physical appearance would have lent belief to a profession of a shopkeeper or an accountant. Short, be-spectacled and with a long droopy moustache, his outward posterior hid a fiery determination to fulfill his country's liberty.
On Easter Sunday, with action just hours from commencing, a potential hammer blow was struck against the Rising. Eoin MacNéill, Chief of Staff of the Irish Volunteers, cancelled the planned manoeuvres for Easter Sunday, which were being used as a cover by the IRB to start the rebellion. A meeting was convened in which Clarke was to display a characteristic call for action. Taking the chair, he declared that the Rising should go ahead and that once the fighting had begun in Dublin that Volunteer units throughout the country would rise in support of their comrades. His motion was voted down and the fight was postponed for 24 hours.
His never-say-die outlook on life stayed with until his last moments, when he commented to the military court-martial that if spared he would do the same again. Whispering to his wife, on the last night of his life, he said: "I am to be shot at dawn, I'm glad it's a soldier's death I'm getting."
Clarke was among the first group of the leaders to be executed, on 3 May 1916.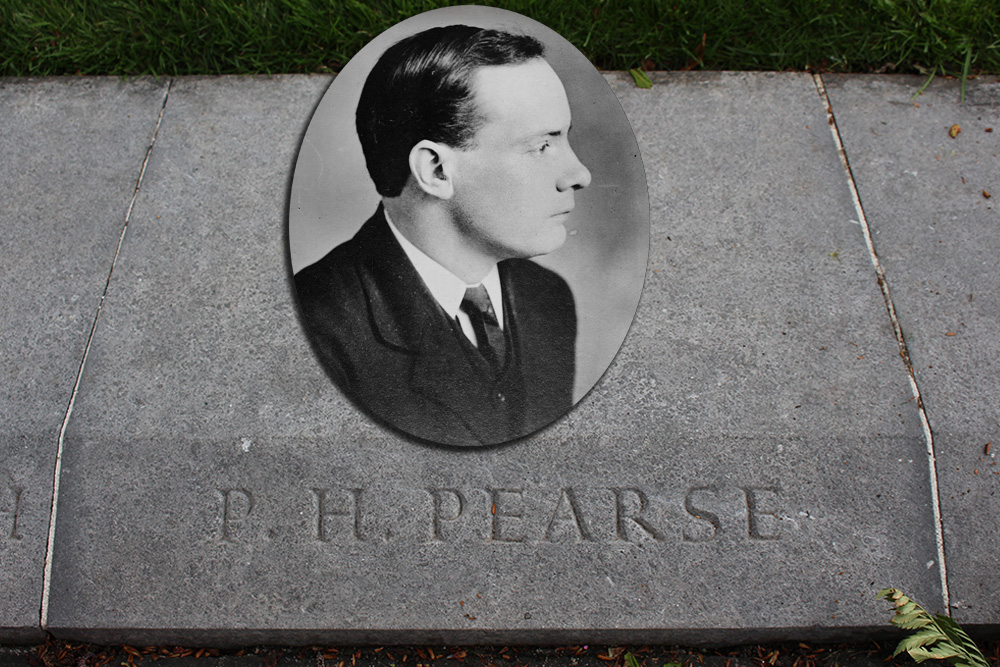 Pádraig (P. H.) Pearse
PATRICK HENRY PEARSE, the man most readily identified with the rebellion, was perhaps the most colourful of the leaders.
He was a man blessed with many talents: idealist, visionary and dedicated. It was his imprint, along with that of Connolly, that can be most clearly felt when reading the Proclamation. His socialism, his cultural ideals, his firm belief in the righteousness of revolutionary warfare all combined to make Pearse the rightful leader of the republican forces of Easter Week.
The positions of President of the Provisional Government and Commandant General of the Irish Republican Army sat easily with him as Easter Week unfolded and death faced him square in the eye.
In 1912, when the Home Rule question was to the fore in Irish political life, Pearse was a very different man to the gallant soldier who inspired the Easter Rising. He actually stood on a Home Rule platform with John Redmond, leader of the Home Rule movement, and was prepared to accept some form of limited independence for the country. This was especially peculiar given Pearse's strong cultural ties with the Irish-language movement and the Gaelic cultural revival in general. However, by 1913 his position had altered dramatically and he joined the Irish Republican Brotherhood.
His rise to prominence within the movement was rapid, quickly becoming a member of the Supreme Council. After the death of the legendary Fenian Diarmuid O'Donovan Rossa, Pearse spoke at his graveside, delivering one of the most memorable political speeches in the history of Irish republicanism:
"Life springs from death, and from the graves of patriot men and women spring living nations . . . They think they have purchased half of us and intimidated the other half . . . but the fools, the fools, the fools!. They have left us our Fenian dead, and while Ireland holds these grave, Ireland unfree shall never be at peace."
From start to finish it was Pearse leading from the front; it was he who read out the Proclamation; and it was he who declared the surrender of the GPO garrison.
His fate was never in doubt.
On the morning of his execution, Pearse wrote to his mother outlining his feelings on his impending doom:
"This is the death I should have asked for if God had given me the choice of all deaths – to die a soldier's death for Ireland and for freedom . . . People will say hard things of us now, but later on will praise us."
Pádraig Mac Piarais died for Ireland on 3 May 1916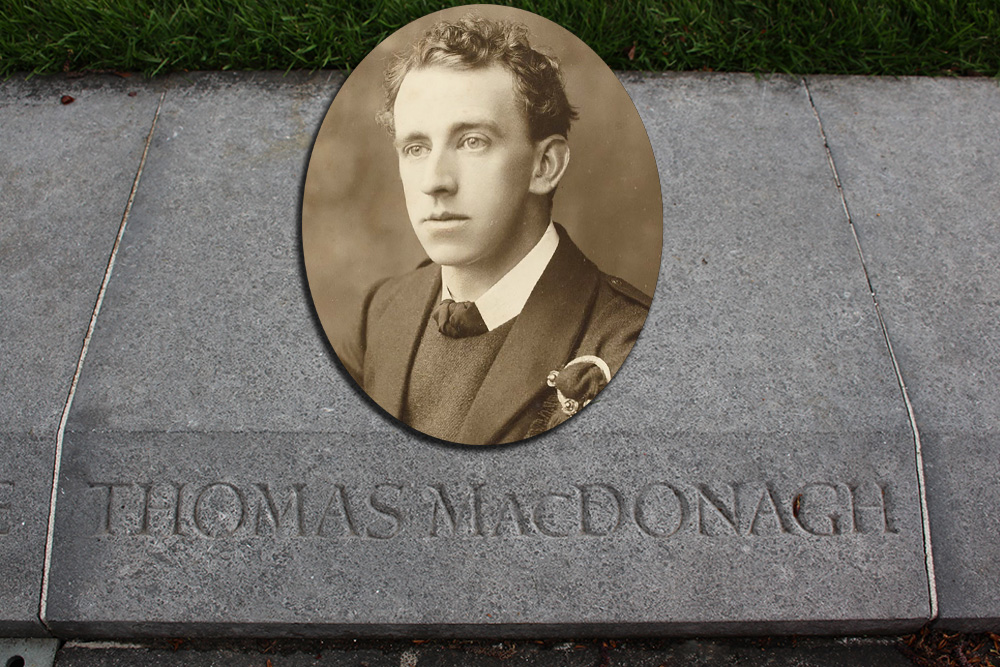 Thomas MacDonagh
IN THE EARLY 1900s, Thomas MacDonagh would have been recognised as what could only be described as a 'moderate nationalist'. When the issue of Home Rule once again reared its head, he supported this and not the more radical policies of the Irish Republican Brotherhood.
At the time he was a happily married, middle-class gentleman whose main focus in life was on European literature and the Gaelic cultural revival. The vitriolic manner in which the British Conservative Party attempted to deny Home Rule, however, aroused his patriotism and eventually led to his execution by firing squad.
A Professor of English at the National University, his poetry would lend to the rebellion an artistic touch. His verse revolved around the twin themes of Ireland's nationhood in a cultural and political sense.
Ah! Bold and leal, in the bearna baoghail
Like brothers at last uniting,
Stout heart and hand, they took their stand,
For Ireland, for Ireland fighting.
Some speak of victories, of battles fought,
With never a gun's loud pealing;
Of freedom won and the rights long sought,
With never a life-blood's sealing.
Ah! With ring of steel, the bearna baoghail
Ever echoes the nation's calling;
And he loves her best who with dauntless breast
Dies there, for Ireland falling.
He joined the Irish Volunteers at their founding meeting at the Rotunda Hospital in Dublin, having previously become a member of the IRB. During the Easter Week fighting, the Second Battalion came under his command which covered the areas from Dublin Castle to St Stephen's Green. Stout resistance to the crown forces was found in his operational area, due in large part to the influence of Constance Markievicz.
During his court-martial, MacDonagh's true poetic character came to the fore. Addressing those who had just passed judgement that his life should end, MacDonagh spoke:
"There is not much left to say. The Proclamation of the Irish Republic has been adduced in evidence against me as one of the signatories; you think it already a dead and buried letter but it lives, it lives. From minds alight with Ireland's vivid intellect it sprang, in hearts aflame with Ireland's mighty love it was conceived.
"The British occupation of Ireland has never in more than a hundred years been compelled to confront in the field of fight a rising so formidable as that which overwhelming forces have, for the moment, succeeded in quelling. Such documents do not die. This Rising did not result from accidental circumstances . . ."
Thomas MacDonagh's wife was never to see her husband in his final day on Earth. 
Along with Pádraig Pearse and Tom Clarke, Thomas MacDonagh was shot at dawn on 3 May 1916.