22 April 2016
The Irish Volunteer - Óglach na hÉireann, Volume 2 - Number 72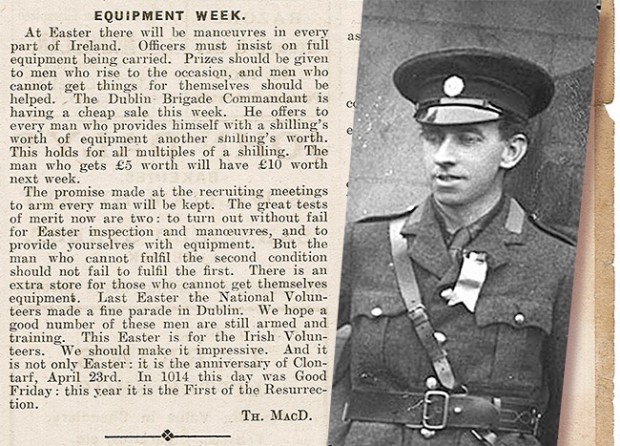 This paper is dated the day before Easter Sunday 23 April, when the Rising was due to begin. The articles would have been written and submitted to the printer some days before that. On 22 April itself MacNeill issued his disastrous countermanding order which almost completely scuppered the Rising but for the Military Council's decision on Easter Sunday to go ahead the following day, Easter Monday 24 April. In light of those events the final' Irish Volunteer' in this series has an unreal and ghostly air. 'Notes from Headquarters' says preparations for "a very interesting series" of Easter Manoeuvres are "now nearing completion". As if to throw Dublin Castle off guard they conclude that "it is not necessary to tire the men with anything which will make too large a demand on their strength and patience".
A short note announces the publication that week of Pearse's pamphlets 'The Spiritual Nation' and 'The Sovereign People', at a penny each. And in the only hint of the imminent Rising that would change Ireland forever, Thomas MacDonagh concludes a piece titled 'Equipment Week':
"This Easter is for the Irish Volunteers. We should make it impressive. And it is not only Easter; it is the anniversary of Clontarf, April 23rd. In 1014 this day was Good Friday: this year it is the First of the Resurrection."
The Rising ended this series of 'The Irish Volunteer' with some of its contributors executed and its editor MacNeill imprisoned. A new series would later reappear as 'An tÓglach', an internal bulletin for the Irish Republican Army which was born on Easter Monday 1916.