6 May 2015
Wave of attacks on Derry republican leaders by opponents of Peace Process, says Martin McGuinness
THE WAVE of arson and paint-bomb attacks that has damaged the homes and cars of prominent Sinn Féin members in Derry will not intimidated, Martin McGuinness said, adding that he believes anti-Peace Process republicans are responsible for the attacks and threats.
The deputy First Minister was speaking after his Derry home was paint-bombed at the weekend while his grandchildren were inside.
An arson attack followed against Sinn Féin activist Seán McMonagle.
Later, bomb threats were made to Raymond McCartney MLA and Martina Anderson MEP (pictured).
There was particular anger over the threats to Martina Anderson's home as it is well-known that her 90-year-old mother, who suffers from Alzheimer's, lives there too. Martina's mother, who is unable to walk or talk, was woken in the middle of the night so a search could be carried out.
Martin McGuinness tweeted after the threats to Martina Anderson's family:
"Our work for peace, reconciliation and a better future goes on. #Leaders."
Raymond McCartney pointed out that party colleagues Mickey Brady and Conor Murphy in Newry & Armagh had also been attacked.
"Clearly the people behind this are intent on intimidating our party activists and disrupting the services we provide to all the public," McCartney said.
"It is an attempt by negative elements to disrupt what has been a positive election campaign, highlighting all that is positive in the city.
"Sinn Féin will not be intimidated by these threats and we have continued with our work of providing first-class constituency services to all in the community."
Threats were also made against party premises in Derry City.
Cars belonging to two Sinn Féin councillors, Colly Kelly and Sandra Duffy, were set on fire on Tuesday night.
Martin McGuinness tweeted on Wednesday morning:
"With overnight attacks on Sinn Féin Councillors Sandra Duffy and Colly Kelly in Derry, I have no doubt anti-democratic dissidents responsible. Peace and democracy are the only way forward. Ongoing concerted dissident attacks on SF elected reps and their families will fail. #unbowed."
Gerry Adams – whose family home in west Belfast was reported on Wednesday morning to have been subject to a bomb threat – said that those behind the attacks are opposed to the Peace Process and want to turn the clock back to the violence of the past.
"Those responsible have nothing to offer the people of Ireland," the Sinn Féin leader said.
"They have no strategies or political programmes.
"They must be resisted and rejected.
"Sinn Féin will not be intimidated by these groups."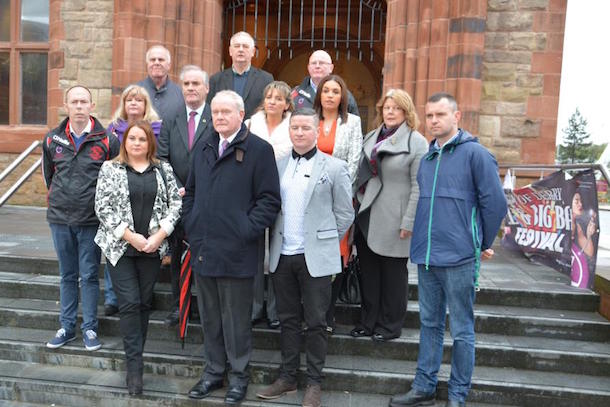 ● Sinn Féin elected reps with deputy First Minister Martin McGuinness MLA and Martina Anderson MEP stand defiant in Derry on Wednesday morning as they address the press
◼︎ Separately, Belfast City Councillor Jim McVeigh was verbally abused and his car attacked by loyalist protesters at the gates of Belfast City Hall on Tuesday evening.
Jim McVeigh said:
"As I tried to enter the back gates of City Hall, my car was surrounded by a crowd of loyalist protesters.
"My car was kicked, bounced and struck with sticks.
"I was verbally abused and several of the crowd were shouting insults about the murder today of Gerard Davison. Their behaviour was despicable.
"I intend to make a formal complaint to the police and ask that the people responsible be investigated.
"Sinn Féin will not be intimidated by thugs. We will continue to pursue our equality agenda in Belfast City Council."