1 December 2014 Edition
Liadh Ní Riada MEP hosts LEADER delegation in Brussels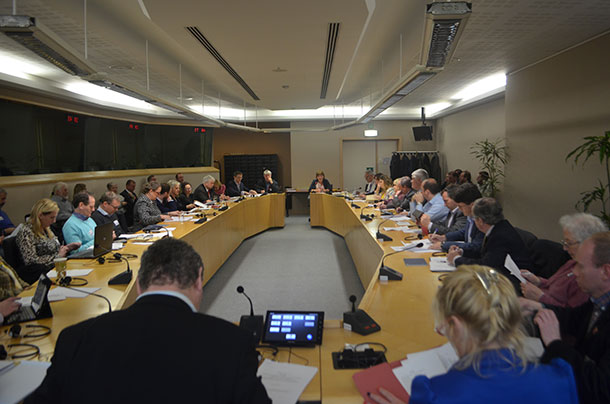 'The LEADER programme is under attack from a Department of Environment power-grab begun by Phil Hogan and continued by his successor, Alan Kelly'
SINN FÉIN MEP Liadh Ní Riada hosted a delegation of key stakeholders in the rural and local development sector in Brussels on Tuesday 18 November. The delegation met with representatives of the European Commission, the Irish Government and the Stormont Executive.
LEADER is a European-funded rural development programme that seeks to promote and support projects initiated at a local level to revitalise rural areas and promote sustainable job creation.
Liadh Ní Riada said:
"The LEADER programme in the 26 Counties is under attack from a Department of Environment power-grab begun by Phil Hogan and continued by his successor, Alan Kelly. Their plan seeks to take control of LEADER away from local development companies and place it in the hands of local authority managers. This will be detrimental to the bottom-up approach that is such an important part of the LEADER programme."
The transfer of control from community-embedded companies to local authorities removes the crucial community control element from the programme. The European Commission has yet to adjudicate on whether the Irish Government's plans are allowable under LEADER regulations.
Liadh explained the peculiar situation that has arisen as a result of Phil Hogan's appointment as Agriculture Commissioner:
"The European Commission has rejected the Government's changes twice already and now we are in the incredible situation where newly-appointed Agriculture Commissioner Phil Hogan has responsibility for giving the green light to his own plans."
Hogan and Kelly's power-grab has the potential to force many local development companies to close and threatens hundreds of jobs as LEADER funding underpins many of the other programmes they run.
SIPTU Sectoral Organiser Eddie Mullins spoke of the situation faced by many rural development workers who are on protective notice:
"The Department of the Environment is making decisions that will remove peoples' employment in this sector but won't enter into meaningful dialogue with us. Despite huge reductions in funding, rural and local development workers have maintained a high level of service. Environment needs to take responsibility and engage with workers."
Senator Trevor Ó Clochartaigh spoke of the loss of experience and critical expertise if the local development companies are sidelined in favour of local authorities:
"Before becoming a public representative I worked as a Partnership Manager. I know from experience that local groups under local control are key to success. Local knowledge and experience is vital, and subsidiarity is the key to rural development; the alternative, unfortunately, is rural regression."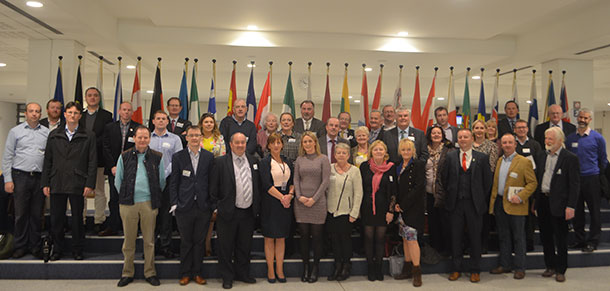 Maura Walsh, CEO of IRD Duhallow, pointed to a litany of errors, contradictions and inconsistencies in Phil Hogan's and Alan Kelly's plans:
"As a sector we have been treated extremely badly by Government, despite huge public and private sector support. We have been kept in the dark, misinformed, and subject to a dirty tricks campaign. We didn't have sight of the proposed changes until September and consultation has been minimal yet we see that not only have local authority managers been kept informed throughout the process but Alan Kelly has changed the plan at their request.
"We are being undermined by ministers who see LEADER as nothing more than a fund to dip in to, as opposed to our vision of a strategic development programme for rural areas.
"Sinn Féin Cork County Councillor Rachel McCarthy raised the atmosphere of confusion and uncertainty that has marked the setting-up of the new local authority committees designed to oversee LEADER:
"We have top-down instructions changing all the time, clear conflicts of interests, total confusion and I know that many of these committees have not even met yet. This isn't only confined to Cork but is happening in local authorities all over the country."
Summing up the day of meetings and hearings, Liadh Ní Riada said that the delegation marked neither the beginning nor the end of the campaign to keep LEADER in local control. She called on all Sinn Féin rural elected representatives and activists to contact their local development company and offer their support:
"We didn't find a solution in our meetings with the Commission and Irish Government representatives. However, in coming together and forming a broad group we managed to make our points clearly and in unison. 
"Sinn Féin has a strong team standing up for rural Ireland and I will continue to fight for local control of rural development programmes."