19 August 2014
25 years ago: Massive Dublin demo for British withdrawal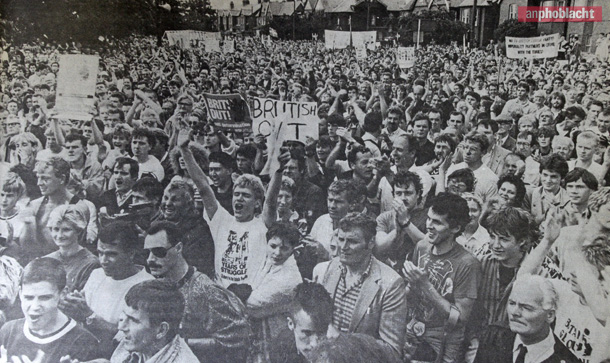 On 19 August 1989 an estimated 15,000 people marched to the British Embassy in Dublin to demand a complete British withdrawal from the north of Ireland. The demonstration was the biggest in the capital since those in support of the Hunger Strikers in 1981.
Organised by the Forum for a Democratic Alternative (FADA) those marching from Parnell Square to the British Embassy in Ballsbridge included Sinn Féin's Gerry Adams, Independent Fianna Fáil TD and MEP Neil Blaney, British Labour MP George Galloway, singer Sinead O'Connor and journalist Eamonn McCann.
The march was also supported by the Green Party, the Irish-American Unity Conference and various trade unions.
Speaking at the British Embassy, which was protected by hundreds of gardaí in riot gear, Gerry Adams told the crowd that social and democratic freedom for people in all parts of Ireland depended on a British withdrawal:
"There is a solution and the solution lies with us, the people of this island, free of British military occupation, free of partition and acting for ourselves."
Meanwhile, British Labour Party MEP Michael Hindley said:
"The circle of violence will continue as long as there is a British military presence in Ireland. There can be no united Europe which contains a divided Ireland".
An RTÉ News report on the demo can be seen here