27 November 2013
Sinn Féin in lobby for release of Colombian trade union activist Huber Ballesteros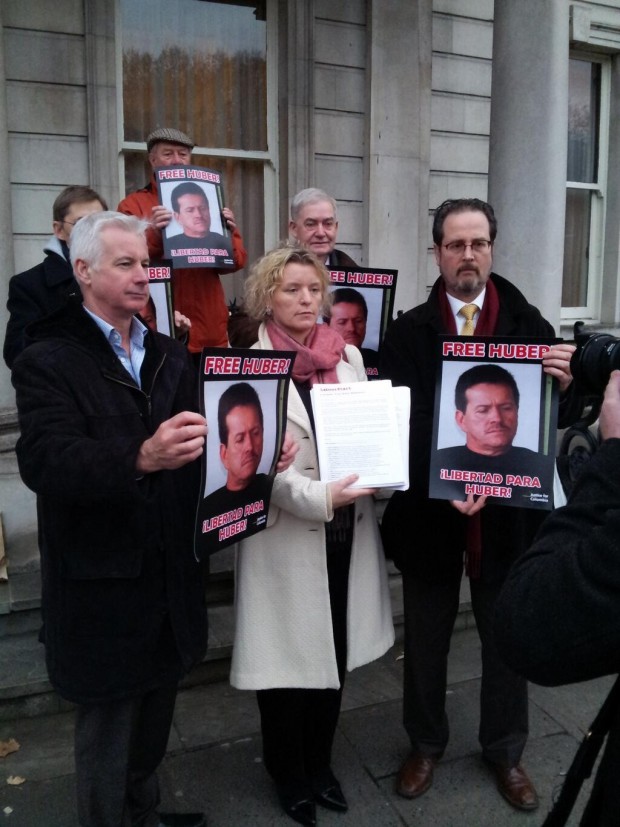 Huber Ballesteros was arrested on 25 August as he was helping to mobilise peasant workers across Colombia
A PETITION with 11,500 signatures calling for the release of Colombian trade union activist Huber Ballesteros was simultaneously handed in to the Irish Government through the Department of Foreign Affairs and the Colombian Embassy in London on Tuesday.
Huber Ballesteros was arrested on 25 August as he was helping to mobilise peasant workers across Colombia.
Huber is one of the most internationally well-known Colombian trade unionists. He is a member of the Executive Committee of Colombia's largest trade union federation, the CUT, the Vice-President of FENSUAGRO Agricultural Workers' Union, and also the National Organiser for the union-backed Patriotic March movement.
Sinn Féin's spokesperson on Foreign Affairs, Seán Crowe TD, was part of the delegation at the Dublin event. He said Huber's imprisonment is politically motivated:
"Colombia continues to be the world's most dangerous country to be a trade union activist, with 12 activists being killed this year so far.
"While the peace talks in Havana between the Colombian Government and the FARC are a promising development, the Colombian authorities also need to take reformative action and ensure that the human rights and security of trade union activists are in all cases respected and upheld.
"Huber Ballesteros should be released and yesterday's international action sends a clear message to the Colombian authorities that persecuting trade unionists will not be tolerated or accepted."