15 March 2013
St Patrick's Day, 1975
IRA Volunteer Tom Smith shot dead in Portlaoise Prison escape attempt
As the front of the cortege entered Glasnevin Cemetery, armed Special Branch men forcibly closed the cemetery gates. Wielding clubs and batons, they set upon the mourners, savagely beating men, women and children
TOM SMITH was a native of Dublin, born and reared in Harold's Cross on the southside of the city. He joined the IRA shortly after 1969 and was attached to the 2nd Battalion of the Dublin Brigade.
In November 1973, along with Volunteers Michael Fox and James Callaghan, he was convicted before the Special Court in Dublin, sentenced to imprisonment, and moved to Portlaoise.
On St Patrick's Day 1975, the prisoners made an escape attempt. They blasted a hole through a door in the recreation room leading to the prison yard on the northern side of the prison. Soldiers opened fire on the escapers as they entered the yard and shot Tom in the head, killing him instantly.
His body was removed to Dublin the following Thursday, escorted by a Guard of Honour from the IRA's Dublin Brigade. That Saturday, his funeral was attended by thousands of republicans. As the funeral procession moved to Glasnevin Cemetery, it was harassed by over 1,000 gardaí in riot gear, backed up by a company of heavily-armed military.
As the front of the cortege entered Glasnevin Cemetery, armed Special Branch men forcibly closed the cemetery gates. Wielding clubs and batons, they set upon the mourners, savagely beating men, women and children. The mourners, stewards and organisers exercised remarkable restraint during the fierce onslaught in consideration of the mourning family and as a mark of respect for the dead Volunteer.
Despite the attack, Tom Smith was buried with full military honours.
VOLUNTEER TOM SMITH COMMEMORATION 2013
17th March Assembling Berkeley Road Church @ 2pm marching to Glasnevin Cemetery. Aengus Ó Snodaigh main speaker.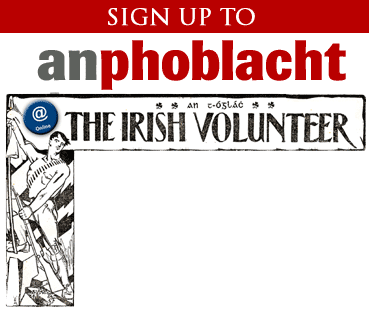 Fascinating insights into
Irish revolutionary history now online
Every week over the next two years, An Phoblacht is making all the editions of The Irish Volunteer – the newspaper of the Irish Volunteer movement – available online exactly 100 years after they were first published
The Irish Volunteer — tOglách na hÉireann was first published on 7 February 1914 and every week until 22 April 1916, just days before the Easter Rising.
Acting as the official newspaper of the Irish Volunteers it outlined the political views of the leadership and reported on the and important events, such as the Howth Gun Running of 1914.
Included in its pages alongside political opinions and news reports are various advertisements for such items as revolvers, bandoliers and military uniforms from stockists across Ireland.
You can now read these fascinating insights into Irish revolutionary history with an online subscription to An Phoblacht for just €10 per year. This includes a digital copy of each new edition of the paper and Iris magazine, access to our digitised historic archives as well as copies of The Irish Volunteer.
Premium Online Service For Only €10 Per Year
For less than €1 a month, you get An Phoblacht's Premium Online Service. Sign up today!
PREMIUM SERVICE:
Full access to all An Phoblacht articles
Interactive online PDF Booklet of each edition
Access to our historic Archives
Discounts for the Online Sinn Féin Shop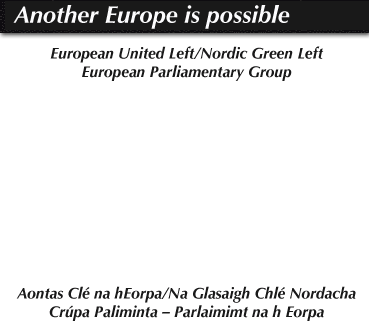 An Phoblacht on Twitter