25 February 2013
Damien Dempsey at home with An Phoblacht – OUT NOW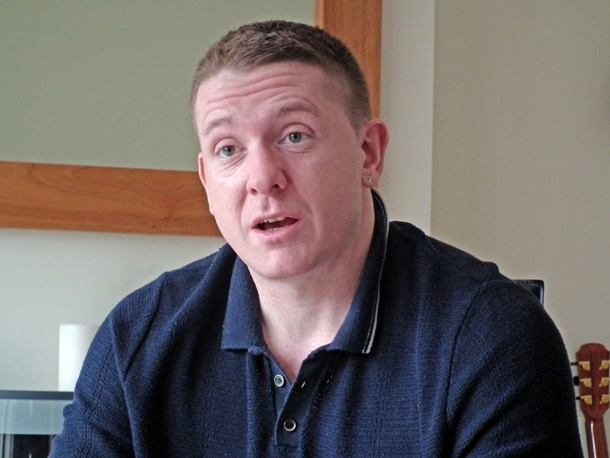 The Damien Dempsey interview
The Irish Meteor Music Awards winner gives An Phoblacht a special interview in his Donaghmede home ahead of his tour of Australia.
Damien talks about how he was told to give up music as a career after his first album in 2000. He didn't give up. He went on to become an international, critically acclaimed singer-songwriter, performing in front of audiences of thousands alongside stars such as Sinead O'Connor and Christy Moore as well as headlining his own sell-out gigs.
Damien's great uncle was in the IRA's Four Courts garrison in 1922. Irish history has been a huge inspiration for Damien and fired his interest in the conflict that continued in the Six Counties from 1968/69:
"I kind of got the impression in school that we weren't being taught the real deal. We weren't being taught our proper history. I wanted to know why there was a war raging 90 miles away. When I was younger I had to teach myself. I went to the library and read books. I learned to read between the lines."
Interview with Mícheál Mac Donncha – 'Still drawing from the musical well'
Gibraltar and Milltown – 25 years on
THE 25th anniversary of the killing of IRA Volunteers Mairéad Farrell, Seán Savage and Dan McCann by the SAS in Gibraltar on 6 March 1988 and the sequence of events that followed the extra-judicial executions of the unarmed republicans are remembered this month in a number of events.
Peadar Whelan looks back at 'A traumatic time, a time of bravery and courage'

US colonel who left over Iraq talks to An Phoblacht
Ann Wright was the highest-ranking US military officer to resign in 2003 over the invasion of Iraq. As a State Department diplomat, she had earned an 'Award for Heroism' for aiding the evacuation of civilians during the civil war in Sierra Leone and was on the team that reopened the US Embassy in Afghanistan in 2001 after the fall of the Taliban.
She has become an outspoken critic of US foreign policy and interference in Middle Eastern and African countries. She has been arrested on the Gaza aid flotilla that saw nine Turkish activists shot dead by Israeli commandos, and she accuses the Irish Government of helping the CIA (Central Intelligence Agency) by allowing it the use of Shannon.
On a speaking tour of Ireland, Ann meets Mark Moloney in the Dáil and says: 'Telling the truth these days is a very difficult thing to do'
Also…
❏  Declan Kearney on talking to 'dissident' republicans
❏  Pearse Doherty on Michael Noonan's promissory note 'victory'
❏  The Bethany Home and Magdalene Laundries scandals
❏  The horsemeat scandal and the price and politics of food
❏  Taoiseach promises Gerry Adams to raise prisoners with British Prime Minister
❏  Sinn Féin TD Aengus Ó Snodaigh meets Marian Price
❏  Ulmmhuchán don teacht le chéile i Muigh Eo faoi lán tseoil | I dtreo na hArd Fheise
❏  Eoin Ó Murchú asks amidst the convulsions in Labour, the Socialist Party and the ULA . . . 'Is Left unity an illusion?'
❏  Despite the FF poll revival, Eoin Ó Broin insists that Fianna Fáil is not fit for government
❏  Cén chaoi gur tháinig Fianna Fáil ar ais?
❏  Sinn Féin contesting by-elections in Mid-Ulster and Meath East
❏  New Lodge community demands justice
❏  Slogadh  2013 . . .  Not just for Gaeilgeoirí (Béal Feirste: Dé hAoine 8ú – Domhnach 10ú Márta)
❏  Nicky Kehoe on 'The Civil War in Cabra'
❏  Mícheál Mac Donncha . . . Inside 16 Moore Street – Where the leaders of the 1916 Easter Rising made their last HQ
❏  Easter Rising 1916 Commemorations
❏  Le Chéile 2013
❏  Le Lúcás Ó Callanáin: An Chinsireacht agus Cruinneshamhail na nÉireannach
❏  Celtic fanzine editor on 'Impacting on the narrative of sectarianism'
❏  Sport . . . The Ulster Protestant tradition and wearing the green shirt of Ireland
An Phoblacht Magazine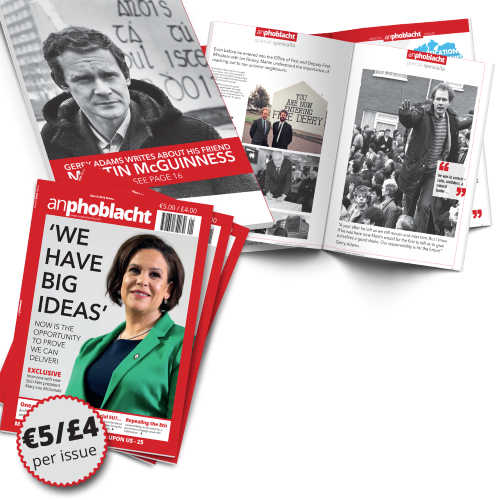 AN PHOBLACHT MAGAZINE:
The first edition of this new magazine will feature a 10 page special on the life and legacy of our leader Martin McGuinness to mark the first anniversary of his untimely passing.
It will include a personal reminiscence by Gerry Adams and contributions from the McGuinness family.
There will also be an exclusive interview with our new Uachtarán Mary Lou McDonald.