5 February 2013
US Army colonel and State Department diplomat turned peace activist in Dublin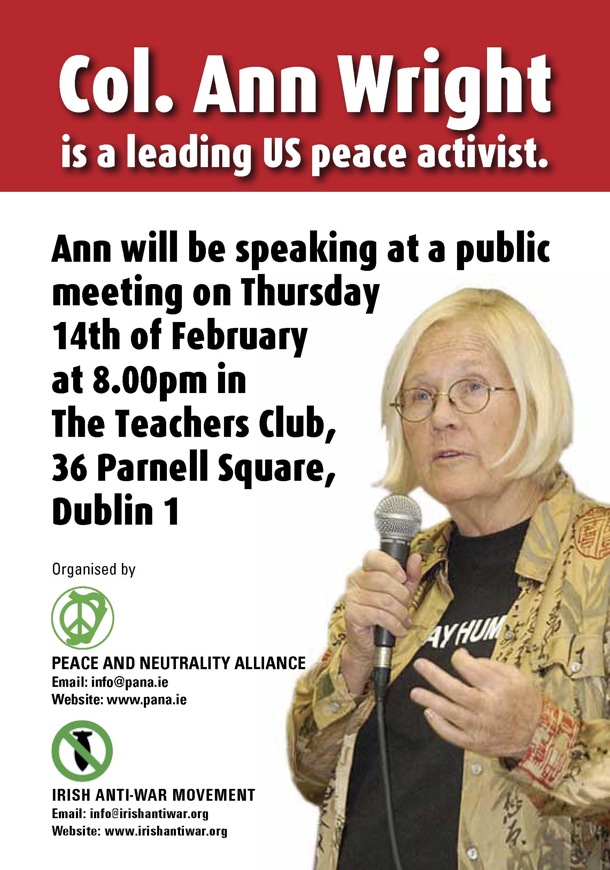 Ann Wright was proud to represent America but, on 13 March 2003, the eve of the US invasion of Iraq, Colonel Ann Wright sent a letter of resignation to then Secretary of State Colin Powell
A COLONEL in the US Army for 13 years who was also a State Department diplomat in Nicaragua, Somalia, Uzbekistan and Sierra Leone will be speaking at a meeting in the Teachers' club in Dublin on Thursday 14 February (8pm) as a guest of the Peace and Neutrality Alliance (PANA) and the Irish Anti-War Movement (IAWM).
Ann Wright grew up in Bentonville, Arkansas, and attended the University of Arkansas, where she earned a Master's and a Law Degree. She also has a Master's Degree in National Security Affairs from the US Naval War College.
In her junior year at the University of Arkansas, she attended a three-week army training programme after meeting with a visiting army recruiter. That experience helped inform her decision to join the service.
For 13 years, Ann Wright was an active duty soldier. She spent another 16 years in the Army Reserves, retiring as a colonel. Part of her army work was special operations in civil affairs. After Ann Wright was released from active duty she joined the State Department.
For the next 16 years she served as a foreign diplomat in countries such as Nicaragua, Somalia, Uzbekistan, and Sierra Leone. She was on the team that reopened the US Embassy in Kabul, Afghanistan, in December 2001 after the fall of the Taliban to US forces.
In all those years, Ann Wright was proud to represent America. However, on 13 March 2003, the eve of the US invasion of Iraq, Colonel Ann Wright sent a letter of resignation to then Secretary of State Colin Powell. She felt that, without the authorisation of the UN Security Council, the US invasion and occupation of an oil-rich, Arab Muslim country would be a disaster. Only two other State Department officials resigned at that time in protest of the imminent invasion.
In a statement at the time, Colonel Wright said:
"I have served my country for almost 30 years in some of the most isolated and dangerous parts of the world. I want to continue to serve America. However, I do not believe in the policies of this administration and cannot – morally and professionally – defend or implement them. It is with heavy heart that I must end my service to America and therefore resign."
In an interview, Colonel Wright explained that, in the Foreign Service:
"Your job is to implement the policies of an administration. If you strongly disagree with any administration's policies, and wish to speak out, your only option is to resign. I understood that and that's one of the reasons I resigned – to give myself the freedom to talk out."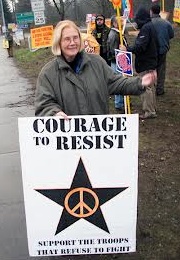 Since resigning, patriotism for Ann Wright meant becoming an anti-war activist. She worked with Cindy Sheehan, organising Camp Casey, and appeared in the documentary Uncovered: The Truth About the Iraq War.
She travels and lectures on foreign policy issues. She has been arrested five times in one year for protesting Bush's policies, and has referred to herself cheerfully as "a felon for peace".
This retired army colonel has also recently been temporarily banned not only from two military bases for placing postcards there announcing a showing of the documentary Sir, No Sir but from the US Capitol area (her case is still pending), and the National Press Club (this a lifetime ban), for voicing opinions and questions concerning Bush administration policies and the Iraq war.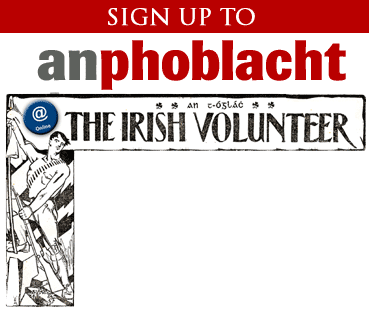 Fascinating insights into
Irish revolutionary history now online
Every week over the next two years, An Phoblacht is making all the editions of The Irish Volunteer – the newspaper of the Irish Volunteer movement – available online exactly 100 years after they were first published
The Irish Volunteer — tOglách na hÉireann was first published on 7 February 1914 and every week until 22 April 1916, just days before the Easter Rising.
Acting as the official newspaper of the Irish Volunteers it outlined the political views of the leadership and reported on the and important events, such as the Howth Gun Running of 1914.
Included in its pages alongside political opinions and news reports are various advertisements for such items as revolvers, bandoliers and military uniforms from stockists across Ireland.
You can now read these fascinating insights into Irish revolutionary history with an online subscription to An Phoblacht for just €10 per year. This includes a digital copy of each new edition of the paper and Iris magazine, access to our digitised historic archives as well as copies of The Irish Volunteer.
Premium Online Service For Only €10 Per Year
For less than €1 a month, you get An Phoblacht's Premium Online Service. Sign up today!
PREMIUM SERVICE:
Full access to all An Phoblacht articles
Interactive online PDF Booklet of each edition
Access to our historic Archives
Discounts for the Online Sinn Féin Shop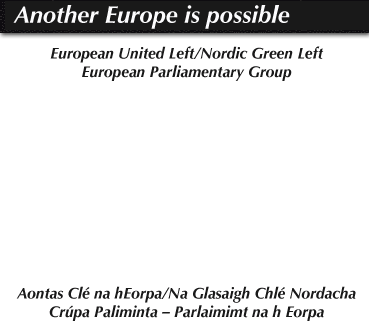 An Phoblacht on Twitter