23 January 2013
From 'Dirty Harry' to 'Warrior Prince' – Media Watch
The British media love him. Even the otherwise ever-so-proper BBC who loathe 'men of violence', don't you know?
TALLY HO, CHAPS! It's a hunting he will go. Prince Harry, Fleet Street's favourite rich kid, says his mission machine-gunning and rocketing people to death on the ground from the fairly safe seat of a multi-million-pound Apache hi-tech attack helicopter way up in the sky is "a joy . . . because I'm one of those people who loves playing PlayStation and XBox, so with my thumbs I like to think that I'm probably quite useful".
"If people try to do bad stuff to our guys, we'll take them out of the game, I suppose."
And the British media love him. They lap it up. Even the otherwise ever-so-proper BBC who loathe 'men of violence', don't you know?
Harry is their 'Warrior Prince'.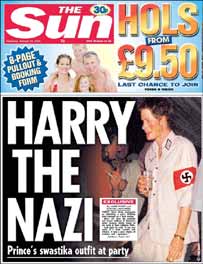 He used to be called "Harry the Nazi" by The Sun after the third in line to the throne thought it was a wizard wheeze to dress up as a Nazi for a fancy dress party with his high society chums back in 2005.
And then there was the 'Warrior Prince' being captured on camera without any kit on at all ('going commando') last year when a 'friend' photographed him naked and sold the pix to the tabloids after he lost a game of strip billiards.
He was then "The Playboy Prince", shown grabbing a young woman's breasts and dubbed by The Sun "Dirty Harry".
Interviewed by the BBC at a British military base in Afghanistan this week, the now sheepish 28-year-old said: "It was probably a classic example of me probably being too much army, and not enough prince."
Now he's more army, shooting Taliban from up on high.
To be fair to the chap, he admits that going up against enemy foot soldiers at his mercy from a top-notch helicopter was "an unfair fight" (and we have to take his and the British Army's word that any casualties are actually Taliban fighters and not non-combatants).
The Taliban perhaps unfairly called him "a coward" but it's probably what The Sun would call him if he was a Taliban chieftain gunning down British infantry from safety in the sky.