4 January 2013
'An Phoblacht' described in Government papers in 1982 as 'seditious'
In 1931, 'An Phoblacht' editor Frank Ryan was jailed for publishing seditious articles.
TOP officials in the Irish Government in 1982 asked ministers why An Phoblacht had not been prosecuted under the Offences Against the State Act 1939 as "a treasonable document or a seditious document".
The internal Government discussion has come to light under the 30-year rule releasing state papers.
Censorship was openly enforced in the 1980s through Section 31 of the Broadcasting Act barring pro-republican voices from TV and radio. The privately-owned mainstream print media almost universally practised its own form of censorship and took the Establishment line in reporting the conflict.
Throughout the 1970s and 1980s, An Phoblacht/Republican News was the main public media reporting on the use of torture by British state forces against prisoners, the Hunger Strikes and protests by political prisoners (North and South). It provided uncensored news about the ongoing military conflict and repression in the gerrymandered Northern state as well as economic and social struggles and strikes in the 26 Counties.
During the 1980/1981 Hunger Strikes, sales of the paper reached almost 60,000 per week.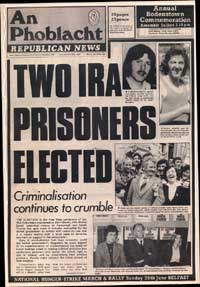 In 1981, two H-Blocks prisoners – Kieran Doherty and Paddy Agnew – were elected as TDs despite an Establishment campaign to prevent the breakthrough. Kieran almost topped the poll in Cavan/Monaghan, elected only 303 votes behind the then-sitting Minister of Education. (Despite his election, Kieran died on 2 August 1981 after 73 days on hunger strike.)
The 1982 move against An Phoblacht was mooted by senior civil servants in a document dated 15 July in a Government discussion of the then-weekly publication for newspaper status under the Post Office Act 1908.
A senior ministerial adviser noted that Section 10 of the Offences Against the State Act 1939 "makes it a criminal offence to send through the post any document which is a treasonable document or a seditious document".
Declaring An Phoblacht to be a treasonable or seditious publication would have made it illegal to send out subscriptions of the paper by post, a significant move many years before widespread access to the Internet and at a time when sellers faced harassment, arrest or attack by the RUC, Garda Special Branch, British Army or unionist death squads.
The 1982 Government document claimed that some editions of An Phoblacht contained stories which could be considered treasonable as they challenged the 26-County and Six-County states.
The Attorney General at the time, Patrick Connolly, nevertheless warned that An Phoblacht "satisfies each of the requirements set out in section 20 (1) of the Post Office Act 1908" and this conclusion was "unaffected by a consideration of the contents of the publication".
The idea was left on the files.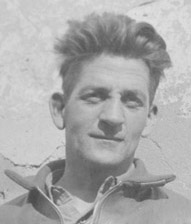 • In 1931, An Phoblacht editor and IRA legend Frank Ryan (left) – who fought as a member of the International Brigade in the Spanish Civil War – was jailed for publishing seditious articles.
2014 – A YEAR OF CHANGE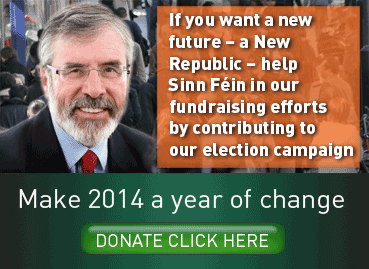 A chara,
Sinn Féin is in government in the North and is a major political party in the Dáil and in local government across this island.
We are the only all-Ireland political party and with each passing day our membership is increasing, our organisational capacity is improving, and we are presenting realistic alternative policies to meet the needs of 21st century Ireland.
On May 22nd and May 23rd, more than 350 men and women will be standing for Sinn Féin in the European and local government elections, north and south.
For those who reject austerity and want a different future, a better future; who want hope for themselves and for their families; who want jobs and prosperity; and who want a real republic on this island – Sinn Féin is that future.
Make 2014 a year of change.
If you want a new future – a New Republic – help Sinn Féin in our fundraising efforts by contributing to our election campaign.
Thank you for whatever you can afford.
Lánaigí libh agus beirigí bua!
Is mise,
Gerry Adams TD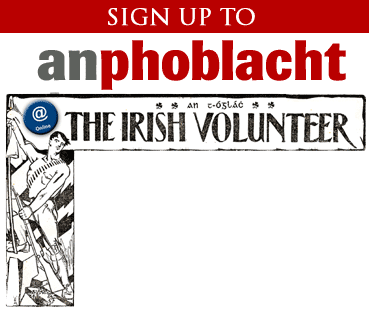 Fascinating insights into
Irish revolutionary history
for you to read online
Every week over the next two years, An Phoblacht is making all the editions of The Irish Volunteer – the newspaper of the Irish Volunteer movement – available online exactly 100 years after they were first published
The Irish Volunteer — tOglác na hÉireann was first published on 7 February 1914 and every week until 22 April 1916, just days before the Easter Rising.
Acting as the official newspaper of the Irish Volunteers it outlined the political views of the leadership and reported on the and important events, such as the Howth Gun Running of 1914.
Included in its pages alongside political opinions and news reports are various advertisements for such items as revolvers, bandoliers and military uniforms from stockists across Ireland.
You can now read these fascinating insights into Irish revolutionary history with an online subscription to An Phoblacht for just €10 per year. This includes a digital copy of each new edition of the paper and Iris magazine, access to our digitised historic archives as well as copies of The Irish Volunteer.
Premium Online Service For Only €10 Per Year
For less than €1 a month, you get An Phoblacht's Premium Online Service. Sign up today!
PREMIUM SERVICE:
Full access to all An Phoblacht articles
Interactive online PDF Booklet of each edition
Access to our historic Archives
Discounts for the Online Sinn Féin Shop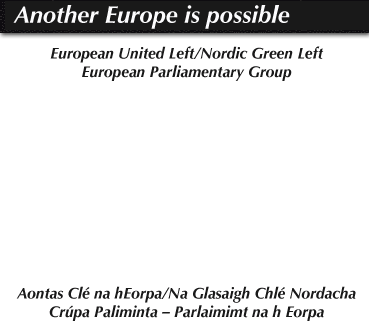 An Phoblacht on Twitter