20 December 2012
Right royal rumpus over 'RTÉ Guide' and Christmas Day Queen

LIKE QUEEN VICTORIA, Queen Elizabeth may not be amused but the RTÉ Guide made us republicans at An Phoblacht smile by describing her regular Christmas Day TV message in the BBC1 listing as: "The British monarch lectures her subjects."
In the UTV listing alongside the Beeb's for the same time, same day, the tone is a less harsh: "The British Queen delivers her message."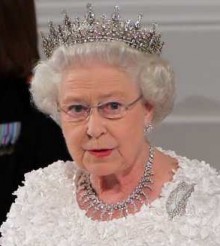 RTÉ blamed the editors. The managing director of Presse Media 81, an Irish-owned firm based in France and which provides the listings for the RTÉ Guide, said it was an unfortunate error and interpretation of the word 'deliver'.
"It was very straightforward and an innocuous but unfortunate use of the word 'lectures'," said Julian Kindness. (He diplomatically eschewed the defence that 'lecture' might be appropriate for a ritual TV address by an unelected head of state.)
"There was no political slight, no malice intended, no smart-arsed sub-context or attempt to sneak in a Christmas howler," he told the Irish Independent.
Maybe not but thank you kindly, Julian.
Ho, ho, ho.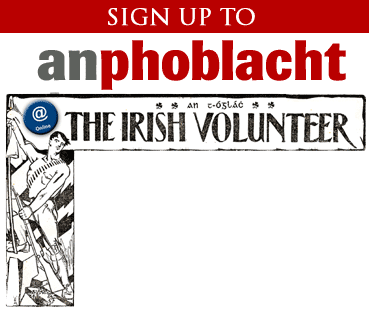 Fascinating insights into
Irish revolutionary history now online
Every week over the next two years, An Phoblacht is making all the editions of The Irish Volunteer – the newspaper of the Irish Volunteer movement – available online exactly 100 years after they were first published
The Irish Volunteer — tOglách na hÉireann was first published on 7 February 1914 and every week until 22 April 1916, just days before the Easter Rising.
Acting as the official newspaper of the Irish Volunteers it outlined the political views of the leadership and reported on the and important events, such as the Howth Gun Running of 1914.
Included in its pages alongside political opinions and news reports are various advertisements for such items as revolvers, bandoliers and military uniforms from stockists across Ireland.
You can now read these fascinating insights into Irish revolutionary history with an online subscription to An Phoblacht for just €10 per year. This includes a digital copy of each new edition of the paper and Iris magazine, access to our digitised historic archives as well as copies of The Irish Volunteer.
Premium Online Service For Only €10 Per Year
For less than €1 a month, you get An Phoblacht's Premium Online Service. Sign up today!
PREMIUM SERVICE:
Full access to all An Phoblacht articles
Interactive online PDF Booklet of each edition
Access to our historic Archives
Discounts for the Online Sinn Féin Shop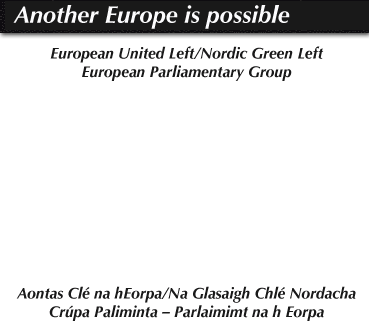 An Phoblacht on Twitter