20 December 2012
Right royal rumpus over 'RTÉ Guide' and Christmas Day Queen

LIKE QUEEN VICTORIA, Queen Elizabeth may not be amused but the RTÉ Guide made us republicans at An Phoblacht smile by describing her regular Christmas Day TV message in the BBC1 listing as: "The British monarch lectures her subjects."
In the UTV listing alongside the Beeb's for the same time, same day, the tone is a less harsh: "The British Queen delivers her message."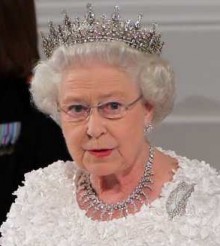 RTÉ blamed the editors. The managing director of Presse Media 81, an Irish-owned firm based in France and which provides the listings for the RTÉ Guide, said it was an unfortunate error and interpretation of the word 'deliver'.
"It was very straightforward and an innocuous but unfortunate use of the word 'lectures'," said Julian Kindness. (He diplomatically eschewed the defence that 'lecture' might be appropriate for a ritual TV address by an unelected head of state.)
"There was no political slight, no malice intended, no smart-arsed sub-context or attempt to sneak in a Christmas howler," he told the Irish Independent.
Maybe not but thank you kindly, Julian.
Ho, ho, ho.