6 December 2012
Attacks on Alliance Party homes and offices – unionist leaders must call a halt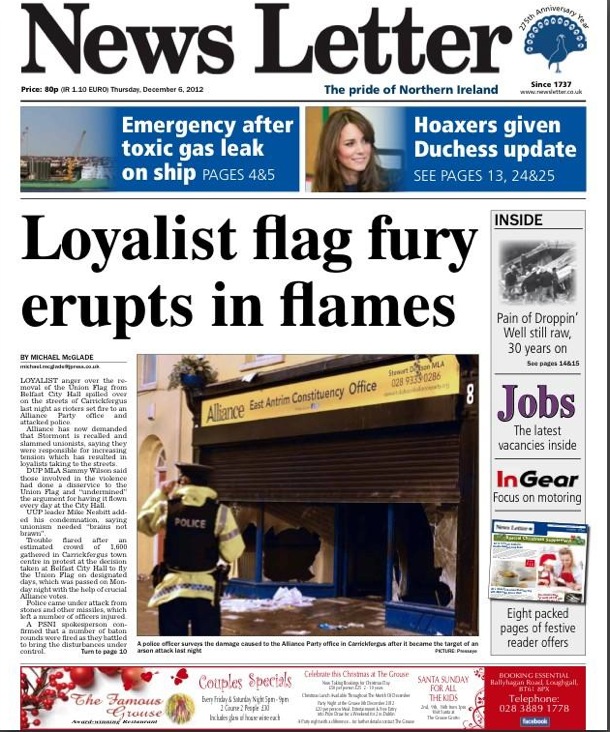 'Unionist politicians who distributed over 40,000 leaflets specifically targeting the Alliance Party need to come out strongly a demand these actions stop'
A WAVE of arson attacks and threats against the lives, homes and offices of Alliance Party representatives after Monday's Belfast City Hall vote cutting the days the Union flag is flown there has been condemned by deputy First Minister Martin McGuinness.
The violence, the deputy First Minister said, is "an attack on the democratic decision taken in Belfast City Hall by those who are democratically elected to represent the people of this city". He added:
"Political unionism needs to accept that. They need to call for an end to these protests and for those involved to step back."
Monday night's meeting of Belfast City Council voted 29-21 to fly the Union flag on 17 designated days – the same as the Assembly – instead of every day.
Sinn Féin wanted a neutral flag, or both the Union flag and Irish Tricolour alongside each other, or no flags at all, but supported an Alliance Party compromise motion on designated days.
Since the vote, unionist gangs have targeted Alliance Party offices and homes. Some Alliance councillors have fled their homes.
Belfast City Councillor Deirdre Hargey has called for the threats against Alliance Councillor Laura McNamee to be lifted immediately.
"There is no justification whatsoever for intimidation like this.
"The bully-boy tactics currently being engaged in by unionism need to stop. We've seen protesters attack City Hall, a death threat against Sinn Féin's Gerry Kelly, protests forcing the closure of the Alliance Party's office in east Belfast, and now Councillor McNamee has had to leave her family home.
"Unionist politicians who distributed over 40,000 leaflets specifically targeting the Alliance Party need to come out strongly a demand these actions stop.
"They cannot wash their hands of this but they can use whatever influence they have to see that these threats are removed."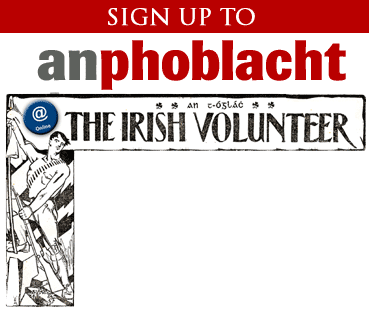 Fascinating insights into
Irish revolutionary history now online
Every week over the next two years, An Phoblacht is making all the editions of The Irish Volunteer – the newspaper of the Irish Volunteer movement – available online exactly 100 years after they were first published
The Irish Volunteer — tOglách na hÉireann was first published on 7 February 1914 and every week until 22 April 1916, just days before the Easter Rising.
Acting as the official newspaper of the Irish Volunteers it outlined the political views of the leadership and reported on the and important events, such as the Howth Gun Running of 1914.
Included in its pages alongside political opinions and news reports are various advertisements for such items as revolvers, bandoliers and military uniforms from stockists across Ireland.
You can now read these fascinating insights into Irish revolutionary history with an online subscription to An Phoblacht for just €10 per year. This includes a digital copy of each new edition of the paper and Iris magazine, access to our digitised historic archives as well as copies of The Irish Volunteer.
Premium Online Service For Only €10 Per Year
For less than €1 a month, you get An Phoblacht's Premium Online Service. Sign up today!
PREMIUM SERVICE:
Full access to all An Phoblacht articles
Interactive online PDF Booklet of each edition
Access to our historic Archives
Discounts for the Online Sinn Féin Shop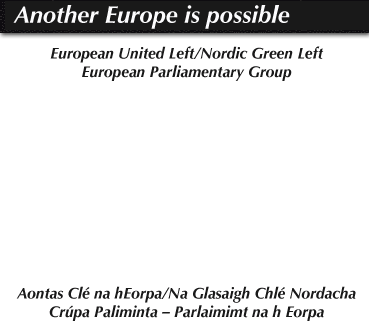 An Phoblacht on Twitter