6 December 2012
Attacks on Alliance Party homes and offices – unionist leaders must call a halt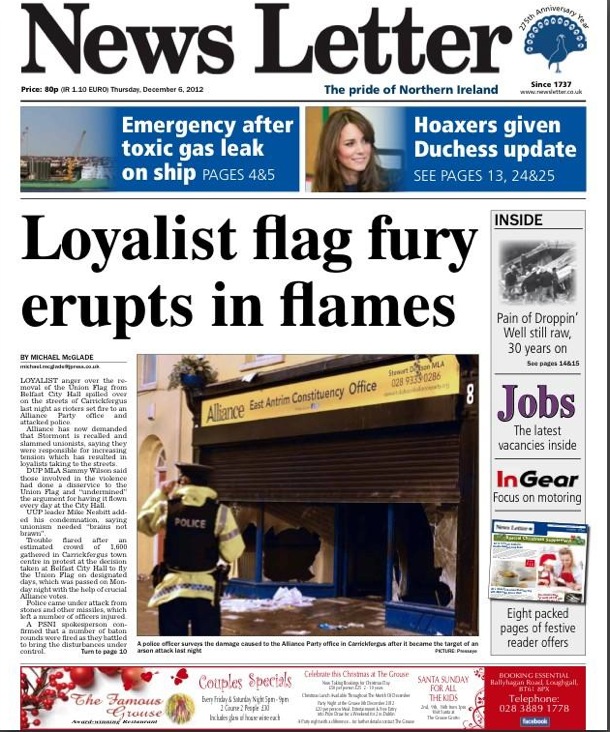 'Unionist politicians who distributed over 40,000 leaflets specifically targeting the Alliance Party need to come out strongly a demand these actions stop'
A WAVE of arson attacks and threats against the lives, homes and offices of Alliance Party representatives after Monday's Belfast City Hall vote cutting the days the Union flag is flown there has been condemned by deputy First Minister Martin McGuinness.
The violence, the deputy First Minister said, is "an attack on the democratic decision taken in Belfast City Hall by those who are democratically elected to represent the people of this city". He added:
"Political unionism needs to accept that. They need to call for an end to these protests and for those involved to step back."
Monday night's meeting of Belfast City Council voted 29-21 to fly the Union flag on 17 designated days – the same as the Assembly – instead of every day.
Sinn Féin wanted a neutral flag, or both the Union flag and Irish Tricolour alongside each other, or no flags at all, but supported an Alliance Party compromise motion on designated days.
Since the vote, unionist gangs have targeted Alliance Party offices and homes. Some Alliance councillors have fled their homes.
Belfast City Councillor Deirdre Hargey has called for the threats against Alliance Councillor Laura McNamee to be lifted immediately.
"There is no justification whatsoever for intimidation like this.
"The bully-boy tactics currently being engaged in by unionism need to stop. We've seen protesters attack City Hall, a death threat against Sinn Féin's Gerry Kelly, protests forcing the closure of the Alliance Party's office in east Belfast, and now Councillor McNamee has had to leave her family home.
"Unionist politicians who distributed over 40,000 leaflets specifically targeting the Alliance Party need to come out strongly a demand these actions stop.
"They cannot wash their hands of this but they can use whatever influence they have to see that these threats are removed."