5 December 2012
Inside the City Hall siege
Words and pictures by Peadar Whelan from the frontline of the flag row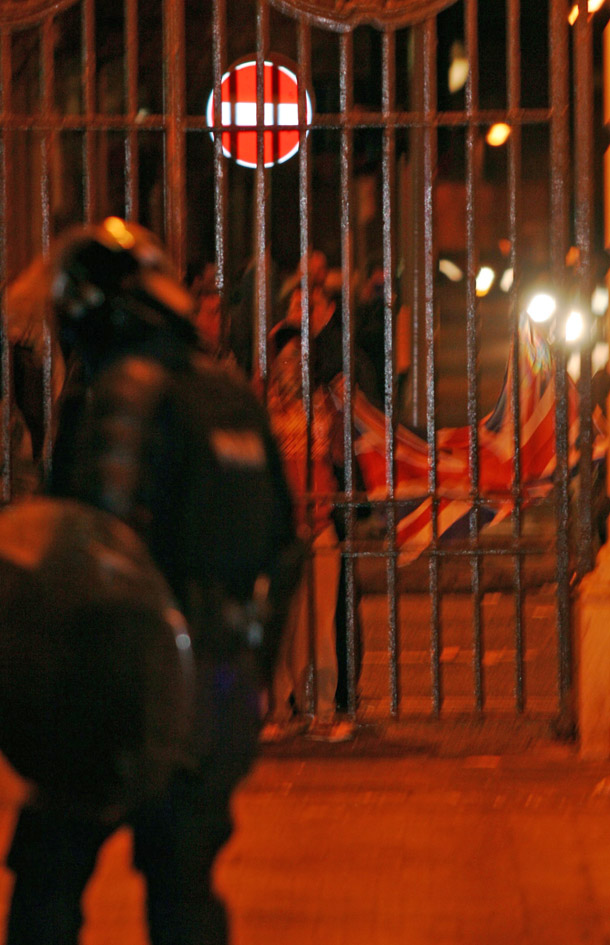 Sinn Féin Council Leader Jim McVeigh: 'This decision is a milestone, part of our strategy to make this a City Hall for everyone and every tradition, not least the republican and nationalist tradition.'
WITH their hysterical screams and squeals of "No Surrender!" reverberating through the building, the unionist mob that wrenched open the doors of Belfast City Hall looked hell-bent on taking over the council and wreaking revenge on those councillors who voted for the Union flag to be flown less often.
100 years of history had just been added to as Sinn Féin, the SDLP and Alliance parties voted by 29 to 21 to have the Union flag removed as a permanent feature and flown on 17 designated days instead.
The times, they are a-changing.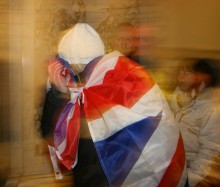 The anger of the masked desperadoes who broke through barricades and gates to loom in the doorway as they chanted and screamed looked for all the world to be the prelude to a full-scale invasion.
Then, suddenly confronted by a few fidgety council security guards, three or four PSNI men (who were wondering where the reinforcements were) and a number of TV crews – including our very own An Phoblacht news team – the loyalist intruders froze.
What seemed like a good idea moments previously suddenly became an invasion too far.
The Bastille, clearly, would never have been stormed if the sans-culottes had come from east Belfast, Shankill Road or the Shore Road. That said, after the protest at City Hall ended, the east Belfast sans-culottes carried out their traditional storming of defenceless pensioners' homes on Strand Walk and St Matthew's Church. Tradition is a central plank of loyalist/unionist ideology.
So they retreated from the doors of City Hall. (One of the would-be invaders even came back and closed the doors when he remembered his manners.)
Yellow peril
Then the reinforcements arrived, including the Tactical Support Group and dog squads, although not before the law and order espousing unionists smashed up a number of cars. Unfortunately, one belonged to one of the guys speaking for their cause – Guy Spence of the Democratic Unionist Party.
During the flags debate in the chamber, the bould Guy had apparently been tweeting updates to those outside on the progress of the discussion.
Days earlier, Guy had been upbraiding an Alliance rep for describing the Union flag campaigners as "rabble"; on Monday night he was tweeting angrily about the damage done to the canary yellow Guymobile by his Twitter followers outside:
"My car as a result of tonight," Guy fumed, attaching a pictured of his gleaming but battered motor. "Back windscreen put in whilst I defend the same people inside. Not on, people."
Breeze of equality
Monday 3 December 2012 was a night laden with symbolism on one hand and major political significance on the other.
The decision to remove the Union flag from permanent display above Belfast's main civic building sends out the message to the citizens that the fresh breeze of equality is now flowing through the building and over it too.
The vote also tells 'Big House' unionists that the days of doing what they like are gone, that the political dominance that they enjoyed – and abused – for decades is a thing of the past.
The events of Monday night highlight a unionist schizophrenia that is becoming more acute as Northern political realities change.
Last weekend, DUP leader Peter Robinson told a South Antrim DUP dinner that nationalism is in crisis. Yet it was unionist after unionist speaker in City Hall who attacked the Alliance Party in particular but also Sinn Féin and the SDLP over their stance, all the while likening the decision to the destruction of their culture, their dignity and their Britishness. Crisis? Whose crisis?
Sinn Féin Council Leader Jim McVeigh summed up Monday's decision after the Sinn Féin group met (pictured right):
"Perhaps more than any other, this symbolises the process of change taking place across the city of Belfast and within the City Hall.
"Sinn Fein has become the biggest party across Belfast and we have used that strength to push ahead with the equality agenda.
"This decision is a milestone. This is part of our strategy to make City Hall a City Hall for everyone and every tradition, not least the republican and nationalist tradition."
So it's either nationalists are in crisis or unionists are, according to Robinson, about to "own . . . the new political space developing" in the North.
And given the unionists' propensity for flags the first thing they'll do is stick a Union Jack on this new political space, not accepting that not everybody shares their political outlook.
Unionist leadership goes out the door
Monday's riot could easily have been foreseen by unionist politicians who continue to ignore that particular elephant in the room.
They always manage to blame someone else.
Ulster Unionist Party Councillor Jim Rodgers, in an amazing distortion of reality, asserted that the trouble hadn't started until after the vote was taken at about 7:40pm even though the protest outside had been baying aggressively since 6pm and some just happened to have bolt cutters on them, as you do at Monday teatime.
One caller even claimed to Wendy Austin on Radio Ulster's Talkback the following day that what really kicked things off was when they'd heard a DUP motion to throw An Phoblacht reporters out of the City Hall meeting had failed.
North Down DUP MLA Peter Weir was in the public gallery during the debate but he made good his escape during the adjournment as the unionist mob attacked the building.
He disappeared into the night. Not a word, nor a whisper from Peter Weir.
Where had the unionist leadership gone?
2014 – A YEAR OF CHANGE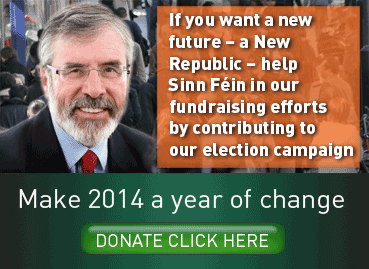 A chara,
Sinn Féin is in government in the North and is a major political party in the Dáil and in local government across this island.
We are the only all-Ireland political party and with each passing day our membership is increasing, our organisational capacity is improving, and we are presenting realistic alternative policies to meet the needs of 21st century Ireland.
On May 22nd and May 23rd, more than 350 men and women will be standing for Sinn Féin in the European and local government elections, north and south.
For those who reject austerity and want a different future, a better future; who want hope for themselves and for their families; who want jobs and prosperity; and who want a real republic on this island – Sinn Féin is that future.
Make 2014 a year of change.
If you want a new future – a New Republic – help Sinn Féin in our fundraising efforts by contributing to our election campaign.
Thank you for whatever you can afford.
Lánaigí libh agus beirigí bua!
Is mise,
Gerry Adams TD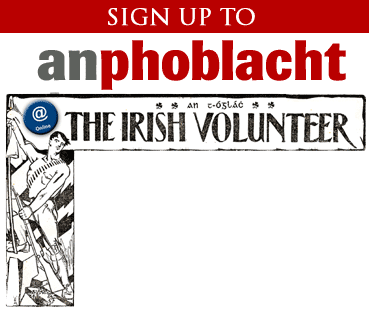 Fascinating insights into
Irish revolutionary history
for you to read online
Every week over the next two years, An Phoblacht is making all the editions of The Irish Volunteer – the newspaper of the Irish Volunteer movement – available online exactly 100 years after they were first published
The Irish Volunteer — tOglác na hÉireann was first published on 7 February 1914 and every week until 22 April 1916, just days before the Easter Rising.
Acting as the official newspaper of the Irish Volunteers it outlined the political views of the leadership and reported on the and important events, such as the Howth Gun Running of 1914.
Included in its pages alongside political opinions and news reports are various advertisements for such items as revolvers, bandoliers and military uniforms from stockists across Ireland.
You can now read these fascinating insights into Irish revolutionary history with an online subscription to An Phoblacht for just €10 per year. This includes a digital copy of each new edition of the paper and Iris magazine, access to our digitised historic archives as well as copies of The Irish Volunteer.
Premium Online Service For Only €10 Per Year
For less than €1 a month, you get An Phoblacht's Premium Online Service. Sign up today!
PREMIUM SERVICE:
Full access to all An Phoblacht articles
Interactive online PDF Booklet of each edition
Access to our historic Archives
Discounts for the Online Sinn Féin Shop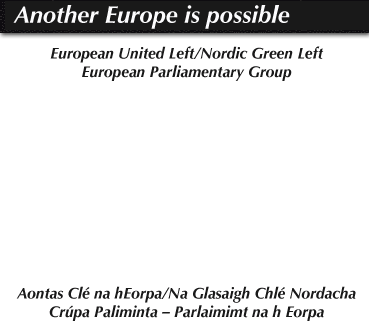 An Phoblacht on Twitter