28 November 2012
Leo and Maureen Wilson . . . 'This is Your Republican Life'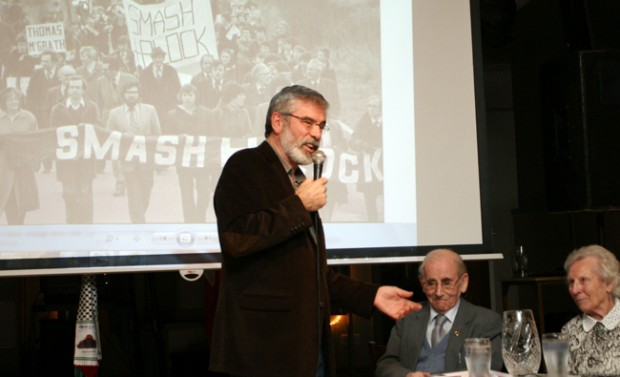 MAUREEN AND LEO WILSON would like to express their sincere thanks to all who organised and attended the surprise republican version of 'This is Your Life' in which they were the central players.
"Our thanks to the republican family, Belfast, for the magnificent bronze harp and flowers. Thanks also to the Roddy McCorley Society for the beautiful gift of Belfast Crystal. Thanks to our friend Der for his bouquet of flowers and a touching letter.
"We must also give our special thanks to Gerry Adams TD who compered the 'This is Your Life' programme. Finally, we thank all our family and friends for their good wishes.
"Go raibh chead míle maith agaibh."
— Leo and Maureen Wilson.
Special 1916 Centenary Edition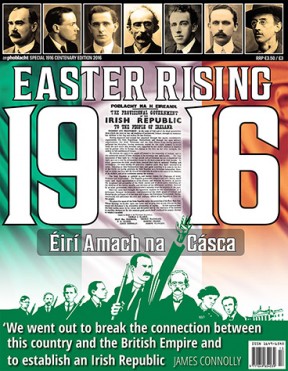 INCLUDING:
• Introduction by Sinn Féin President Gerry Adams 
• 1916 Ceannairí  | Biographies of the leading men and women who took part in the Rising
• Seven Days, Seven Men, Seven Hills | By Éamonn Mac Thomáis, republican activist, writer and historian
• Women in struggle | by Máire Comerford, a lifelong republican who witnessed central events in 1916-23
• Chronology of events 
• Map and description of the main battles and major events
• The Rising outside Dublin
• Stop press! Censorship and the media reaction to Easter 1916
• Roger Casement | 1916 rebel and a national hero on the Faroe Islands
• Internationalists in the Easter Rising | Scandinavian rebels in the GPO and ANZAC troops in Trinity College
An initiative for dialogue 
for reconciliation 
— — — — — — —
Contributions from key figures in the churches, academia and wider civic society as well as senior republican figures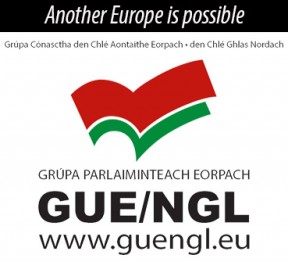 Premium Online Service For Only €10 Per Year
For less than €1 a month, you get An Phoblacht's Premium Online Service. Sign up today!
PREMIUM SERVICE:
Full access to all An Phoblacht articles
Interactive online PDF Booklet of each edition
Access to our historic Archives
Discounts for the Online Sinn Féin Shop
An Phoblacht on Twitter