29 November 2012
One-day Palestinian film festival on Saturday 1 December in Dublin's Temple Bar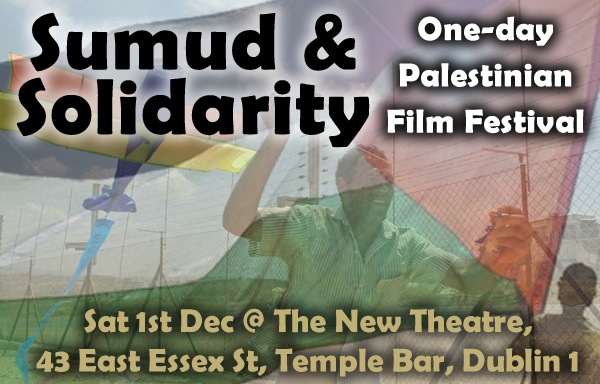 TO mark International Day of Solidarity with the Palestinian People (29 November), and to coincide with the 'World Social Forum – Free Palestine' in Brazil, the Progressive Film Club has joined with the Ireland-Palestine Solidarity Campaign to bring you a one-day Palestinian film festival on Saturday 1 December.
Admission free (Donations welcome!)
A scene from 'Peace, Propaganda, and the Promised Land: US Media and the Israeli-Palestinian Conflict'

1pm (First Film) - 3pm (Final Film)

RUNNING ORDER:

1.00pm - The Land Speaks Arabic (2007)

In this award-winning documentary, the late 19th century birth of Zionism—and its repercussions for Palestinians—is detailed with original source documents, Zionist leaders' quotations, rare archival footage, testimonies of witnesses and interviews with historians. All help to illustrate that the expulsion of the indigenous Arab population from Palestine was far from an accidental result of the 1948 war, but was a deliberate policy.

In English, Arabic and Hebrew, with English Subtitles
 Directed by Maryse Gargour
 Runtime: 62 mins

2.30pm - Bassem - Story of a Martyr (2009)

Bassem Abu Rahmah was an non-violent anti-Apartheid Wall activist from the West Bank village of Bil'in. On April 17th 2009 he was murdered by the Israeli military when he was shot at point blank range in the chest with a tear gas cannister. This tragic and moving film, the first directed by the award-winning director of Five Broken Cameras (2012), looks at the situation in Bil'in through the lens of Bassem's short life.

In Arabic, with English Subtitles
 Directed by Emad Burnat
 Runtime: 22 mins

3.05pm - Peace, Propaganda and the Promised Land (2004)

This film provides an analysis of U.S. and international media coverage of the crisis in the Middle East, zeroing in on how structural distortions in U.S. coverage have reinforced false perceptions of the Israeli-Palestinian conflict. It analyzes and explains how, through the use of language, framing and context, the Israeli occupation of the West Bank and Gaza remains hidden in the news media. This film is perhaps more important than ever as the recent Israeli assault on Gaza has seen the exporting of the type of shallow reportage, distorted in favour of the Israeli narrative, to screens in Ireland and Europe.

In English
 Directed by Sut Jhally and Bathsheba Ratzkoff
 Runtime: 80 mins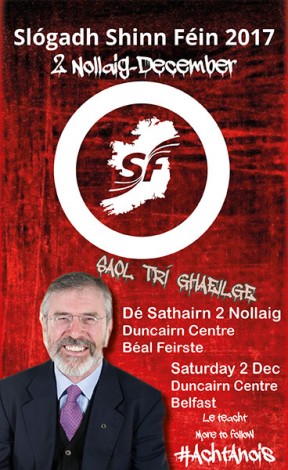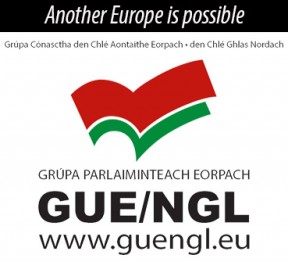 An Phoblacht on Twitter
Premium Online Service For Only €10 Per Year
For less than €1 a month, you get An Phoblacht's Premium Online Service. Sign up today!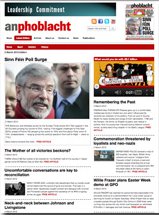 PREMIUM SERVICE:
Full access to all An Phoblacht articles
Interactive online PDF Booklet of each edition
Access to our historic Archives
Discounts for the Online Sinn Féin Shop
An initiative for dialogue 
for reconciliation 
— — — — — — —
Contributions from key figures in the churches, academia and wider civic society as well as senior republican figures