26 November 2012
Pro-Israel demo in Dublin meets opposition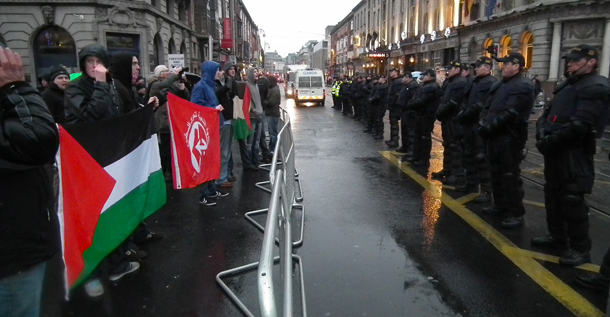 A pro-Gaza demonstrator holding a Palestinian flag who walked towards the Israeli rally was wrestled to the ground by eight officers
GARDAÍ arrested two Palestine supporters on Dublin's O'Connell Street on Sunday during a pro-Israel rally supported by the Israeli Embassy.
The number of Palestinians killed by Israeli forces during the latest offensive has risen to 160, including 105 civilians, 34 of whom are children.
Fewer than 40 pro-Israeli demonstrators gathered in Dublin on Sunday to show their support for the Zionist state's attacks. They carried banners reading "I Love Israel" and waved Israeli flags.
Dozens of Garda officers – including three vans full of riot police – confronted a small, ad-hoc counter-protest by Palestinian solidarity activists.
The counter-protesters denounced Israeli war crimes in the recent attacks on Gaza and called for an end to the siege and economic blockade of the coastal territory.
A pro-Gaza demonstrator holding a Palestinian flag who walked towards the Israeli rally was wrestled to the ground by eight officers and (pictured right) arrested. Another man who remonstrated with gardaí over the arrest was himself taken into custody.
Gardaí also removed a baby from a pram in order to carry out a search of a suspected pro-Palestinian demonstrator and her son, resulting in heated exchanges between the crowd and the officers.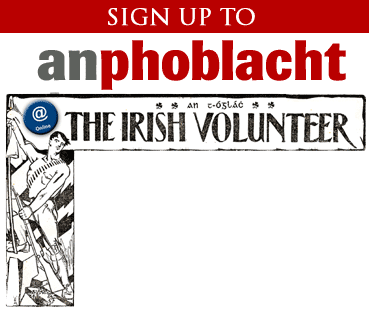 Fascinating insights into
Irish revolutionary history now online
Every week over the next two years, An Phoblacht is making all the editions of The Irish Volunteer – the newspaper of the Irish Volunteer movement – available online exactly 100 years after they were first published
The Irish Volunteer — tOglách na hÉireann was first published on 7 February 1914 and every week until 22 April 1916, just days before the Easter Rising.
Acting as the official newspaper of the Irish Volunteers it outlined the political views of the leadership and reported on the and important events, such as the Howth Gun Running of 1914.
Included in its pages alongside political opinions and news reports are various advertisements for such items as revolvers, bandoliers and military uniforms from stockists across Ireland.
You can now read these fascinating insights into Irish revolutionary history with an online subscription to An Phoblacht for just €10 per year. This includes a digital copy of each new edition of the paper and Iris magazine, access to our digitised historic archives as well as copies of The Irish Volunteer.
Premium Online Service For Only €10 Per Year
For less than €1 a month, you get An Phoblacht's Premium Online Service. Sign up today!
PREMIUM SERVICE:
Full access to all An Phoblacht articles
Interactive online PDF Booklet of each edition
Access to our historic Archives
Discounts for the Online Sinn Féin Shop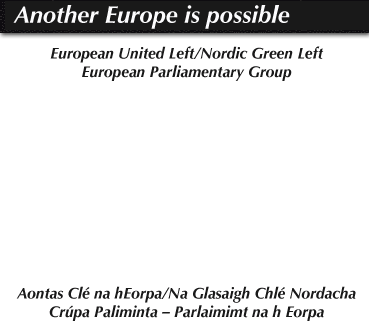 An Phoblacht on Twitter