15 November 2012
Student online grants misery could have been avoided, says council
Video: Gerry Adams challenges Government in Dáil on SUSI grants crisis
'We believed our proposal met all of the criteria and that our plans and business partners would have ensured an efficient service.'
ONE of the local authorities that missed out on the opportunity to run the student grant application system has described as "untrue" any suggestion that the new system of processing grant applications is better than the previous arrangements.
The new system (known as SUSI – Student Universal Support Ireland) is being run by City of Dublin VEC (CDVEC).
Dún Laoghaire/Rathdown County Council felt they were well positioned and more than capable of providing this service. A spokesperson told An Phoblacht:
"We believed our proposal met all of the criteria and that our plans and business partners would have ensured an efficient service."
The council's proposal envisaged them having their system in place a year in advance so that it could undergo rigorous testing. This element of the proposal would have "guaranteed the success of the project", they said.
Dún Laoghaire/Rathdown County Council – who only this week was presented with an Innovative Technology award by Chambers Ireland for its system for processing Higher Education Grants – also told An Phoblacht they were "quite surprised and disappointed to see how poorly our proposal was viewed by the selection panel".
They went on to point to the fact that they have already processed 98% of renewal applications and "all students who are entitled to a grant have received it". The spokesperson said:
"It is important to note that SUSI are only dealing with first-time grant applicants and that all renewal grant applications are still being dealt with by local authorities and VECs."
Despite earlier claims by the Department of Education and by the CDVEC that the problem lay in the quality of the applications provided by students (forms not filled in properly, documents or information missing, etc), Dún Laoghaire/Rathdown County Council were adamant – it was not the fault of students.
"It is very unfortunate that the people who are suffering as a result of the current situation are the very people who are in no way to blame. We just hope the situation improves quickly and that procedures are put in place to ensure the same problems do not occur next year when the new body has to deal with both new and renewal applications at the same time."
Asked about their recent success at the Chambers Ireland Local Authority awards and in particular receiving the Innovative Technology award for work on a grant system the official said:
"The award we recently received was for an interface between the Grantsonline system and our own grant system. This interface brought about improved service levels and efficiencies in 13 different local authorities and would certainly have been used had we been awarded the contract to run the new student grant system."
Picture below: NUIG student supporters of Sinn Féin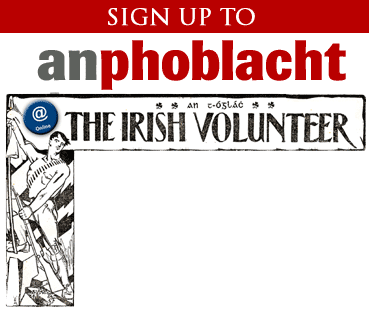 Fascinating insights into
Irish revolutionary history now online
Every week over the next two years, An Phoblacht is making all the editions of The Irish Volunteer – the newspaper of the Irish Volunteer movement – available online exactly 100 years after they were first published
The Irish Volunteer — tOglách na hÉireann was first published on 7 February 1914 and every week until 22 April 1916, just days before the Easter Rising.
Acting as the official newspaper of the Irish Volunteers it outlined the political views of the leadership and reported on the and important events, such as the Howth Gun Running of 1914.
Included in its pages alongside political opinions and news reports are various advertisements for such items as revolvers, bandoliers and military uniforms from stockists across Ireland.
You can now read these fascinating insights into Irish revolutionary history with an online subscription to An Phoblacht for just €10 per year. This includes a digital copy of each new edition of the paper and Iris magazine, access to our digitised historic archives as well as copies of The Irish Volunteer.
Premium Online Service For Only €10 Per Year
For less than €1 a month, you get An Phoblacht's Premium Online Service. Sign up today!
PREMIUM SERVICE:
Full access to all An Phoblacht articles
Interactive online PDF Booklet of each edition
Access to our historic Archives
Discounts for the Online Sinn Féin Shop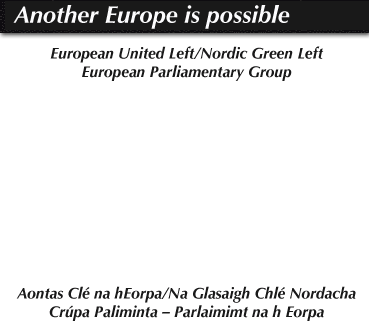 An Phoblacht on Twitter