12 November 2012
'Starve Gaza families of fuel, food and water,' says Israeli minister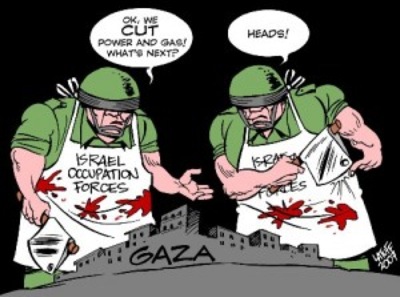 During the invasion, Israeli troops were confronted by members of the Popular Resistance Committees
FAMILIES IN GAZA should have their water, food, electricity and fuel cut off as a collective punishment for resisting an Israeli Army invasion at the weekend, an Israeli Government minister says.
Israeli Minister for Transport Yisrael Katz also called for the assassination of the leadership of the ruling Hamas party in Gaza.
The violence began on Friday when Israeli tanks, armoured bulldozers and helicopter gunships crossed the border near Khan Younis to destroy a tunnel used for smuggling much-needed supplies to the territory under a crippling Israeli blockade.
During the invasion, Israeli troops were confronted by members of the Popular Resistance Committees, injuring one soldier. At this point, Israeli gunships opened fire on what they described as "suspicous locations", killing a 13-year-old boy. Another 17-year-old civilian was killed on Saturday.
In response, the Popular Front for the Liberation of Palestine (PFLP) attacked an Israeli mobile patrol on the border with a rocket, injuring four soldiers. Other groups are also reported to have fired rockets into Israel. And on Sunday an Israeli tank opened fire on mourners returning home from a funeral, killing four boys between the ages of 16 and 18 and wounding 25 other people, mostly children.
Israel operates a land, sea and air blockade against the Gaza Strip, severely restricting what can be imported into the territory. Many basic foodstuffs, medical supplies and building supplies have to be smuggled in via underground tunnels.
The United Nations and various human rights groups have described the ongoing blockade as a form of collective punishment.
A UN report earlier this year said that unless action is taken, the Gaza would not be fit for human habitation by 2020.