17 October 2012
European politicians board Gaza-bound aid ship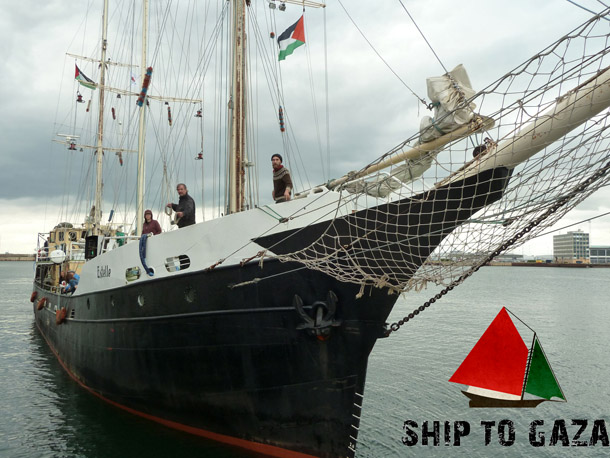 "The Israeli siege is a politically motivated act of collective punishment and is entirely illegal under international law"
POLITICIANS from across Europe joined the crew of the SV Estelle aid ship in international waters on Tueday as it attempts to break the siege of Gaza.
Members of Parliament from Greece, Norway, Sweden and Spain embarked on the Estelle at sea just south of the Greek archipelago. The ship is carrying humanitarian cargo and is expected to arrive in the besieged Palestinian territory this weekend.
The Finland-registered ship was informed last week that Israel has threatened to use force against the vessel. The Ministry of Foreign Affairs of Finland told the ship that they had been informed by Israel that: "in case SV Estelle seeks to break the blockade at sea on Gaza (20 nautical miles), Israel will intervene in the situation by using force. Should this take place, the safety of the people on board may be jeopardised."
Two years ago Israeli special forces raided a Turkish aid ship in international waters on its way to Gaza and killed nine Humanitarian Relief Foundation activists in an incident which sparked  international outrage. In November 2011 the Irish ship MV Saoirse also attempted to break the siege but it was surounded by Israeli naval vessels and forcibly seized.
Recently, 80 elected representatives from the Dáil, Seanad and the Assembly as well as Irish MEPs, signed a petition in support of the Estelle as it aims to breach the illegal Israeli blockade.
Fintan Lane of Gaza Action Ireland said it was "wonderful" to see so many politicians take a stand for human rights: "Israel has no right to stop the Estelle and the ship should be allowed to bring its humanitarian cargo directly to the port of Gaza. This inhuman blockade has gone on for far too long and must be ended. The people of Gaza are entitled to their human rights and dignity just like people anywhere else. The Israeli siege is a politically motivated act of collective punishment and is entirely illegal under international law. The international community needs to be more robust in its opposition to this appalling blockade."
Sinn Féin spokesperson on international affairs Seán Crowe TD said: "I hope that their non-violent attempts to break the Gaza blockade are successful. The ship is carrying aid and construction goods which are needed to overcome the humanitarian emergency in the region."
Special 1916 Centenary Edition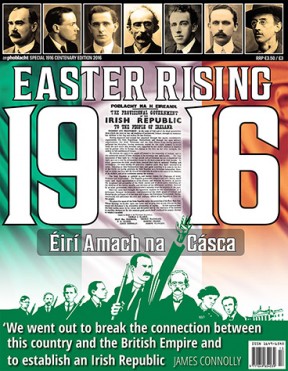 INCLUDING:
• Introduction by Sinn Féin President Gerry Adams 
• 1916 Ceannairí  | Biographies of the leading men and women who took part in the Rising
• Seven Days, Seven Men, Seven Hills | By Éamonn Mac Thomáis, republican activist, writer and historian
• Women in struggle | by Máire Comerford, a lifelong republican who witnessed central events in 1916-23
• Chronology of events 
• Map and description of the main battles and major events
• The Rising outside Dublin
• Stop press! Censorship and the media reaction to Easter 1916
• Roger Casement | 1916 rebel and a national hero on the Faroe Islands
• Internationalists in the Easter Rising | Scandinavian rebels in the GPO and ANZAC troops in Trinity College
An initiative for dialogue 
for reconciliation 
— — — — — — —
Contributions from key figures in the churches, academia and wider civic society as well as senior republican figures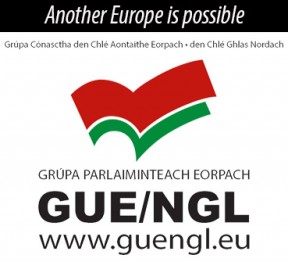 Premium Online Service For Only €10 Per Year
For less than €1 a month, you get An Phoblacht's Premium Online Service. Sign up today!
PREMIUM SERVICE:
Full access to all An Phoblacht articles
Interactive online PDF Booklet of each edition
Access to our historic Archives
Discounts for the Online Sinn Féin Shop
An Phoblacht on Twitter