3 October 2012
Unionist centenary events – Historian Tom Hartley's recommended reading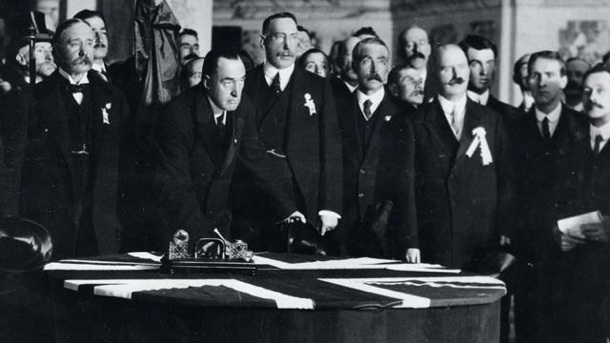 In the political life of our country, 1912 was a momentous year that ended with the formation of the Ulster Volunteer Force

2012 is the centenary of the Review of Unionist and Orange Volunteers at Balmoral in Belfast, the expulsions of the Catholic workforce from the Belfast shipyards in July 1912, and the signing of the Ulster Solemn League and Covenant in September 1912.
In the political life of our country, 1912 was a momentous year that ended with the formation of the Ulster Volunteer Force.
Listed below are ten books which may help the reader to better understand the historic and political context for 1912.  These books approach the topic from a variety of perspectives and give the reader a broad and detailed understanding of this period.
Generally, the starting point for setting the political context for that momentous year begins with the first Home Rule Bill in 1886.
The first book, Ulster's Stand for Union, by Ronald McNeill, is unashamedly unionist propaganda. Having said that, it provides the reader with the sequence of events in this hectic period of political developments.
The next two books, A History of the Ulster Unionist Party (by Graham Walker) and The Ulster Unionist Party (by John Harbinson), provide a good understanding of the rise of Northern unionism, the formation of the Ulster Unionist Council and the politics that underpinned the formation and structures of unionism in the 20th century.
ATQ. Stewart's The Ulster Crisis covers the period from 1912 to 1914. It remains a standard work for those who wish to study the detail of this period.
Carson's Army (by Timothy Bowman) is a study of the Ulster Volunteer Force which looks beyond the image of a monolithic unionist army.
The Irish Republic (by Dorothy Macardle), The Indivisible Island (by Frank Gallagher), Holy War in Belfast (by Andrew Boyd), Arming the Protestants (by Michael Farrell) and The Orange State (by Michael Farrell) are studies of the period from a republican, labour and socialist perspective.
Order them from the Sinn Féin Bookshop or your local library.
Ulster's Stand for Union – Ronald McNeill
A History of the Ulster Unionist Party – Graham Walker
The Ulster Unionist Party – John Harbinson
The Ulster Crisis – ATQ Stewart
Carson's Army – Timothy Bowman
The Irish Republic – Dorothy Macardle
The Indivisible Island - Frank Gallagher
Holy War in Belfast – Andrew Boyd
Arming the Protestants – Michael Farrell
The Orange State – Michael Farrell