2 October 2012
Child Benefit U-turn by Minister Joan Burton as families fear cuts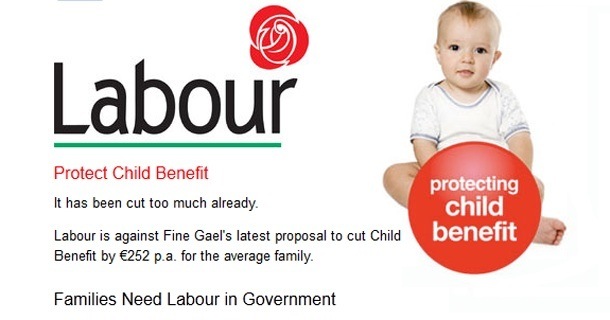 Joan Burton: 'Child Benefit is often the lifeline which helps keep food on the table and the house warm. For parents with a large mortgage and high childcare costs, any further cut in Child Benefit would be a genuine crisis'
THE Fine Gael/Labour Government looks set to press ahead with major cuts to Child Benefit in December's Budget. The move is being opposed by Sinn Féin, which says a third income tax rate of 48% on income over and above €100,000 would be fairer and bring in more money than messing with Child Benefit.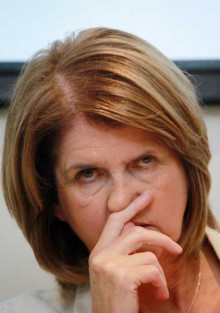 An advisory group set up by Labour Party Social Protection Minister Joan Burton (pictured right) has recommended a massive €40 cut, bringing the benefit down to €100 per month. Burton is also reported to be in favour of the introduction of a two-tier system which would see cuts across the board for 1.1million children with poorer families who rely on Child Benefit then being required to apply for 'top-ups'.
The Government seems to have just swallowed the most recent IMF report on Ireland which said Child Benefit and other universal supports were "difficult to justify under present budgetary circumstances".
During their 2011 general election campaign, the Labour Party used the slogan "Protect Child Benefit – Vote Labour" and stated its opposition to Fine Gael's plans to cut Child Benefit by €252 per year for the average family, just over half of what is now being proposed by Labour themselves.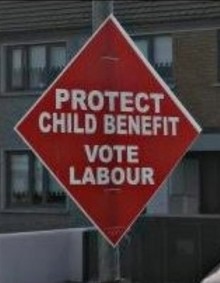 Minister Burton was particularly vocal on the subject, saying:
"Child Benefit is often the lifeline which helps keep food on the table and the house warm. For parents with a large mortgage and high childcare costs, any further cut in Child Benefit would be a genuine crisis."
Sinn Féin Social Protection spokesperson Aengus Ó Snodaigh has said his party will oppose any attempt to cut Child Benefit payments. Deputy Ó Snodaigh said if the Government wants to target high-earners in the Budget then the way to do that is to through taxation.
Deputy Ó Snodaigh said:
"The cut is not necessary. The books can be balanced without it. If the Government wants to target high-earners in the Budget then it should go after their income. This would also be more beneficial for the economy.
"Sinn Féin has proposed a third income tax rate of 48% on income over and above €100,000, bringing in €365million. The return on the proposed cut in Child Benefit would return only €200million."