1 October 2012
Video: Sinn Féin AIB balcony protest at FG/Labour gifting billion bonanza to bondholders
The €1billion bonanza pay-out to AIB bondholders is double the total cut to the Social Protection budget for 2012
TODAY'S €1billion bonanza pay-out to AIB bondholders of taxpayers' money is double the total cut to the Social Protection budget for 2012, almost double the total cut to the Health budget in 2012 and just under a third of the total adjustment the Government is set to make in next year's Budget, Sinn Féin Finance spokesperson Pearse Doherty TD said today.
"This is not public debt – it should not be paid with public money. The Government must change course and adopt a new approach. It must signal its intention that the taxpayer is not in a position to pay these private banking debts. Failure to do so will result in more cuts to hospitals, schools and other vital frontline services."
As Pearse Doherty was speaking, members of Dublin Sinn Féin occupied the first-floor balcony of the main AIB branch at the top of O'Connell Street, facing the statue of Charles Stewart Parnell, in a high-profile action alerting people to the Fine Gael//Labour sell-out.
AIB is 99.8% owned by the taxpayer.
Dozens of protesters – including Dessie Ellis TD and Dublin City Councillors Larry O'Toole, Mícheál Mac Donncha and Anthony Connaghan – carried placards protesting against the billion-euro handover, something which even AIB lunchtime customers going in to the branch were not aware of.
Scores of passing motorists sounded their support as pedestrians gave the protest their backing too.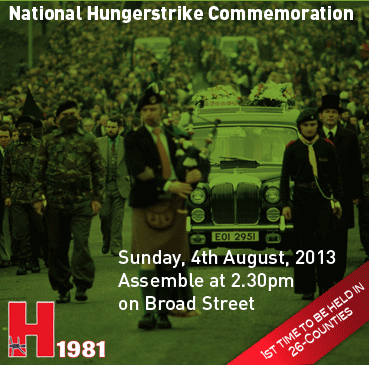 Premium Online Service For Only €10 Per Year
For less than €1 a month, you get An Phoblacht's Premium Online Service. Sign up today!
PREMIUM SERVICE:
Full access to all An Phoblacht articles
Interactive online PDF Booklet of each edition
Access to our historic Archives
Discounts for the Online Sinn Féin Shop