30 September 2012 Edition
Chairman Meow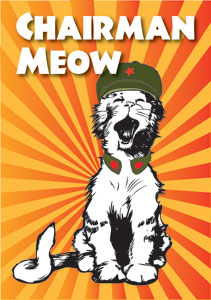 Abu Dhabi Doo!
IN THESE tough times under a Fine Gael government — when you can't afford a holiday or basic necessities — take comfort in the knowledge that your money is being put to good use by letting others get away on a much-needed break.
Fine Gael bootboy Phil Hogan might be putting the screws on local councils but that isn't stopping Wicklow Fine Gael Councillor Gráinne McLoughlin and Fianna Fáil's Pat Casey from jetting off to the Middle East hot destination of oil-rich and glamorous Abu Dhabi for the finals of an international tourism competition . . . and all at the taxpayers' expense.
Now you know why Fine Gael and Fianna Fáil need you to pay the Household Charge.
Keep your shirt on
MUCH UPSET in the Tory shires at Derbyshire Unemployed Workers Centre's unveiling at Britain's Trades Union Congress in September of two new stylish T-shirts anticipating the passing of Margaret Thatcher.
One of the shirts has the lyrics "Ding dong, the witch is dead!" while the the other includes a white cross bearing her name emblazoned with the slogan: "A generation of trade unionists will dance on her grave."
One of the most vocal critics was Tory MP Aidan Burley who described them as "utterly devoid of morality".
That's the same Aidan Burley who had to be sacked from the Government after he attended a dinner party where fellow guests demonstrated their own good taste and sense of morality by dressing as Nazis and drinking toasts to senior figures in the Nazi regime.
Bernie bolts to Belgium
FRANCE'S Libération newspaper is being sued by the Bernard Arnault, the world's fourth-richest person, after it featured a picture of the billionaire on the front page carrying a suitcase under the headline: "Fuck off, rich bastard!"
France's richest man has found himself under fire from all quarters following his announcement to apply for Belgian citizenship in what looks like a move to avoid new taxes in France.
Arnault denies his application has anything to do with avoiding the proposed taxes — which would see those earning in excess of €1million a year pay 75% tax — but few believe him.
Libération said:
"Even if he denies he will go into exile for financial motives, Bernard Arnault's request for Belgian nationality appears to be the symbol of selfishness by the most wealthy."
Arnault, who is worth around €32billion, previously emigrated to the USA for the duration of a previous socialist presidency in France in 1981.
The billionaire is suing the paper, claiming that the headline was"vulgar and violent".
However, leader of the Left Front, Jean-Luc Mélenchon, was not intimidated by the move, saying of Arnault:
"People like him are parasites."
White trash
THE Ku Klux Klan is suing the US state of Georgia for rejecting the white supremacist group's application to adopt a stretch of motorway.
The KKK – best known for dressing up in bedsheets for cross burnings and lynching black people at crossroads - is white with rage that signs bearing their name will not be erected thanking them in return for keeping the road neat and tidy.
They complain that the rejection of their application is a violation of free speech rights.
A spokesperson for the local Governor said:
"A state road sign with 'KKK' on it would betray our values and would rightly offend the vast majority of Georgians."
Where's our money, Mrs Merkel?
GREECE is looking behind more than the sofa for money to help pay its bills. In an imaginative move, the Greek Treasury has set up a working group to scour historical archives and tally just how much Germany owes Greece in reparations for Nazi war crimes during Hitler's occupation of Greece in the 1940s.
Manolis Glezos, an 89-year-old leftist politician famous for pulling down the swastika flag of the Nazi occupiers from the Acropolis in May 1941, said:
"We don't owe the Germans money they owe us. The total they owe us is €162billion without interest. If you add 3% interest, it's more than a trillion euros. But we can accept a haircut on the interest."
Can we take a similar line with the British, Mr Noonan?