30 September 2012 Edition
Dublin memorial service for South African miners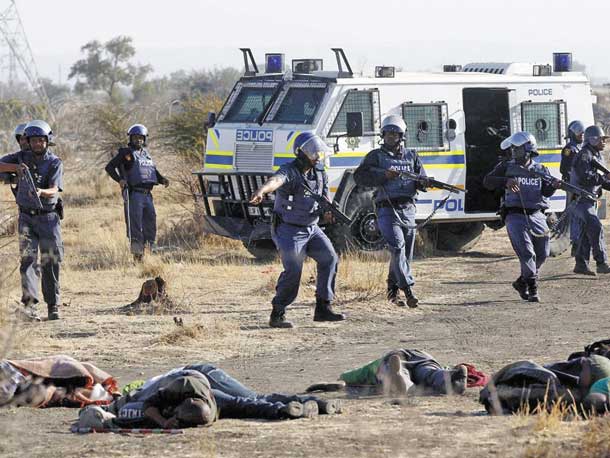 "There should be a full and independent investigation into all the circumstances leading up to and including the deaths and injuries which occurred on 16 August 2012."
SINN FÉIN TD Seán Crowe represented the party at a memorial service in Dublin in honour of 34 South African miners shot dead by police during a protest at the Lonmin mine on 16 August. A further 78 miners were wounded in the shootings.
The service, held in the Methodist Church in Abbey Street, Dublin, on Thursday 30 August was co-hosted by 'ANC Ireland', the Methodist Church and the South African Embassy in Dublin.
South African Ambassador Azwindini Jeremaih Ndou and SIPTU General President Jack O'Connor were among other guests at the ceremony.
Meanwhile, the striking miners agreed to return to work on Tuesday 18 September after trade unions agreed a settlement with mine-owners Lonmin that will see their salaries rise by up to 22%.
Reacting to this news, Sinn Féin Assembly spokesperson on International Affairs Pat Sheehan gave a cautious welcome to the news that the striking miners have reached an agreement as "a welcome development" but went on to point out:
"While the miners are to receive a pay increase of between 11% and 22% (depending on worker category), higher than the 5% inflation rate, it is far less than they had been demanding."
The Sinn Féin Assembly member has given his voice to the growing calls for an independent investigation into the killings of the 34 miners by the police.
Speaking to An Phoblacht, Pat Sheehan said:
"There should be a full and independent investigation into all the circumstances leading up to and including the deaths and injuries which occurred on 16 August 2012."
He added:
"The international outrage at the events at the Lonmin mine in Marikana is entirely warranted.
"The rights of those on strike must be respected as must their right to strike be acknowledged. It is completely wrong that 34 civilians were shot dead and 78 injured by the South African police while engaging in protest.
"The rights of workers must be at the heart of building a just and equal society."