26 September 2012
Charlie McGlade (Belfast & Dublin, 1909-1982) 30th anniversary commemoration

'Charlie was a Volunteer's man whose aim was a 32-county socialist and democratic republic'

ON SATURDAY 15 SEPTEMBER it was the 30th Anniversary Commemoration for lifelong republican, trade unionist and community activist Charlie McGlade and on his death on 17th September 1982 was still a member of Sinn Fein's Ard Chomhairle.
Charlie was originally from the Bone area of Belfast and then of Drimnagh, Dublin.
The commemorative events for Charlie's 30th anniversary began on Friday night, 14 September, with a public lecture in the local John Bosco Youth Centre, A Tribute to Charlie McGlade – A Lifetime of Republican Struggle. This was chaired by the Charlie McGlade Cumann cathoirleach, Ian McBride and the main speaker was Aengus Ó Snodaigh TD. This was a very uplifting meeting with tributes coming from the floor from friends and comrades of Charlie's of that time.
On the Saturday, the launch of the Charlie McGlade Tug-of-War Memorial Cup took place before the commemoration where a local team from the Eleanora Pub (Drimnagh) took on the Burns/Moley Sinn Féin Cumann from south Armagh and the Burns/Moley Cumann (pictured below with Daithí Doolan on left) were winners on the day.
In the commemoration that followed, a piper, followed by the Dublin Colour Party, led proceedings to the McGlade family home on Mourne Road, Drimnagh, where there was a minute's silence and lowering of the flags before proceeding to Errigal field.
The Dublin Roll of Honour was read out by Anto McGlynn. Wreaths were laid on behalf of the Charlie McGlade Cumann, the Republican Movement and the Burns/Moley Cumann.
Flags were lowered and a minute's silence observed. Daithí Doolan, local Sinn Fein representative, read a transcript from An Phoblacht at the time of Charlie's death – "An unrepentant fenian", written by Gerry Adams – and gave an update of the Dublin City Council's position on renaming the field after Charlie.
The Ballad of Charlie McGlade (written by Peadar Tunney) was sung by Mary Mullen.
The main speaker Martin Ferris TD (pictured right), a friend and comrade of Charlie's and who had spent some time in Charlie's house in the 1970s. He spoke of Charlie's lifelong dedication to the Republican Movement and no prisoner or ex-prisoner was ever found wanting when Charlie was around. He spoke of Charlie's great rapport with prisoners' families. In Martin's words, "Charlie was a Volunteer's man whose aim was a 32-county socialist and democratic republic".
The piper closed the ceremony by playing a lament in honour of Charlie and the Rising Phoenix RFB played Amhrán na bhFiann.
Thanks
THE Vol Charlie McGlade Cumann, Drimnagh, Dublin, would like to thank all those who participated in our commemoration of the 30th anniversary of Charlie McGlade, particularly:
Martin Ferris TD
Aengus Ó Snogaigh TD
Daithí Doolan,
The Burns/Moley Sinn Féin Cumann, South Armagh
Pete Fitz and the Eleanora team, the Burns and Moley team with Tony O'Rawe who participated in the Charlie McGlade Tug of War Memorial Cup
Dublin Colour Party
Rising Phoenix RFB
Mick Foy
The Irish Brigade
Mary Mullen
Anto McGlynn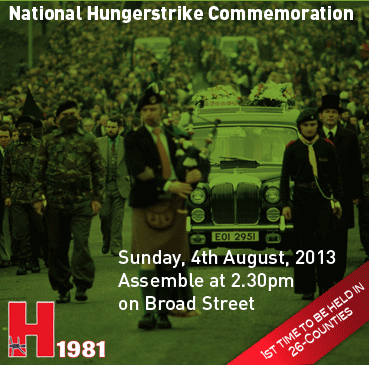 Premium Online Service For Only €10 Per Year
For less than €1 a month, you get An Phoblacht's Premium Online Service. Sign up today!
PREMIUM SERVICE:
Full access to all An Phoblacht articles
Interactive online PDF Booklet of each edition
Access to our historic Archives
Discounts for the Online Sinn Féin Shop