12 September 2012
1.5million march in Barcelona for Catalan independence from Spain
The protesters, who carried the red and yellow 'Estelada' independence flags, marched under the slogan 'Catalonia, a new European state'
1.5 MILLION people thronged the streets of Barcelona on Tuesday evening to demand 'Freedom for Catalonia'. Organisers said an equivalent march in Washington DC would number 83million.
In what is believed to be the largest pro-independence demonstration ever, hundreds of thousands of people arrived in the capital from right across the region on more than 1,000 chartered coaches and a number of trains.
Speakers and prominent supporters included music, TV, movie and football stars as well as political figures, trade unionists and all other walks of life.
The demonstration is seen as a major challenge to the Spanish Government as Catalonia's economy equates to about one-fifth of Spain's output.
The protesters, who carried the red and yellow 'Estelada' independence flags, marched under the slogan 'Catalonia, a new European state'.
As they marched towards the Fossar de les Moreres, where the Catalan troops who died defending Barcelona from a 14-month Spanish siege in 1714 are buried, they chanted: "What do the crowds want? A new European state! What do the people want? An independent Catalonia!"
Spanish Prime Minister Mariano Rajoy dismissed the march, saying: "This isn't a moment for big gestures like this. What we need to do is create jobs."
Alfred Bosch, an MP for the Republican Left of Catalonia (ERC) – and who spoke in Ireland last weekend at the Sinn Féin Summer School in Ballyvourney – told reporters in Barcelona:
"All the flags I can see are the pro-independence flags of Catalonia. And everybody is wearing these flags. I have never seen so many pro-independence flags in my all life."
A poll by the regional government in July showed that, for the first time, the majority of Catalans are in favour of independence from Spain.
* A solidarity protest by Catalan and Irish supporters was held at Dublin's GPO (below) to coincide with the march in Barcelona (Photo: www.liffey)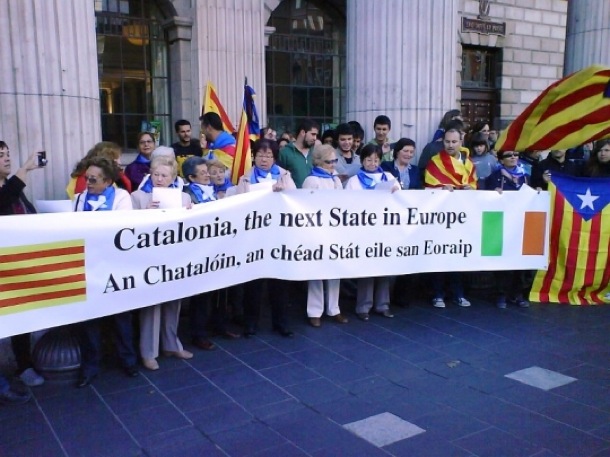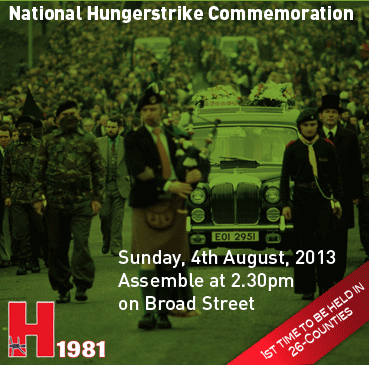 Premium Online Service For Only €10 Per Year
For less than €1 a month, you get An Phoblacht's Premium Online Service. Sign up today!
PREMIUM SERVICE:
Full access to all An Phoblacht articles
Interactive online PDF Booklet of each edition
Access to our historic Archives
Discounts for the Online Sinn Féin Shop