27 August 2012
Film evidence of loyalist thugs' attacks at Royal Black Preceptory parade
A number of video recordings published online show a loyalist supporter pulling a banner which reads 'Respect St Patrick's Church' out of the hands of peaceful protesters
FILM FOOTAGE (SEE RIGHT) shows unionist bands openly break the law and defiantly breach a Parades Commission determination by playing loyalist tunes outside St Patrick's Church on Donegall Street, Belfast, on Saturday during a parade by the Royal Black Preceptory (aka the Imperial Grand Black Chapter of the British Commonwealth).
Local Sinn Féin MLA Carál Ní Chuilin decribed it as "blatant sectarian and provocative behaviour".
The Parades Commission had earlier ruled that no bands were to play music outside the church yet most, if not all of them, ignored the ruling.
According to DUP Councillor David Hilditch on his Twitter account, the Parades Commission determination delivered by the police was "torn up by City Grand Master to huge cheers" ahead of the parade.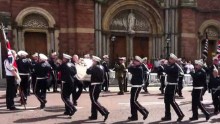 One of the bands that took part in the provocation was the Young Conway Volunteers, from the Shankill Road. The band had already been barred from marching the route after they were filmed marching in a circle and playing sectarian songs outside the same church on Twelfth July (pictured right).
During Saturday's march, the band was accompanied by unionist politicians while some supporters attempted to block camera crews from filming the band blatantly breaching the ruling. Pictures of loyalist supporters making obscene gestures towards residents as they passed were also published in the Belfast Telegraph newspaper.
While media reports initially claimed it was unclear how the trouble started, a number of video recordings published online show a loyalist supporter pulling a banner which reads 'Respect St Patrick's Church' out of the hands of peaceful protesters. A number of PSNI officers then rush down the road in an attempt to defuse the situation while missiles can be seen being thrown at residents and police from where loyalist supporters – including DUP representatives – had gathered.
North Belfast Sinn Féin MLA Carál Ní Chuilín, who was present at the scene, told reporters:
"I think it is an absolute disgrace. What we had here was political unionism pandering to populism – which is total cowardice. After what happened outside this chapel on the Twelfth, what they need to do is use their influence in a positive way instead of turning to rabble rousing."
Local parish priest Father Michael Sheehan told reporters at the scene:
"I could not believe that every band which came down today went out of their way to breach the Parades Commission determination and to insult the people who gathered."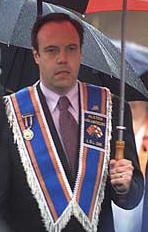 Carál Ní Chuilín also called on local DUP MP Nigel Dodds (right) "to come out and make a clear statement condemning these breaches of the determination and law breaking".
Dodds did issue a statement but instead of condemning the loyalist bands he claimed that it was inevitable that loyalist bands would decide "enough is enough" over parade restrictions.
Dodds also claimed there had been a "republican attack and incursion into the parade" despite video evidence which shows a loyalist attack on peacefully protesting residents.
The PSNI has made a number of arrests following the trouble.
On Monday, a Glasgow man named James Boyce appeared in court accused of carrying out a provocative act and disorderly behavior.
Belfast Magistrates Court heard that Boyce had been identified on CCTV as the individual who removed the banner from protesting residents. He accepted being the person seen in the footage.
Boyce's solicitor argued that unless Boyce turns up for work on Tuesday he would lose his job as a lift equipment inspector.
The district judge refused bail due to the risk of reoffending and remanded him in custody until 24 September.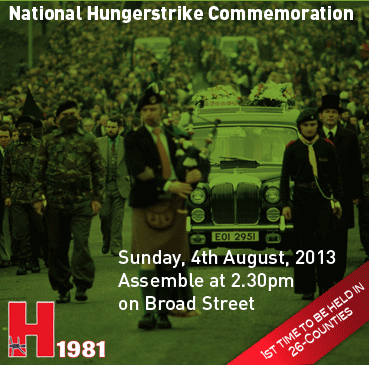 Premium Online Service For Only €10 Per Year
For less than €1 a month, you get An Phoblacht's Premium Online Service. Sign up today!
PREMIUM SERVICE:
Full access to all An Phoblacht articles
Interactive online PDF Booklet of each edition
Access to our historic Archives
Discounts for the Online Sinn Féin Shop