11 June 2012
8,000 Spanish miners strike against cuts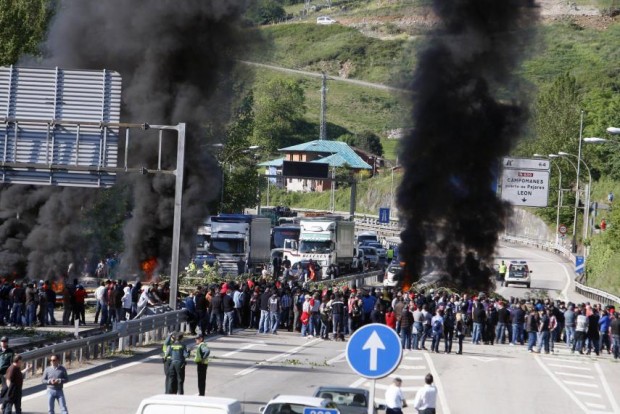 The traditional coal-mining region of Asturias has a history of militant protest and opposition to right-wing governments
A MINERS' STRIKE in the Spanish province of Asturias has paralysed much of northern Spain with more than 8,000 coal miners taking to the barricades and picket lines.
Sixteen main roads and motorways have been blocked by barricades for the past two weeks while two railway lines have also been shut down.
There have also been numerous clashes with police both in Asturias and in the Spanish capital of Madrid, where 10,000 miners' supporters marched last week. Asturias is located between Galicia and the Basque Country.
The strikers want a reversal of a  recently-announced cut of  €190million in subsidies to the mining sector by the conservative Spanish Government. Miners say the cuts will result in the collapse of the mining sector as Spanish coal will become too expensive, leaving it unable to compete against cheaper foreign coal. The subsidy cut affects 40 mines, almost all located in Asturias.
Dozens of police and striking miners have been hurt in clashes and scores of arrests have been made.
Some miners have occupied a mineshaft while supporters are camped out in the main square in the Asturian capital of Oviedo.
Miners in Wales have publicly pledged their support to the Spanish strikers in a sign of international solidarity.
Unemployment in Spain stands at almost 25% and is continuing to increase due to the EU-imposed austerity programme.
The traditional coal-mining region of Asturias has a history of militant protest and opposition to right-wing governments. In 1934, an uprising in the region led by striking miners was crushed by the fascist General Franco. More than 1,500 miners and 200 civilians were killed, along with 280 Spanish troops and police.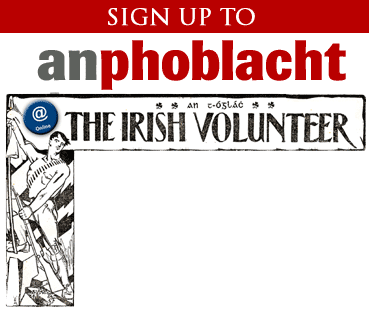 Fascinating insights into
Irish revolutionary history now online
Every week over the next two years, An Phoblacht is making all the editions of The Irish Volunteer – the newspaper of the Irish Volunteer movement – available online exactly 100 years after they were first published
The Irish Volunteer — tOglách na hÉireann was first published on 7 February 1914 and every week until 22 April 1916, just days before the Easter Rising.
Acting as the official newspaper of the Irish Volunteers it outlined the political views of the leadership and reported on the and important events, such as the Howth Gun Running of 1914.
Included in its pages alongside political opinions and news reports are various advertisements for such items as revolvers, bandoliers and military uniforms from stockists across Ireland.
You can now read these fascinating insights into Irish revolutionary history with an online subscription to An Phoblacht for just €10 per year. This includes a digital copy of each new edition of the paper and Iris magazine, access to our digitised historic archives as well as copies of The Irish Volunteer.
Premium Online Service For Only €10 Per Year
For less than €1 a month, you get An Phoblacht's Premium Online Service. Sign up today!
PREMIUM SERVICE:
Full access to all An Phoblacht articles
Interactive online PDF Booklet of each edition
Access to our historic Archives
Discounts for the Online Sinn Féin Shop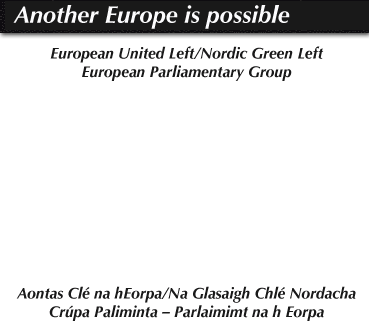 An Phoblacht on Twitter