2 June 2010 Edition
Where are the Luddites when you need them?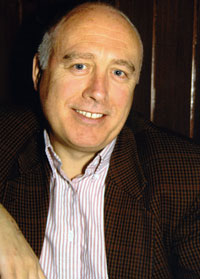 By Danny Morrison

'An Phoblacht' began publishing as a monthly, I think, in 1970, around the same time that the Belfast-based 'Republican News' came on the streets. My mate Peter and I in our teens, and just after the Falls Curfew, used to sell Rep News from under our coats as people came out of St Paul's Mass. It's hard to believe, given the public display of support for Sinn Fein today, that back then most people were still afraid to express or declare their republicanism.
I first wrote for 'Republican News' in 1971 and 1972, the year I was interned, and after my release became editor in July 1975, during a disastrous ceasefire, when, in my opinion, the IRA temporarily lost its way. My predecessor, who was a fairly right-wing Catholic, had an editorial disagreement with 'the owners' of the paper, to put it mildly, was sacked, and I was asked if I would step in.
I was 22, a cheeky brat, and I jumped at the opportunity. One of our first stories - an exclusive - was to publish the captured ID of an undercover soldier who had been rumbled on the Falls Road, made a lucky escape, but dropped his machine gun and wallet.
We also published comms from the prisons, including the early writings of Bobby Sands, and breached the security around the British Queen's visit to the North by publishing her itinerary in advance.
In 1977 and 1978 the British secretary of state, a pompous little toad by the name of Roy Mason, tried to close the paper down. Our offices, at 170a Falls Road, had already been bombed, one of our drivers, Billy Kennedy, had been shot and wounded at the front door, and the British army raided us regularly, seized documents and photographs and tried to disrupt the paper. In Dublin successive editors of 'An Phoblacht', including Eamon Mac Thomais, were being arrested and charged with IRA membership in an attempt to break the continuity of that paper.
In 1978 almost the entire staff of 'Republican News', including our printer, Gary Kennedy, a member of the SDLP, was behind bars charged with IRA membership and conspiracy to pervert the course of public justice. But the paper continued to be compiled by comrades who moved from sympathetic house to sympathetic house though we had to move the printing of the paper to the south. (Years later loyalist gunmen burst into Gary Kennedy's Ronan Press in Lurgan and shot dead Martin L'Estrange from the Falls.)
By February 1979 the case against us collapsed.
Long prior to this, the Dublin-produced 'An Phoblacht', based at 44 Parnell Square, suffered a lot of disadvantages and we, based in Belfast, tended to get all the coups, access to exclusive IRA interviews and IRA photographs and 'war news' briefings. The competition between the two papers had led to a situation where, with our natural expansion beyond the nine counties of Ulster, our sales were clipping at the heels of 'An Phoblacht', and, up until the raids, we were turning a profit.
Discussions at national leadership level agreed that a merger would be the answer - although we were all thinking in terms of about a year down the line.
However, an incident arose where the 'An Phoblacht' editor, the late Deasún Breathnach, felt that he was been placed under undue pressure by two veteran republicans (who were later to form Republican Sinn Féin) to promote their point of view. To be fair, the two newspapers were caught up in the dying kicks of an ideological competition then being played out at certain, mostly personality levels within the Movement. It was the time of the so-called "northern takeover", which made sense at a time of armed struggle but which politically, inevitably, needed to be loosened if republican activists in the twenty-six counties were to come into their own and assertively stamp their authority on the culture of the Movement.
Deasún's resignation dramatically brought forward the impetus for a merger and so, in one fell swoop, in late February 1979, 'An Phoblacht' and 'Republican News' combined, with me as editor and Mick Timothy as my left-hand man in the Dublin offices. Of course, it was seen and depicted as a takeover (which it actually wasn't). We were anxious to cover all the struggles taking place in the south, supporting the trade union movement, giving a voice to women, to gays, to the demands for the right to divorce for example (incredible though that backwardness of Irish society seems now to a modern audience).
The new paper, the late Maire Moore declared, could not lose the name of 'Republican News', which is why we ended up with the combination, AP/RN.
Mick Timothy's 'Burke at the Back', along with War News and reports of the escalating prison crises in Armagh and the H-Blocks were avidly read each week. We published letters critical of the movement and certain of its policies, we covered a wide variety of debates.
I was also the national director of publicity so a lot of the work was delegated to Mick, to Phil Shemeld (an English comrade who emerged from the Troops Out Movement), to Danny Devenney, to John Hedges (congratulations!) and the typesetters who worked to dawn each Thursday morning: people like Cathleen Knowles, Mary Hickey, Jackie Burt and Mick's wife, Alice. Hot off the press our drivers were ready to distribute the paper to all corners of Ireland within hours.
The hardest year of all was 1981.
What a time of struggle, sacrifice, tears, broken-hearts, anger, defiance, renewal and inspiration.
The paper had gone from something like eight pages to eighty-eight pages for certain editions - such was the volume of news generated by the hunger strike. The toll on the staff was incredible and yet no one batted an eyelid if something had to be rewritten and re-typeset and re-designed at five o'clock in the morning after a twenty-hour stint at 44.
I was editor up until October 1982 when I stood for the Assembly elections and was elected to Mid-Ulster. It was quite a wrench leaving AP/RN, friends and comrades behind, first in the able hands of Mick Timothy, whose death in 1985 was nothing short of tragic and shocking, then his successor Rita, and others, and now, after many years of service, into the hands of 'Erskine' (Childers, my tribute to and moniker for the loyal John Hedges, who takes over in this bloody awful cyber age. Where are the Luddites when you need them!).
Finally, finally, here is one thing about the journey which immortalises all we might do. It is never-ending! Which is why, when today, 27 May, 2010, Erskine texts me for 200 words, I send him six times what he asked for!
The first copy of An Phoblacht/Republican News 
Past, present and future

By Joanne Spain


As temporary editor of An Phoblacht, as it moves from a weekly edition paper to a monthly, I knew I couldn't let this moment pass without marking the incredible role this paper has played in the struggle over the years. However, when commissioning these contributions from editors, writers, layout people and sellers, past and present, I was acutely aware that this is not a eulogy. We are leaving one form of paper and moving onto another, no less important.
Over the last couple of years, republicans have slipped into the comfort of thinking that we have got a handle on the mainstream media - that the need for our own analysis, interpretation and propaganda has become less important. How careless this assumption!
As I read these requested pieces, it reminded me just how necessary An Phoblacht is - how necessary it will be until we have achieved our ultimate goal of a united, socialist Ireland. When I worked on Sinn Féin's pre-budget submission 'The Road to Recovery' last October, I saw how the alternative economics that went into this partydocument were lauded by left-wingers throughout the country - but was Sinn Féin covered for its economic analysis in the mainstream media? Was it heck! An Phoblacht though, carried a breakdown of the submission - offering advice and facts to party members around the country and a source of information to anyone interested in our politics.

I have my own history with the paper. On the last day of my college exams, I started working in 58, thanks to Mícheál Mac Donncha, who, when recommending me for the post, had no idea he was introducing me to my future husband (then editor Martin Spain) and father of my two children! Apparently, Martin's reaction when he spoke to Mícheál was 'a Darndale graduate in politics from Trinity wants to write for the paper?' He still refers to me as the Darndale politics graduate.
I was a writer/sub-editor for the paper for five years in total and still contribute. But as I've told all and sundry, my one ambition in republicanism (if ambition is allowed!) has always been to edit this paper. And over the last few weeks, I've relished the opportunity. It's with the greatest respect, and looking forward to the new monthly version of what I know will be a great paper, that I introduce the contributions of these amazing editors, writers and workers, past and present.
A word of caution - the contributions in this pull-out come nowhere near reflecting the totality of those who made the paper what it is. There are too many people to mention, from Aengus Ó Snodaigh, Caoimhghín Ó Caoláin, 'Cormac', Ronan Brady, Tony O'Flaherty, Christy and Mick Finnegan, to Peadar Whelan, Fern Lane, Dermot Sloan, Rose Dugdale, Laura Friel, Catherine and Aine Curran, and Inaki and Sole. The list is endless and we cannot even begin to pay tribute to all those involved, which is a typical republican problem. Just let it be said that we are so grateful to all of you and you know who you are.
All that's left to say is good luck John - you might be John the Brit to the rest, but to me you'll always be John de Wit. That's a compliment!

Incredible camaraderie

I started working for the paper when I was 16, that was several years ago! It was not long after the Hunger Strike and the paper was a great outlet for my fervent Republicanism.  I could use up my allotted couple of few hundred words on just naming all the people that I worked with on the paper throughout that time.
That's what I remember most, the friendships, the incredible camaraderie, the 'we're in it together' feeling we all had.  There was quite a large staff back in the day before technology became what it is today. There were very late nights, tight deadlines, a few scoops to be had most Wednesdays.  I remember the incredible bravery of our van drivers, who delivered the paper without fail under the most dangerous conditions.  I remember when Danny Devanney and Pat Magee got shot in the doorway of 44, the home of the paper at the time.  I remember the move to 58. I remember some very funny moments, the pranks we regularly played on each other, but my abiding memory was the day that Dessie Mackin came into the office and smiled! Yeah, that was same day that pigs flew and the moon was blue.  I look forward to making new memories as the paper modernises itself and moves into the next era of An Phoblacht – Treasa Quinn, General Manager.

The man in the sweater

An Phoblacht was an exotic species in the conservative elitist greyness of 1980s UCD. The idea of writing for the paper seemed impossible. College republicans often hypothesised what it might be like, as one Larne comrade used to describe, 'to be sitting behind the big desk in Parnell Square'.
The 1991, 26-County local elections, brought me to An Phoblacht and I never left. There were no big desks. There were a lot of damp buses and cold trains and meetings, often with the poorest, most marginalised people in Ireland, whether it was travellers isolated and deprived in Cork, hope fighting drugs in Dublin's inner city slums, small farmers in West Galway, strikers everywhere.
There was a war in Ireland, twisted and distorted by commercial media reporting and there was us writing about this and everything from last night's TV to Nicaragua, Iraq, the economy, history, politics and always more politics.
An Phoblacht was always changing; there was always debate, discussion and always disagreement - from the colour of the masthead to the length of articles. It is always challenging and often good fun. We were, and I believe still are, zealous writers, delivering a message, a critical viewpoint, unwrapping an analysis that the political establishment wants to censor and ignore.
I'm looking forward to more change, discussion, disagreement but most of all more of the Irish republican worldview.
My top moment; watching a live TV press conference, between Taoiseach Albert Reynolds and British Prime Minister John Major, in the Phoblacht office in 1992. Seán Mac Brádaigh, then a mere scribe, now Sinn Féin Director of Publicity, had blagged his way into Government Buildings through security cordons and checks. In a packed room he got in a question when John Major pointed at him saying "Yes, the man in the sweater". We used that tag that for many months, and no, he didn't think it was funny. That, or all the journalists collectively humming the theme music to Hawaii Five-0. – Robbie Smyth, reporter.

Wednesday night and Thursday morning 
I was given 100 words to sum up my thoughts and experiences as An Phoblacht goes monthly. Never as editor did I give a rookie or even a veteran journo an order for such a highly condensed piece! 
How to sum it all up? It began exactly 25 years ago when I was 'head hunted' by the editor Rita O'Hare, then as now a fiery red-head with a fearsome reputation. The paper was based in 44 Parnell Square and I was given a corner desk, a refill pad and a few pens. There were no typewriters for the journalists, let alone laptops. 
There was a sizeable staff in those more labour-intensive publishing days. The journalists, sub-editor and proof-readers were in one big room, off which was the editor's tiny office. From Rita's lair many shouts - and sometimes screams - could be heard during the course of the week. Most of this was directed at the poor unfortunates in our Belfast office. 
"How did we do it?" is the question I ask myself now. Typesetting, waxing (nothing to do with body hair), pasting up, laying out, shooting (not that kind), telexing and faxing, were all part of it but have long been banished by the microchip. We often stayed into the early hours of Thursday morning to meet the weekly deadline or, if we were lucky, we made last orders in Conway's or the Flowing Tide. 
Black Belfast humour was supplied by the late Robin Dunwoody, a superb sub-editor, chain-smoking, pint-drinking, ageing hippy, our modern equivalent of Jemmy Hope, a red-hot radical from a Protestant background. He used to bet on his racing jockey namesake whom he claimed was a relative. 
Our new monthly's editor was then known as 'John the Brit' (Hedges) while the now world famous muralist Danny Devenney was head of layout. When you gave Danny some vital piece of information or an illustration for an article you never knew whether he had taken in what you said as he hunched over his light-box, scalpel in hand, but the thing invariably appeared right when the paper came out on Thursday. (Sorry, Danny!) Danny's able apprentice, long since turned master, Mark Dawson, also started his odyssey 25 years ago. 
On this floor in Leinster House where I write now are three former An Phoblacht staff members - Aengus Ó Snodaigh TD (journalist, sub-editor, proof-reader), Caoimhghín Ó Caoláin TD (general manager) and myself (journalist, editor). The old paper has a lot to answer for. 
Rita, of course, went on to much greater things, going from her editor's lair to the White House and beyond. And I'm still afraid of her. – Mícheál Mac Donncha, Editor/Writer

Remarkable people
As I sat down to write this piece, coincidentally, Gerry O'Hare, another former editor, popped up on TG4's excellent Éalú series talking about the 1973 IRA helicopter escape from Mountjoy. It was doubly coincidental as it was Gerry's ex-missus, Rita O'Hare, who hired me as a cub reporter back in 1989. Moreover, my own wife, acting editor for this last weekly issue (and who I as editor hired as a reporter some years back) asked me to write this piece. How incestuous is that!
My own budding journalistic career was almost cut short at the outset, as Rita could not read my scrawl and I couldn't type to save my life. Luckily, within a couple of weeks the first computers appeared in the office, Apple Macintoshes that appear prehistoric by today's standards but were a massive step forward for us at the time.
One unfortunate outcome of this technological miracle for production was that from that point on, the number of people needed to produce the paper started to fall, and some of the paper's unique atmosphere was certainly lost in the process, but for me those little computers were a lifesaver.
It is no coincidence that so many of today's leading republicans cut their teeth in the paper. Rita had an eagle eye for talented youngsters and was a great teacher, ever available to inspire or bawl out, as the occasion required. We still yell "Richard, you're a d***head!", one of her more flamboyant interactions with our then northern editor, when we want to embarrass her.
My abiding memories of my time in the paper will be of the many truly remarkable people it placed in my path, from comrades I worked alongside to a myriad of individuals from across the country and beyond who inspired me with their commitment to our campaign and to similar struggles across the world.
It has been an honour to be associated with the paper and all those people and issues.
I wish John Hedges well with the monthly issue, but would respectfully remind republicans that the paper can ultimately only be as effective as the support it receives. The more people subscribe, the better resourced An Phoblacht will be to do the job of finding the exposés and the human interest stories that illustrate the necessity of this tremendous endeavour we simply call The Struggle. – Martin Spain, Editor/Writer

Laid back layout man
I started on the paper 25 years ago, the week after Bodenstown 1985. Telex, typesetting, headline machines and cut-and-paste seems so long ago now, but we always moved with the times to get our message out and this move to a monthly with more emphasis on our web presence is just another transition - a new way for new times.
Some great people have worked with me here: Danny D, Bivis, Tina, the Cabra gang, Garrett and so many many more. We all knew the long tradition of this paper in republican history and were proud to work on it.
An Phoblacht to me means we can tell our story, our history, and this paper is how. Take Loughall (8 IRA Volunteers were killed in an British shoot-to-kill ambush). The other papers gloated, calling them 'terrorists,' but we knew they were brave Irish republicans and we were able to get our message out and honour their memories.
I should mention Robin Dunwoody, Margaret Robert-son, Seamus Flynn, Brian Campbell and many more comrades who worked tirelessly for the paper and have passed away.
People should rally around this move. Sell it, read it, subscribe to it. Let's keep on telling our story, our history - no one else will. – Mark Dawson, layout man.
(Editor's note - the 'laid back' reference is an in-joke)
Mark Dawson  and Mícheál Mac Donncha back in 1995 
'The Paper Comes First'
I worked for APRN from 1979 to 1990. Like everybody else in the paper at the time I had a spell at practically everything - tea-girl to TV reviewer - proof reader to journalist and Editor from 1985.
It was the greatest learning experience, in the company of great comrades...too many to name, most of whom I am still friends with in spite of a few traumatising Wednesday nights. Okay I'll admit that I did most of the traumatising! Danny Morrison was Editor while Mick Timothy was in charge of the Dublin office when I joined. Mick became Editor in 1982. 
His mantra was 'the paper comes first' and this was demonstrated by everybody who worked for the paper from Editorial to layout to accounts to distribution and the great Cormac.
Mick's sudden death in January 1985 at the age of 37 shocked us all, and was a tragedy for his wife Alice and their young family.
I was appointed Editor. The paper had to come out. This was our tribute to him.
I worked on the paper through some of the darkest days of the war, the Hungerstrikes and Shoot to Kill. Collusion and sectarian assassination was at its height.
Our job was to get the Republican message out, to tell people what was happening, to give republicans throughout Ireland and abroad the real story. Section 31 was in force in the 26 counties and equivalent legislation banned republicans from the broadcast media in Britain and the north. It infected and invaded the print media aswell.
A proud moment for us all was when in 1988 an International panel judged AP/RN as "far and away the best political weekly in Europe".
I still have Mick Timothy's last layout, written by hand, as everything was then, setting out the content of the next week's paper.
And the paper is still going.  It will have a rebirth next month to best exploit modern times and communications - that's progress.
I still write everything by hand though, in pencil.
So, John Hedges, be glad that at least in your role as Editor of the new An Phoblacht, you have no Luddites to contend with.
I look back on those days, yes with sadness and a real sense of loss for dead comrades but with a feeling of achievement that we did get the word out.  We played a part in the struggle. – Rita O'Hare, Editor/Reporter
The Dark Heart of An Phoblacht
Tragedy and comedy compete for the dark soul of the Irish republican, rendering us mildly psychotic. The symptoms include an inability to behave appropriately on the most sombre of occasions. For instance, when we should be crying our lamps out, we start to giggle uncontrollably. 
Reflect, for instance, on the 2007 general election. One undercover reporter was at the countdown, evidently the worse for wear. He'd been hearing voices in his head all morning - something about 'keeping the faith'. "I gotta have faith", he kept muttering to himself all the way to the RDS. The reporter was a fella by the name of Kerr.
"As I stood, taking in the scenes", Kerr said reporting from the scene of the massacre at the RDS, "Mícheál Mac Donncha, a former editor of An Phoblacht, stopped by my side. He looked at me and laughed. My subconscious jukebox had changed its tune. I was singing Rod Stewart: "I don't wanna talk about it, how you broke my heart."
Mac Donncha reappeared by Kerr's side sometime later and harked back to Kerr's musical interlude earlier and tried to cheer him up. It worked and Kerr suggested they should greet Adams with a chorus of "Always look on the bright side of life."
Then enter the post trauma - 'what happened?', 'where did we go wrong' and 'we never win anything'. The people moaned as they lined up outside the offices of An Phoblacht for therapy on the Monday morning. We were all summoned from the editorial room to administer cigarettes, tea and curses, as could only be summoned by scribes of the highest standard. That was when it was decided to open a café on the premises - Tiocfaidh ár Latté - after all, there was no knowing what the next election would bring. So you can see the holistic contribution your paper has made to its flock over the years. An Phoblacht Abú, is what I say. – Ella O'Dwyer, reporter.
Spreading the message
I first came across An Phoblacht in about 1982 when it used to be sold outside of Parkhead and that's where I used to buy it or in a wee bookshop in Trongate. The paper opened my eyes to what was happening in Ireland at the time, compared to the coverage which you would read in papers like the Daily Record, The Sun etc. Fast forward 28 years and I still believe the paper is our only way of getting our message out as the mainstream press use their own form of censorship against the party.
I used to look forward to receiving the paper each week when I was inside, as it was the only way to stay in touch with what was happening politically.
I believe the new format will give life to the paper and I hope members of the party who may not buy the weekly edition will buy the monthly one. We have taken on board suggestions from areas with regards to pricing and concerns about how time consuming selling the paper was in the weekly format.
Now there's 50p/50c profit to be made from each copy, time wise the paper will have a longer shelf life, so everything is in place for Cumann to push up their sales targets. If we aren't willing to spread the republican message who will? – Michael 'Dixie' Dixon, General Manager 
Care to buy a paper officer?
I started full time with An Phoblacht in June 1986, as I used to drive the prisoners families to the 'Kesh on Saturdays. Whilst doing the 'Kesh run I used to deliver the paper on a Thursday.
I'm a Republican and with the Kesh closing I wanted to do some work for the movement, I'm still doing it. On Mondays I chase up payments and do the banking. Wednesdays, I collect the paper and start delivering it in Belfast. On Thursday and Friday morning I deliver it around the Six Counties.
I remember I was stopped by the peelers in Coagh, Co Tyrone and a peeler looked in the van and asked; "Is that the Republican News?" I answered, "Yes" and he said, 'Give us one."
"That will be 90p," I said and his face was a picture. I doubt he has a subscription.
The scariest moment I had was just outside Augher on the Enniskillen-Belfast road. It was the 12 July and I was caught on a country round with no way of turning around in the middle of a 12 parade. The van had a free state number plates and the papers were in the back.
The first edition of the new monthly comes out on my 70th birthday. I'm delighted that it is continuing in the new format – Thomas McGuigan, Driver.
Humour and friendship
I started working in An Phoblacht as distribution manager in 1983. Soon after in '85 I started my ten year journey as general manager.
As An Phoblacht moves on to take on new challenges and deal with changing technology I am reminded of when we got the first CB radios installed in the delivery fleet to communicate with the drivers. Their use came to an untimely end when Christy Finnegan was shopping in Superquinn in Swords only to hear the late Charlie McShane calling for me over the shop radio.  Lord only knows what other shops were picking us up as our fleet travelled the Country.  Around the same time we also got our first computer in the office, an IBM that cost £18,000 at the time, in todays money that would equal €40,000, one thing about An Phoblacht was that it was always at the forefront of cutting edge technology.
The paper has always been in financial difficulty so we had to come up with more creative ways of securing funding, one of which was when we got all the staff to deposit £100 in their local credit union and then take a loan out, I believe someone somewhere is still paying one off! Or another interesting venture with mixed results was when we decided to try and run our own printing press, AP/RN Print, it's hard to tell what exactly went wrong with it but I think that crap machinery and an eccentric, pipe smoking, female German had something to do with it.
Working in the paper was a risky job at times and one particular event sticks out for me. When loyalists sent what appeared to be a book bomb to the office, I got Aengus Ó Snodaigh to take it out the back to double check it, he was the book review editor afterall! It exploded and Aengus was lucky to get away unharmed, unlike his hairstyle which remains a constant reminder to this day.
Despite loyalist attacks one of the biggest challenges was working for grumpy editors, like Rita O'Hare, Michael MacDonncha and the late Mick Timothy. In all seriousness we did have some tough times in An Phoblacht but humour and friendship carried us through the dark days and it does and always will hold an honourable role in our struggle. – Dessie Mackin, general manager
A learning experience for a young republican
My entire involvement in republican politics has been intertwined with An Phoblacht.
I clearly remember the first issue I bought. It was in the summer of 1981 in Ballinamore, County Leitrim. I was 14 and bought it from Anna Gallogly who worked tirelessly and selflessly for the late, great John Joe McGirl, lifelong republican and Sinn Féin Vice President at that time. It was shortly after the Crumlin Road jailbreak by IRA prisoners and a picture of of 'on the run' escapee Dingus McGee, giving a clenched fist salute from the platform at Bodenstown, adorned the front page.
Apart from redecorating some dead walls in Dublin's Donaghmede with slogans supporting the H-Block Hunger Strikers, that purchase was one of my first political acts.
At the time John Joe McGirl and Anna Gallogly were probably the only real live republicans I had met. But that was Leitrim where I spent my summer holidays at my grandparents' house. In Dublin, I didn't know any republicans. My only contact with republicanism was through reading An Phoblacht, which I did avidly.
I brought back copies of the paper to the schoolyard in St Joseph's CBS in Fairview and passed them around school pals who were variously bemused, bored or excited by the 'whiff of cordite'.
The first Sinn Féin cumann I joined included one Micheál Mac Donncha who worked full time as an An Phoblacht journalist and who introduced me to pints of stout, sing-songs and became my conduit to getting pieces published in the paper. I quickly followed Mícheál into full-time republican journalism under An Phoblacht editor Rita O'Hare.
Although I later went on to work full time in various capacities for the Movement, my involvement with An Phoblacht never ceased. I think all of us who have worked on it share a deep affinity with the paper and its role in the struggle.
When I bought that first copy back in 1981, for young people like me it was the only way of getting a republican analysis of what was going on in this country. Today, politically aware young people of the same age go online for the same reason. In a vastly changed media environment, An Phoblacht is moving with the times with plans for an expanded online presence and a new format monthly print edition. Here's to many more years of quality republican journalism. – Seán Mac Bradaigh, Editor/ Reporter
At the frontline
When I walked out of Long Kesh in January 1979, An Phoblacht and Republican News had just been amalgamated into one republican paper with Danny Morrison as editor.
The powers that be sent me off to work in the republican press centre at 170 Falls Road. I was, among other responsibilities, tasked with the responsibility for managing the distribution, looking after the money, providing backup to the editorial staff and journalists and getting photos by hook or by crook!
The war was intense. Sectarian killings and attacks were an everyday occurrence. Sinn Féin was not yet in election mode. One of the few public expressions of republicanism was the new, freshly designed An Phoblacht/ Republican News.
The paper was underground. That is, all of the work of writing and editing and even of design was done in people's homes in various parts of mainly west Belfast. Going to meetings often meant sitting on someone's bed or on a floor as ideas, problems and front pages were discussed.
This was the technological stone age. There was no email. No faxes.
We had a couple of clapped out cars which frequently broke down and which distributed the final product. The drivers were heroes. Imagine being stopped at a UDR checkpoint, often in the dark, and carrying several thousand copies of AP/RN with a headline usually boasting of some new action by the IRA!
I remember finishing in Sevastopol Street around 8pm one Wednesday night and heading over home.
The office was by this time in its new home at the corner of Sevastopol Street and the Falls - I lived in the same street. I went to bed early and suddenly there was this almighty explosion. I rushed out. A loyalist had got out of a car, hung a grill bomb on the Sinn Féin shop below our office and drove off. No one was injured but the shop was destroyed. There was smoke and debris everywhere but by some miracle the building did not catch fire. Several of us went upstairs to use the phone that was still working to ring our comrades in Dublin and get the story in that week's paper.
A Belfast Telegraph writer who once visited the office described it the next day as like a rabbit warren. It was three houses knocked into one with some imaginative reconstruction work to connect the three. It was a constant battle keeping it dry and warm and it was latterly in the front line of the war.
In the course of one our visitations by the RUC, checking on what files they were taking and trying to ensure that they didn't do any more damage to the building than we already had, I found two of them standing sheepishly in a corner totally bewildered and lost. I left them there to find their way home.
I then left the paper for a few years and went off to work in Lagan Valley.
Some time later -around '85/86- I came back as northern editor.
I was blessed to have some great writers and fearless reporters and photographers who traveled to all parts of the north in the most dangerous of times to record the truth of events. Whether that was to Tyrone to report on events surrounding Loughgall, or down to Lurgan to tell the story of the shoot-to-kill operations, or to republican funerals where hundreds of Brits and RUC would battle with mourners as we buried our friends and comrades.
When the SDLP, the Dublin government and others were denying that collusion even existed An Phoblacht/ Republican News had produced the evidence and was telling the true stories of collusion victims.
But we also covered social and economic stories. Housing issues; drug and solvent abuse; discrimination; the battle of unions fighting for decent conditions for their members and much more.
And it was all done on a shoe-string budget with people who were volunteer workers.
I am very proud of all of those I knew and worked with on the paper and of the many more I never knew. – Richard McAuley,  Editor/Writer/ Photographer.

An Phoblacht Magazine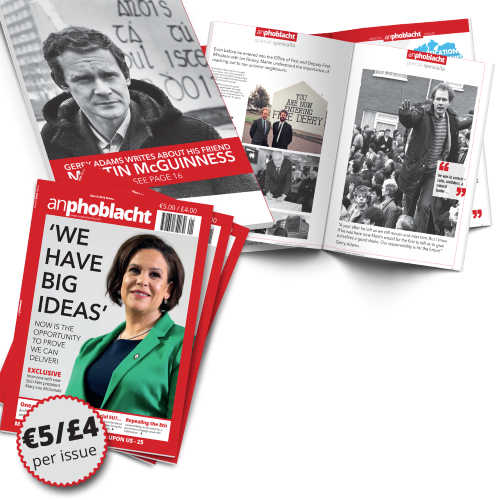 AN PHOBLACHT MAGAZINE:
The first edition of this new magazine will feature a 10 page special on the life and legacy of our leader Martin McGuinness to mark the first anniversary of his untimely passing.
It will include a personal reminiscence by Gerry Adams and contributions from the McGuinness family.
There will also be an exclusive interview with our new Uachtarán Mary Lou McDonald.
test