13 May 2010 Edition
THE JULIA CARNEY COLUMN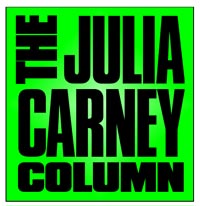 Desperate times, desperate measures
"And we're receiving reports that Sinn Féin's Michelle Gildernew may be about to lose her seat by a margin of eight votes." Sweet Jesus. My hand is shaking so much I can barely fill my glass with gin as an insufferably smug Arlene Foster fills my screen.
"You cannot underestimate this," she tells the BBC's Noel Thompson. "This is tremendously good news."
Rodney bloody Connor. The hideous spawn of a sordid sectarian coupling between Arlene Foster and Tom Elliot is going to take the seat that belonged to Bobby Sands, that belongs now to Michelle Gildernew. By Christy Ring's bones, not on my watch. I grab my mobile and speed-dial a number I haven't rung in a long time.
"Hey Jules, what about ye?" says P O'Neill. "Patricia, this is no time for what aboutery. The Tories are back in Downing Street and the Unionists have taken Fermanagh South Tyrone. It's time to end the ceasefire."
There's a thoughtful pause on the other end of the line as the top girl on the Army Council thinks about it for a bit but in the end she admits I'm right. Under the GFA the IRA has the right to end the ceasefire if any two of three things happen; the Tories get into power, we lose a Westminster seat or Enda Kenny becomes Taoiseach.
P puts on her boots and sets off to find some mortars while I work the phones in Omagh trying to rig the election. Hours pass and then... Christ! We're ten votes ahead. Ten votes. We could win this one yet. I get through to Colm Rua at the count.
"Colm, what's the sceál, how the hell did we go from eight votes behind to ten votes in front? I thought you told me the photocopier was broken."
"No way Jules, this one's straight up. We caught Arlene Foster sneaking out the back way with a handbag full of Sinn Féin votes..." Christ. The woman's an evil genius "...and we got them back off her but I tell ye comrade, yon girl's a hell of a fighter. A head like a ram. Eoin Beag might never walk again."
Nightmare images pass before my eyes. "Sinn Féin thugs assault DUP MLA" will be tomorrow's headline.
"Colm, listen to me, is Arlene alright?" There's a confused silence.
"Well...I mean, she's not right in the head if that's what you mean."
"No Colm, is she physically okay?"
A thoughtful pause. "To be honest she's not bad looking in a certain light but I do..."
I hang up. Colm's sleazy affections for Arlene Foster are not what's important now. I ring P O'Neill and tell her to call it off. She's two hundred yards from Thiepval Barracks with a van full of mortars and not happy about it.
"Jules for pity's sake. It took me hours to dig them up and then I had to find new batteries and that meant driving to Newry for ever readies and now I've got it all set up and you're calling it off. I broke me back getting this stuff together."
"P, listen to me, no one respects your determination to fire mortars at a British army base more than I do but if we hold Fermanagh South Tyrone we've won fair and square. We don't have to end the ceasefire. We'll have shown politics works and demonstrated without a shadow of a doubt the strength of Sinn Féin."
I hear a disappointed sigh from the other end. "Okay chara, maybe you're right. To be honest it's a while since I've done this and I'm not 100 per cent I have them pointing the right way so..."
She was never one for the mortars. Handy with a press statement written so that it could mean 50 things to 20 people mind you, but this wasn't her thing. I hang up while she's wittering on about ballistic trajectories.
Half four in the morning. Another call from Colm with the desperate news that we're now only two ahead. Arlene Foster managed to sneak into our vote stacks and snatch six ballots. I'm fuming. "Damn it man, you're six foot three and even if she's composed entirely of evil you should have been well able for her."
"Jules, we had her cornered, she didn't have anywhere to go but then, well, then she ate the votes right in front of us. There was nothing we could do."
My God. Inhumanly cunning, utterly ruthless and absolutely unstoppable. She's a unionist version of Bobby Storey.
There's only one thing to do. I knock back the last quart of gin and grab my car keys. I need to get to Omagh. Now. This isn't over yet Foster.

Such is my memory of election night. Roisín on the other hand, after a night where she was kept awake by me screaming at the telly, claims that she found me passed out in the door to the flat at 7am. Allegedly I had my car keys in one hand and my shoe, which I seem to have mistaken for a phone, in the other and was mumbling at someone called 'P' not to put them away yet.
She makes up some awful stories that wee girl.

An Phoblacht Magazine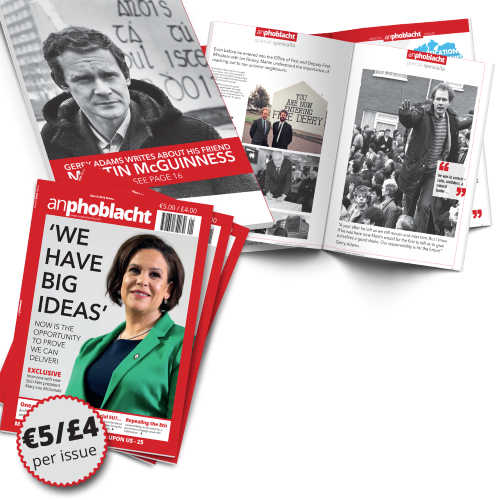 AN PHOBLACHT MAGAZINE:
The first edition of this new magazine will feature a 10 page special on the life and legacy of our leader Martin McGuinness to mark the first anniversary of his untimely passing.
It will include a personal reminiscence by Gerry Adams and contributions from the McGuinness family.
There will also be an exclusive interview with our new Uachtarán Mary Lou McDonald.
test