13 May 2010 Edition
Children's Ombudsman report a cause for concern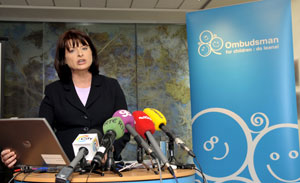 The Ombudsman for Children in the 26 Counties has found major inadequacies in the area of child protection. Issuing her report on Tuesday, Emily Logan found that most parts of the state has no 24-hour access to the Child Protection Notification Service.
Her damning report found there to be a lack of consistency of approach, a failure of inter-agency collaboration and a lack of internal audits and external investigation.
11 findings were made against public bodies and the report recommended a standardised national service.
The report was an investigation into the implementation of Children First, the National Guidelines on Child Protection that were first published in 1999.
Sinn Féin Dáil leader and spokesperson on Health & Children Caoimhghín Ó Caoláin TD has described the report as a cause for serious concern.
"The Children's Ombuds-man Emily Logan has identified major gaps in the implementation of the Children First guidelines which are designed to help protect children by ensuring vigilance and competence on the part of State bodies including the Department of Health & Children, the HSE and the Garda Síochána," he said. "It is a cause of serious concern that the Children's Ombuds-man concludes that the HSE, from its establishment in 2005 until 2009, made insufficient efforts to drive forward implementation of Children First.
 "The Office of the Minister for Children and Youth Affairs is found to have played down the impact on implementation of Children First caused by ongoing industrial relations problems. This is a very serious matter that Minister of State Barry Andrews needs to address.
"The responses from the HSE and the Department of Health & Children included in this Report are inadequate and we need from them a comprehensive account of how they are going to put these matters right. Children may have been adversely affected by the many issues highlighted in the Children's Ombudsman's Report and these issues need to be addressed urgently."