13 May 2010 Edition
On the One Road - Comrades go North on the election trail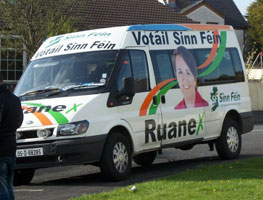 By Ella O'Dwyer

In the run-up to the recent Westminster election, republicans from the 26 Counties rallied in support of their Six-County comrades to lend support to the campaign. For some it was an opportunity to meet prominent republicans they had only ever heard of or read about before. For others it was striking for the sheer size of republican support encountered in areas like Belfast. For all, without exception, it was a chance to throw their weight behind the task on hand - the Westminster elections.
DJ O'Driscoll from Cork canvassed in Tyrone, in the Dungannon area. "I was absolutely delighted to be up in Tyrone last week canvassing for Michelle Gildernew. The response was very, very positive. We were in some so-called middle class areas with SDLP voters. But I think people are seeing the bigger picture. They know Michelle is a very good worker and a very good MP. She has credibility as someone with a history of working for all communities."  The hospitality was very good. "We were put up in a 'family room' in the local hotel in Dungannon. There were five or six beds and the room was called the Shaun Tracey Suite for the week because Shaun Tracey from the Dáil publicity department was the first in the door of the room to secure his bed."
  Mary Lou McDonald was canvassing in Warrenpoint. There was only one minor hic-up for her - the Down accent. "I met this young man and for conversation's sake I asked him what he did for a living", she recounts. "I'm a tailor", he replied (or so she thought). "Oh, very interesting, an unusual trade these days and is it in the family? I asked and do you do women's clothes?"  He glared at me in horror. He was a tiler (a person who lays tiles) and he thought I was asking him if he wore women's clothes!"

The Dublin squad hit South Down. "For the last two Thursdays the Dublin ODU team were canvassing in South Down", says Niall Binéad of Dublin South Central. We were in Downpatrick and Crossgar canvassing for Caitríona Ruane and there was a very good response. The issues raised at the doorsteps were very much what you'd get in Dublin, particularly housing and anti-social behaviour. A couple of the locals with us knew everyone so there was a good rapport. Then last Monday we were in North Belfast. While there was plenty of good-humoured banter the whole thing was well organised. It was all very comradely and we were well looked after with tea and sandwiches. The usual stalwarts were there Bobby Storey, Bik McFarlane, Joe Doherty and Séanna Walsh. It was great to meet people like that. There was plenty of craic but it was all very professionally done.  They know their people. Séanna called us over and told us to come with him. My 17 year old daughter Niamh was with me and I told her who Séanna was, a close mate of Bobby Sands and a former POW. I said she should be honoured to be in his car. She was chatting away with him, asking questions. We were canvassing for Gerry Kelly and I knew he had a very good chance."
Pajo Mac Aodha, another of the Dublin contingent in North Belfast couldn't wait to get out on the hustings. "It was very different from canvassing in Dublin because about 80% of the doors we knocked on were Sinn Féin voters. It was all very up-beat. The only complaint I'd have was Gerry Flaherty from Dublin drove us up to Belfast. He crawled up and it took us about two and half hours to get there."  Flaherty isn't phased "Arrive Alive is my motto", he rounds.
Throughout all the flying visits up North there was the angst-ridden question: would Michelle retain her seat? "My lasting memory of Michelle during the camping", Donncha of Ógra tells me, "was seeing her competing in a go-cart race. She didn't win, but that means nothing."
How right he was.
ULSTER UNITED:  A Donegal team in Fermanagh and South Tyrone 
THE RACE IS ON: Michelle Gildernew takes on Rodney Connor in a go-cart race – you know the winner 
An Phoblacht Magazine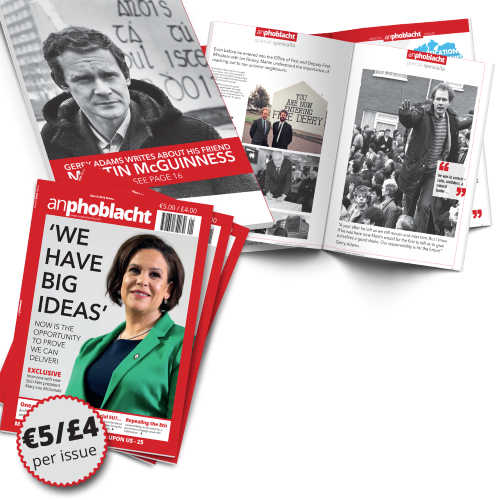 AN PHOBLACHT MAGAZINE:
The first edition of this new magazine will feature a 10 page special on the life and legacy of our leader Martin McGuinness to mark the first anniversary of his untimely passing.
It will include a personal reminiscence by Gerry Adams and contributions from the McGuinness family.
There will also be an exclusive interview with our new Uachtarán Mary Lou McDonald.
test