6 May 2010 Edition
Remembering the Past: The prison writings of Bobby Sands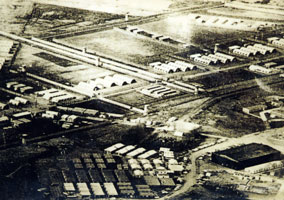 BY MÍCHEÁL Mac DONNCHA
BOBBY SANDS was the most prolific writer of the republican prisoners in the H-Blocks of Long Kesh during the Blanket Protest which lasted from 1976 until 1981. He was in prison for most of that time, being arrested in October 1976 and sentenced in September 1977.
During his earlier term as a political prisoner, from 1973 until April 1976, Bobby was in 'the Cages' of Long Kesh where he and his comrades had special category status, effectively prisoner-of-war conditions. It was the British Government's decision to end this status for people sentenced from March 1st 1976, in a bid to brand IRA prisoners as criminals, that led to the tragedy of the H-Blocks which would take the life of Bobby and nine of his comrades.
Bobby Sands was noted by comrades as a deep thinker and a profound reader, intense in political discussion and talented in music and sport. His term in the Cages was a period of study and politicisation; like many of his comrades he had been catapulted into the republican struggle by the tumultuous events of the early 1970s and had little time to develop his politics.
The fruits of his time in the Cages were seen in his writings from the H-Blocks. During his short few months of freedom in 1976 he produced a local republican newsletter Liberty in Twinbrook.
REMARKABLE
The volume of material produced by the H-Block prisoners is remarkable, given the appalling conditions in which they lived, with all writing material strictly forbidden but ingeniously smuggled into the prison and passed between prisoners. These
'comms' (communications) were written in tiny handwriting with biro on cigarette paper.
In 1978, Bobby's writings began to appear regularly in the Belfast-based weekly Republican News. He wrote mostly under the pen-name 'Marcella' (his sister's name) but also as "a young West Belfast republican" and as PRO of the prisoners in H-Blocks 3, 4 and 5.
One of Bobby's earliest published pieces, 'I am Sir, you are 1066' appeared in Republican News on July 1st 1978 and shows his ability as a writer to put the reader into his own position. The piece begins:
"I must have died last night, because when I awoke this morning I was in hell. I don't really know how I got here. I don't think I've done anything to deserve being here. But I am here, and I am suffering terribly. I think I am I some sort of tomb. I cannot see, as everywhere is in total darkness. I have no clothes on, except some sort of rag around my waist."
He described the reality of the H-Blocks in many pieces for the amalgamated An Phoblacht/Republican News from January 1979. He also wrote more creative short stories and poems, including a lengthy trilogy – The Crime of Castlereagh, Diplock Court and The Torture Mill- H-Block.
BOOKS
Bobby's work was first published in book form as he neared death on hunger strike in April 1981. The Writings of Bobby Sands, a 36-page booklet,  was published initially by the Sinn Féin POW Department, 5 Blessington Street, Dublin, and thousands of copies were sold immediately, the booklet being reprinted many times then and in the years since. In June 1981, Bobby's  hunger strike Diary was published, his Prison Poems followed in October and his book, One Day in My Life, came out in 1982.
Bobby Sands, whose sacrifice and whose words continue to inspire people in Ireland and across the world, died on May 5th 1981, 29 years ago this week.
An Phoblacht Magazine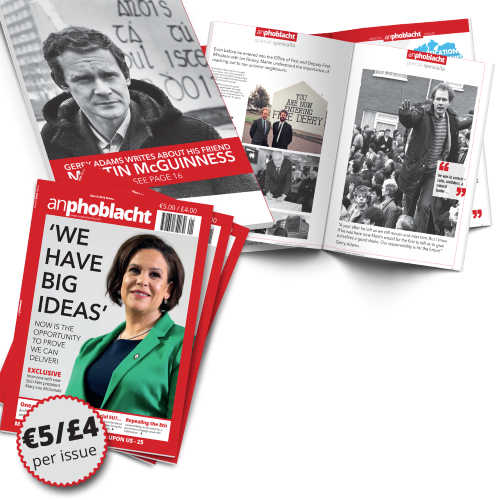 AN PHOBLACHT MAGAZINE:
The first edition of this new magazine will feature a 10 page special on the life and legacy of our leader Martin McGuinness to mark the first anniversary of his untimely passing.
It will include a personal reminiscence by Gerry Adams and contributions from the McGuinness family.
There will also be an exclusive interview with our new Uachtarán Mary Lou McDonald.
test