29 April 2010 Edition
ÓSF launch Youth Manifesto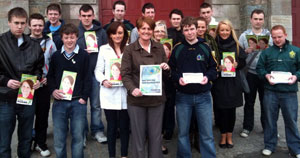 EDUCATION MINISTER Caitríona Ruane joined Ógra Shinn Féin National Organiser Donnchadh O'Laoghaire and a large group of Ógra Shinn Féin members on Monday at Down's County Museum in Downpatrick to launch Sinn Féin's Youth Manifesto, 'Creating the Future'.
The museum was selected as a site of historical significance, it previously being home of the County Jail where United Irishmen leader Thomas Russell was executed on 21 October 1803.
The youth manifesto which was drafted by members of the party's youth wing and forms the basis of the work and policies on youth which Sinn Féin will be carrying out in the next five years.
These include education, suicide prevention, drug and alcohol awareness, abolition of ASBOs, road safety, youth job creation, creating affordable housing, and progressing Irish unity.
Following the launch, the large group of republican youth activists carried out an intensive and upbeat youth canvass of Downpatrick town centre and the neighbouring village of Ardglass.
The Sinn Féin Youth Manifesto can be viewed at:http://www.osf.ie/home/index.php?option=com_
content&view=article&id=76&Itemid=33