18 March 2010 Edition
Belfast honours fallen Volunteer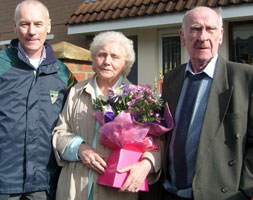 Sinn Féin's Padraic Wilson is pictured with Rita and Stephen McCracken, parents of Belfast Volunteer Kevin McCracken, who was killed while on active service as the bodies of the Gibraltar martyrs arrived home on 14 March 1988. Wilson delivered the address at the commemoration honouring the sacrifice of the former H Block Blanket protestor, a native of Turf Lodge and the eldest of five children.
Kevin had joined Na Fianna Éireann in 1972 when he was 15 years old. Three years later he had joined Óglaigh na hÉireann, and was soon at the forefront of IRA attacks in West Belfast for the following two years. Arrested in April 1977, he was sentenced to 13 years for IRA membership and incendiaries.
During his time in Long Kesh he took part in the 'blanket and no-wash' protests for political status. On his release in November 1985, he immediately reported back to the army and was actively involved in broadening the republican base in Turf Lodge.
Kevin was shot dead by a British soldier on Monday night, 14 March 1988, as he was preparing to launch an attack on the crown forces that had saturated the area in an attempt to intimidate the family of Volunteer Seán Savage, who lived nearby. He is buried with his comrades in Milltown Cemetery, Belfast.