4 March 2010 Edition
No jobs on the horizon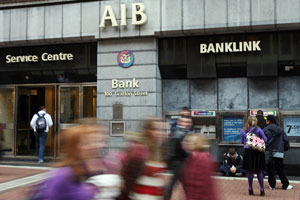 Coalition are 'wrong on banks, cutbacks and jobs' – Morgan
BY ROBBIE SMYTH

Question: What economic sector has contributed most to the crisis in the Irish economy today? And what sector has received most aid and bailouts? If your answer is the Irish banking sector, welcome aboard, you have passed the reality check.
Question: What economic sectors have contributed least to the crisis in the Irish economy today and are receiving less help now than in the boom, even though they are key to any chance of a quicker end to the current recession? If your answer is Irish-owned businesses and Irish households, you are obviously not a member of the Fianna Fáil/Green Party coalition government.
It is another crisis week in the Irish economy: multi-billion euro losses at Irish banks, the shutters coming down on yet another Irish retail business, and the IDA publishing grandiose plans for jobs creation, even as their current clients are shedding jobs and the Irish businesses who are barely treading water cannot access credit to keep them operational through the short term.
And tax revenue is still falling, with the opening months of 2010 already showing a shortfall of €1 billion.
It is also just another week where the coalition government is still refusing to take the most basic of steps to help Irish enterprises and is getting ready to pass yet more cutbacks and costs onto the Irish worker and their families.
Sinn Féin's Arthur Morgan, speaking to An Phoblacht this week, said: "It is clear that the government are getting it wrong across a range of key areas, wrong on banking both in terms of the bailouts and on supplying credit to Irish businesses, wrong on business development and job creation, wrong on spending cuts, and ultimately hurting the weakest in society most".

Banking billions lost

Earlier this week it was leaked that Anglo Irish Bank is preparing to post losses of between €10 billion and €12 billion. It would be a record figure for any Irish firm ever. This week AIB did post results for 2009, which show losses of €2.3 billion, and bad debts at the bank of €5.4 billion. Now Permanent TSB Bank have announced losses of €270 million.
AIB's response to their losses is to propose raising mortgage interest rates, making the very households whose tax payments are bailing out the bank now and for years to come pay even more. Banks it seems can't make losses, but households can.
Arthur Morgan who is Sinn Féin's finance spokesperson responded to the AIB interest rate hike threat saying that "the taxpayer was sick of being forced to help banking businesses that are clearly incapable of running themselves and then being doubly punished by those businesses excessive charges."
Morgan said: "If AIB increases its mortgage interest rates, it sets a dangerous precedent for other banks.
"Ultimately, this just proves the point that these banks need to be nationalised. The taxpayer will have a lot more faith in a nationalised bank at this stage, particularly when they see what their money is being used for now".

No credit for Irish business
The other things banks don't seem to be able to do is lend money; just two years ago Irish banks were lending money to developers without even doing valuations on the properties being mortgaged, but today their credit funds are clammed shut.
The Irish Small and Medium Enterprises Association bank watch survey found that 55% of businesses in their survey had been refused credit; this compares to 42% in October 2009 and 20% in May 2008. 80% of the firms surveyed reported that banks were making it harder to get credit.
On this issue Morgan said: "Enterprises in this State are on life support" and the ISME "revelations are putting the nail in the coffin of the misconception that banks have kept a steady flow of credit to the people of this State."

IDA's lost horizon
In the midst of the credit crisis for Irish business, IDA Ireland, the 26-County inward investment agency launched a new jobs strategy called Horizon 2020. It has a target for 105,000 direct new jobs by 2014, even though the total number of Irish workers employed in IDA Ireland-supported companies has now fallen below the 2000 level.
The truth about the Irish international enterprise sector is that it has been set back over a decade, yet this week the IDA wheeled out Fianna Fáil enterprise minister to talk about the so called 'smart economy'.
Responding to the IDA launch Arthur Morgan said, "While we acknowledge that the IDA has an important role to play in attracting industry here, FDI is not a catalyst for national recovery and economic development, and it hasn't been for some time".
Morgan highlighted last week's FDI employment data which showed that, "job creation by foreign multinationals in Ireland slipped by 42% in 2009. In the same year 18,028 jobs were lost in IDA supported companies".
Morgan strongly believes that "there is a huge onus on the Government to realise that it is indigenous enterprise that will secure economic development.
"We need to start thinking of export-led growth in terms of our own indigenous enterprise."
Scoffing at the Horizon 2020 proposals Morgan said: "The IDA and the Tánaiste have set a target to create 105,000 jobs by 2014. First of all, there are 436,936 people on the Live Register and this figure is almost certain to increase when February's figures are released. 105,000 jobs is clearly nowhere near adequate."

Simple fix needed
Perhaps the most telling sign of how wrong the coalition are getting it on the economy was the closure last week of the Hughes & Hughes book stores. As the shutters came down and a receiver was appointed, 225 people are set to lose their jobs.
Like many businesses Hughes & Hughes were paying high retail rents set in the property boom. They and many other businesses have not been able to renegotiate these costs, even though prices and wages are falling across the economy.
Part of the reason for the failure to lower rent is that many of the banks who hold the deeds to these properties want to inflate their NAMA value as they are transferred off the banks' balance sheet. So once again it is the banks who win and Irish businesses who lose with workers and their families the worst affected.
There is a gigantic chasm at the heart of the Irish government's economic policies. They refuse to implement a significant stimulus package. They have have pumped billions into Irish banks and are effectively the de facto owners of these enterprises. However, rather than direct them to help Irish businesses and households they let the banks set the business agenda again and again.
It is yet another week where the score is Irish banks 1, Irish economy 0 and the government as referee really needs to go to Specsavers.
Hughes & Hughes – 225 people are set to lose their jobs