4 March 2010 Edition
More than a game BY MATT TREACY
What's seldom is wonderful
A Clare woman once told me that the only thing that would make her happier than beating Tipperary in the Munster championship would be to turn on the news and hear that the entire population of the county had been abducted by space aliens and transported to the titanium mines of some far distant planet in the Orion constellation. Okay, it was late and we'd both had a lot to drink.
The conversation had centred on our mutual experience of a lifetime of humiliation at the hands of the Premier county. Aficionados of speeches likely to incite inter-ethnic disturbances will recall the famous 'we're no longer the whipping boys of Munster' oration delivered by one Anthony Daly in Cork in 1997 after Clare had beaten Tipp for the first time ever in a Munster final.  Catharsis I think is the right word.
Of course I must also, as someone who arrived on this planet via the mountains of north Tipp, demur from the ethnic cleansing ambitions of the Clare people. Having said that, however, when it comes to hurling Dublin have had a similar if not quite as intimate an historical relationship with Tipp as have Clare. The team we could never beat. Indeed, the team that almost invariably humiliated Dublin, even in years when Dublin had beaten others of the elite, even in the '70s when Tipp were barely hanging on to that status themselves.




It was all the more galling, then, for the many Dublin hurling folk with connections to Tipp, a connection that is maintained in the current squad through parents and grandparents – there is even another in a long line of Treacys there – to be ritually put to the sword by the cousins.  So I won't say that I have come to dislike them over the years, and I did greatly enjoy their revival in the mid '80s, especially the classic matches with Cork, but they would not be my next favourite county any more. This is something that my father still finds hard to accept, even though had there been divorce in 1961 the All Ireland final of that year might well have precipitated the parting of the ways of my Tipp grandfather and Dub grandmother.
It was all the more pleasurable, not to say unexpected, then, that Dublin beat them last Sunday. For only the second time in my lifetime, and no one even remembers the time before that. Yes, it is that bad. On a par with the relationship that Leitrim footballers have with Galway; worse in fact.



What was even more remarkable about beating Tipp was that it came just a week after Dublin were handed a right old thrashing by Waterford. It is no exaggeration to say that that defeat led to a huge crisis of confidence among Dublin hurling people and the journey back was a sombre one both for the team and management and for those supporters who had made the trip.
It also gave an excuse for all the doubters to claim that the whole thing had been an illusion and that Dublin hurling had been put back into its box. And they are not all outsiders either. Former Dublin football manager Tommy Lyons made some reference on Sunday to the amount of money allegedly invested in hurling in the county, presumably in the spirit of 'ah sure they'd want to be winning games at that rate.'
Maybe he has a point and that it was the nefarious Dublin hurling fraternity rather than Meath, Kildare, Laois, Westmeath, Kerry, Armagh, Tyrone and Mayo who have been responsible for the footballers' failure to win an All Ireland since 1995. But we won't go there.
The hurlers had it put up to them and they beat a Tipp side that featured 11 players who played a part in the All Ireland final. And not only beat them but beat them well. Fair enough, Tipperary were having their first outing after the postponed games with the Cats, and they certainly showed signs of it in the early stages and maybe even a slight complacency in their approach.
They soon realised they were in a game, however, and Dublin never gave them the space to settle into a rhythm. They showed huge heart and energy and generally won the sort of 'dirty ball' that they had generally lost the week before against a hungrier Waterford side. And more importantly, they translated that possession into scores, even though both teams were guilty of some wayward shooting at times.



In the wider scheme of things, this match may mean little. For the moment it has restored Dublin's self belief but more importantly, given the nature of the league, it supplies two points that may be crucial at the end of the season, whether they are in contention for a top spot or to avoid relegation, although the latter is not the looming elephant in the corner that it would have become had they been beaten.
For Tipp, it certainly represents a bad start and a poor preparation for the game against Kilkenny. At the same time, they will not be panicking and of course their eyes are set upon what will happen in the summer rather than preoccupied with the league.
And just to illustrate the vagaries of the league and the perils of reading too much into what happens at this time of the year, Waterford were themselves the victims of a trimming by Galway last Sunday. Which if you were a devotee of 'collateral form', as employed by some horse racing punters, that would make Galway a 22-point better team than Dublin and a 3- point better team than Tipp.

An Phoblacht Magazine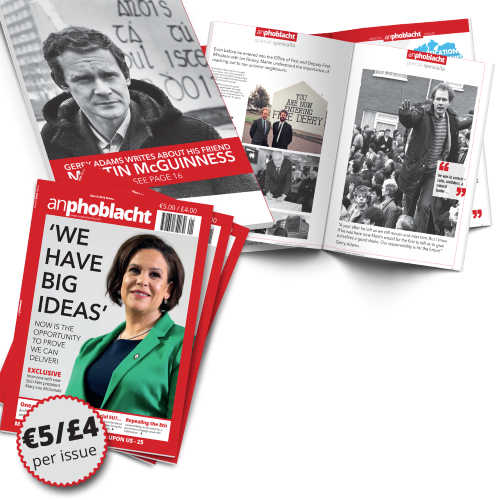 AN PHOBLACHT MAGAZINE:
The first edition of this new magazine will feature a 10 page special on the life and legacy of our leader Martin McGuinness to mark the first anniversary of his untimely passing.
It will include a personal reminiscence by Gerry Adams and contributions from the McGuinness family.
There will also be an exclusive interview with our new Uachtarán Mary Lou McDonald.
test