4 March 2010 Edition
Green Isle hunger strike enters third week as 'little progress in talks'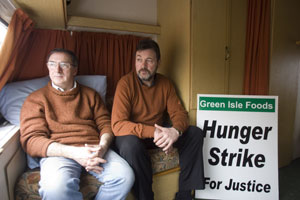 BY  BRENDAN KERR

THE UNION representing the workers and hunger strikers at the Green Isle Foods plant in Naas, County Kildare, says there was little progress in talks with the company on Monday and a third worker joined Jim Wyse and John Guinan on the hunger strike on Wednesday. On Tuesday night, talks were reopened.
Ten workers, members of the Technical Engineering and Electrical Union (TEEU), have been on strike since last summer in support of three colleagues who were dismissed at the food production plant.
Jim Wyse entered his 15th day on hunger strike on Wednesday and John Guinan his 8th day.
Several hundred supporters showed their solidarity with workers at the plant on Saturday as local TDs have tried to mediate in the dispute.
Cork City Council is expected to debate the Green Isle dispute at its meeting next Monday, 8 March. It is understood that party whips have agreed the wording of a motion calling on the company to accept the Labour Court recommendation as a basis for ending the dispute, now entering its seventh month.
Dublin City Council, including Sinn Féin members, this week adopted a motion expressing its support for the Green Isle workers.
The TEEU has already accepted the Labour Court recommendation.
Meanwhile, Sinn Féin councillors will support a Labour Party emergency motion at next Monday's meeting of South Dublin County Council if the dispute is not resolved before then.

EVERY EFFORT
TEEU General Secretary Designate Eamon Devoy said on Tuesday:
"We are continuing to make every effort to resolve this dispute before it assumes more critical dimensions. I do not believe the company fully appreciates the wider implications it could have if we do not find a solution at this stage."
The men are protesting at the unfair dismissal of three colleagues and the refusal of the company to allow workers union representation if they wish. The Labour Court recommended the full reinstatement of the dismissed men and said they should be paid €180,000 compensation if the company does not reinstate them.

SATURDAY'S RALLY
At Saturday's rally, Jim Wyse, the Technical Engineering and Electrical Union shop steward who was in the 11th day of his hunger strike, was too weak to speak but his fellow hunger striker John Guinan thanked everyone for turning out. He said their support made it easier for Jim and himself to carry on and that they would "go as far as we need to go to sort this out".
John gave special thanks to Jim Wyse's family and to his own family for their support. The families were thinking not so much about the dispute itself as "about our well being and what the company are doing to us".
Earlier there were emotional scenes when marchers, including family and friends of the two men, marched with them to the entrance to Green Isle Foods plant. Jim Wyse asked to speak with someone from the company but security guards barred the way. There were cries of "Shame on you!", "Shame on Green Isle" and "Shame on Northern Foods", Green Isle's parent company.
Anthony Wyse, a brother of hunger striker Jim, said the attitude of Northern Foods had led to the present crisis.
"They just don't know how to deal with anything from a human point of view."
Referring to the company's allegations that TEEU members were disciplined for dowloading pornography, he said:
"Nobody goes on hunger strike for what they are talking about".
He accused the company of "playing games with my brother's life".
See http://www.teeu.ie/ for more information and Hunger Strike Diary 
Sinn Féin activists with Green Isle workers 
Sinn Féin raises Green Isle in Dáil
THE Sinn Féin Spokesperson on Workers' Rights, Martin Ferris TD, succeeded in having the ongoing strike and hunger strike at Green Isle Foods in Naas debated in the Dáil on Tuesday afternoon.
Deputy Ferris had earlier met the workers on the picket line and spoke to Jim Wyse, then more than two weeks on hunger strike.
The Sinn Féin TD reiterated his call on the company to abide by the Labour Court order that it pay improved redundancy or reinstate those workers whose sacking was the subject of the case.
Martin Ferris said:
"Green Isle and their parent company, the British-based Northern Foods group, are not only in flagrant breach of Irish labour law in ignoring the ruling of the LRC but are clearly intent on breaking the TEEU union which represents the striking workers.
"Given that the company has received €42m in IDA aid over the years, the state has an obligation to intervene and to force Green Isle to abide by the court ruling.
"I also reject the scurrilous claim that one of the workers was downloading pornography. That is nothing more than a red herring thrown in to blacken the men and to divert attention from the real issues at stake."