4 March 2010 Edition
2010 Sinn Féin Ard Fheis: Leinster Le Chéile Honourees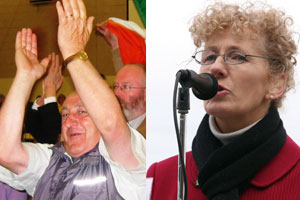 Ruth and Danny Churchill: Republicanism comes from the heart
Ruth and Danny Churchill are Leinster honourees for the Le Chéile celebration this Saturday. Here they talk to ELLA O'DWYER about a life of community and trade union activism and finding a political home in Sinn Féin.
Though Ruth's father was a republican, she found her own route into the party. "My father, Kevin Tuite, was a republican. He always voted Sinn Féin but that wasn't the reason why I got involved," she explains.  Ruth has for years been involved in community work and in particular with people with special needs. "I used to look after a youngster with Down's syndrome and later a Down's syndrome woman whose parents died. She'd come and stay with me from time to time. Then a friend of mine told me about the Arch Club in Drogheda – a recreational centre for people with special needs. I was always very interested in that type of work so I got involved in the club. We used to organise holidays for the children, Sunday trips and sports activities. I enjoyed every moment of it. It's very rewarding. You get more out of it than you'll ever put in," she says. It was voluntary work and, as Ruth's husband Danny tells me, it's a theme Ruth has carried forward throughout her life. "Even in more recent years, Ruth organised buses to bring children from the North down to Drogheda for trips at Christmas," he says.
Danny is a longtime trade unionist. "Presently I'm on the executive of the Trades Council and I'm on the Board of Drogheda Resource Centre. I've always been associated with the working class," he says. Danny's mother impacted on his politics.  "My mother, Lil Murphy, was a republican and she had a great influence on me politically. My father wouldn't have been very interested in Irish republicanism. He was of British origin, as you can imagine with the name Churchill. But I always supported the struggle, always."

CORE VALUES
The couple's community and trade union activism speak directly to the core values of Irish republicanism and it's no surprise that they would find a political home in Sinn Féin. "The thing that appealed to me about Sinn Féin", Danny says, "is that they were the only ones addressing the injustice in the North and British occupation. The other parties are all opportunists. I was always a socialist and Ruth is the same, so of course I took to the Sinn Féin theme of an 'Ireland of equals'."
In the mid '90s Ruth and Danny decided to formally join the party, though they had been doing what, in essence, is the work of the socialist republican long before then. "There was a period of time in our lives, around 1996," Ruth says, "when Danny and I felt that we could contribute more, so we joined Sinn Féin.  We decided to get involved because we felt there was a need for people to go out and lend a hand. It was a time of change in Ireland – the transformation from war to politics and we decided to get involved in moving things on.  Of course I very much supported the war when it was on, because it was the only way at the time. We wouldn't have got the changes that have come about without the war."
Danny is of the same mindset. Would he have supported the armed struggle back then? "Oh yes, oh God yes. I knew Joe Cahill and Brian Keenan.  They were a great influence on people like us. They refueled us and gave us the courage and depth of commitment to carry on. They were great examples of endurance. They were the backbone of the cause in my lifetime."
Another person Danny admired was the late Brendan Quigley from Drogheda – a lifelong republican activist and belligerent advocate of the struggle. "I admired Brendan Quigley too. Some people would say he was stubborn, but I would call it a healthy stubbornness." Anyone who had the pleasure of knowing Brendan would vouch for Danny's comments.

TEAMWORK
Danny and Ruth make a good team.  "What helped us greatly over the years," Ruth says", was that we could work together. We worked together as a team and not just in Sinn Féin, we work well together all the time, no matter what we do."
Danny is a fan of this paper. "An Phoblacht is a great educational tool," he says. "It keeps you up to date so that you can engage people at the door on issues. You might well influence the floating vote if you're able to show them Sinn Féin's policies and the paper is a vehicle for transmitting that."
Danny has an holistic take on his ideological journey. "Being a republican", he says, "involves the whole person  – your love for your country, your love for justice and your love for fair play. Being a member of establishment parties means love of self. Even in their promotion of new membership they encourage them with greed – 'you'll meet important people and get places.'  In Sinn Féin there's no boloney like that. They'll just tell you if you join Sinn Féin you'll be part of a cause, and all they'll promise you is work. It's more honest and goes right down to the core of the human being. Republicanism comes from the heart."
Louth Sinn Féin TD Arthur Morgan has nothing but praise for the couple. "They are great workers", Arthur says, "extremely methodical – expert canvassers and brilliant on the doorsteps.  They are also very good-natured. During the various election counts they'd come along with sandwiches and flasks of tea."  Not only were they feeding the Shinners, but the rest of the sinners as well. "They'd feed anyone at the count. Ruth and Danny are caring people, full of heart." 
Were they happy to be asked to accept the honour, I ask the pair?  "I was very much surprised, but I was absolutely delighted", Ruth tells me.  "It was the last thing on our minds really."  "'Shocked' would be the word", Danny laughs. "I was very, very happy though."
As Louth republican Ronan Caffrey, who knows the couple very well, says: "You don't have to be shot or jailed to deserve honour. This couple come out seven days a week when needs be, come hail, rain, storm or sickness. They so deserve this honour."
 Great influence: Brian Keenan and Joe Cahill
An Phoblacht Magazine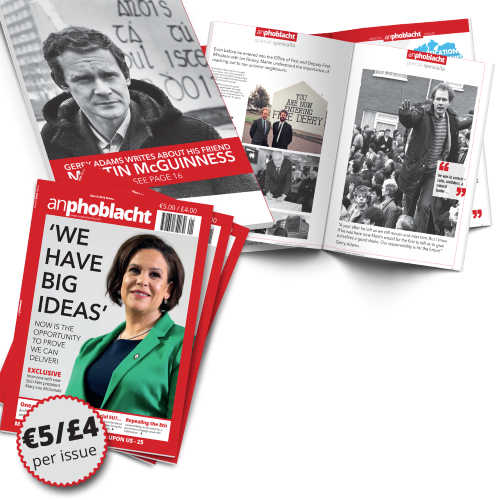 AN PHOBLACHT MAGAZINE:
The first edition of this new magazine will feature a 10 page special on the life and legacy of our leader Martin McGuinness to mark the first anniversary of his untimely passing.
It will include a personal reminiscence by Gerry Adams and contributions from the McGuinness family.
There will also be an exclusive interview with our new Uachtarán Mary Lou McDonald.
test