14 January 2010 Edition
Bomb attack on PSNI member furthers no cause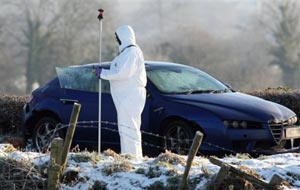 Senior Sinn Féin politicians have condemned the bombers who attempted to kill a PSNI member near Antrim last Friday 8 January.
The attack, according to Mitchel McLaughlin, "was timed to counter Sinn Féin efforts to break the deadlock with the DUP over the devolution of justice and policing powers to Stormont".
Joint First Minister Martin McGuinness described PSNI man Peadar Heffron as "someone who serves the community".  
The attack on the PSNI officer occurred last Friday morning, 8 January, as he drove from his home in Antrim Town to Woodbourne Barracks in West Belfast, where he is based.
A bomb exploded under his vehicle, leaving the PSNI man critically injured. He was brought to Antrim Area Hospital in the immediate aftermath of the explosion but so serious were his injuries that he was transferred to the Royal Victoria Hospital in Belfast. Heffron underwent surgery on Tuesday12 January, during which his right leg had to be amputated.
Heffron was described as playing a high profile role within the PSNI, as he is a fluent Irish speaker and captained the PSNI Gaelic football team. Indeed, he addressed the first Irish language engagement between the Policing Board and the nationalist Irish language community in Derry at the end of last year.
The injured PSNI man is reported to be the cousin of Sinn Féin national chairperson Declan Kearney.
A group using the name Óglaigh na hÉireann said it carried out the attack, which was similar to that on a car in East Belfast last October.
Rounding on the attackers, Martin McGuinness said that "the man injured in this attack contributes positively to the community.
"The people who carried out this attack make no contribution.
"These actions serve no purpose and will not further any cause."