7 January 2010 Edition
The new decade will be what we make it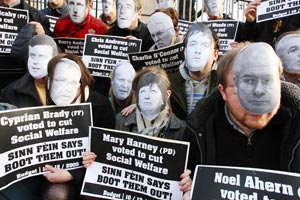 BY CAOILFHIONN NÍ  DHONNABHÁIN
Sinn Féin Director of Political Operations (26 Counties)

WE are entering a new decade. It is the centenary of a decade of revolution. In three years it will be the centenary of the 1913 Lock-Out. In six years it will be the centenary of the 1916 Rising. These anniversaries will create a space in public discourse that will enable Irish republicans to advance our vision for Ireland - we will have to be ready to grasp the opportunities that will be presented.
As we enter this new decade, Sinn Féin needs to project a course for ourselves - clearly seeing where we want to be at the end of the decade. This is something that is crucial, particularly for the party's project in the 26 Counties. While we have to focus on elections (and in the year ahead we face, at a minimum, a by-election in Donegal South-West and a Westminster general election), we have to remember to look beyond simply focusing on the next election.
The real effects of the economic crash are being felt across the country. In the South this week, social welfare cuts come into effect as do cuts to the income of those public sector workers on low and average wages. In the coming months, the real impact of the Budget on public services will begin to be felt. Hundreds of thousands of people are now unemployed. Amongst those worst affected are young workers under the age of 25. As welfare cuts target this group, the prospect of losing another generation of young, skilled and educated people to emigration looms large. The policies being pursued by Government would see this decade being a repetition of what happened in the 1950s or the 1980s.
Yet at the same time there is a great and unprecedented opportunity to build something better. Economic difficulties and recession do not see public opinion automatically turn to radical or revolutionary parties, however. It is a time for Sinn Féin to be assertive, forthright and confident in setting out our alternative. It is not a time for mincing our words. Our greatest task is to propagate a belief that it is possible to build and deliver a better alternative.
Sinn Féin needs to focus on convincing the young unemployed and those still in education to be part of our project, to stay in Ireland and to work towards constructing a political, social and economic alternative. We need to engage this specific section of the population in understanding how the political philosophy and economic approach of the Government (shared by Fine Gael) saw prosperity wasted and their futures thrown away. In 2010, young people need to be at the centre of our campaigning efforts.
While many will have looked on with dismay at the unions' negotiations with the Government regarding public sector pay, the trade union movement will have to play a crucial role if the downward pressure on wages is to be resisted.
The unions were outmanoeuvred long before they entered the pre-Christmas pay talks, having been  practically boxed in over a number of years by social partnership, restrictive legislation, and a concerted propaganda onslaught through the mainstream media that convinced many private sector workers that public sector workers were their enemy.
Worryingly, the ease with which the wages of lowest-paid public sector workers were cut will embolden those who want to cut wages in the private sector and in particular boost the lobby for reducing the minimum wage.
In 2010, Sinn Féin, working with the unions, has to be to the fore in fighting attempts to cut the minimum wage.
Our activism in 2010 should not be overly focused on leafleting or distributing material. Nor should we spend any more time than is absolutely necessary on internal meetings. We don't need just to be busy - our activism must be useful. We have to focus on convincing people and getting them involved. We must grasp the opportunity presented by this year's Ard Fheis to grow the party's membership.
The New Year will see the party in the 26 Counties engaging in a campaign for 'Jobs for the Unemployed' which will have a particular emphasis on the young unemployed. This campaign will be a vehicle for the party to provide an effective opposition to the outright attack on young workers exemplified by the cuts to their dole payments.
From the outset, those we are campaigning for must be centrally involved in designing and driving the campaign. This has to be approached in a serious way that involves an understanding of what makes successful campaigns.
We must use the skills of activists to drive the campaign and, where needed, ensure activists are enabled to acquire new skills required for effective modern campaigning. This campaign needs to be taken by local areas and adapted to local needs. Taking the broad parameters of the campaign, local areas need to take the initiative and need to be innovative.
In 2010, we need to take a step-by-step approach to building support and mobilising public opinion.
We need to assess where we are at and what has worked over the last number of months.
We must look at where mistakes have been made and where actions have been taken that have undermined the party's strategy, ensuring that no repetition of such actions happens in the year ahead.
We have to doggedly stick within agreed strategies. Locally and nationally, we need to set realistic goals for the year ahead - for growing membership, increasing support and building campaigns that have an impact. And we need to start thinking about where we want to be at the end of the decade and what we need to do to get there.
An Phoblacht Magazine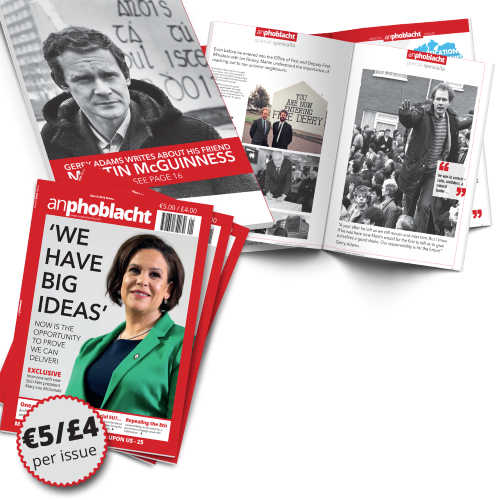 AN PHOBLACHT MAGAZINE:
The first edition of this new magazine will feature a 10 page special on the life and legacy of our leader Martin McGuinness to mark the first anniversary of his untimely passing.
It will include a personal reminiscence by Gerry Adams and contributions from the McGuinness family.
There will also be an exclusive interview with our new Uachtarán Mary Lou McDonald.
test