7 January 2010 Edition
From the long war to the long shadow of Thatcher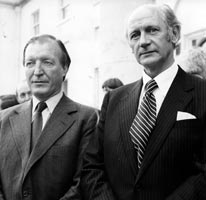 BY ROBBIE SMYTH
AN UNBEATABLE IRA, an incompetent, uncaring Irish Government and a British political establishment whose deviousness and deviance, already well-catalogued, now stands at the precipice of a new era as the Thatcher years commence and more than a decade of her malicious vehemence is unleashed on the world. Welcome to 1979.
The Six Counties in particular felt the sharper end of the Thatcher era, from the No Wash Protest to the hunger strikes, intensified shoot-to-kill policies, social welfare cutbacks and deliberate economic discrimination. It was clear even before Thatcher took office, however, that no section of the weak or poor in society would be spared her savagery.
The limited release of the 1979 state papers heralding her long tenure in Downing Street show even in their edited and sanitised reports a political leader who was spiteful and vicious, whether dealing with her own ministers, international heads of state or, more acutely, as she began to mould the policies of exclusion and discrimination that characterised Thatcherism.
Looking back on the Government reports from 1979, it is tempting to find many parallels between then and now. You have the common threads of war in Afghanistan, turmoil in Iran and an international economic recession threatening to paralyse the global economy.
In the Irish context, you have in both eras a Fianna Fáil Government unable and unwilling to face up to either its policy failures or the economic and societal challenges that were looming. In both eras you have a Cabinet two-faced and short-sighted but the 1979 incarnation exhibited a self-interest focused on an internal power struggle for control of the party while the economic situation deteriorated and any chance of resolving the causes in conflict in Ireland was studiously ignored.
Irish Government duplicity in 1979
1979 was a year of substantial transformation in the political establishments of Ireland and Britain as not just a substitution of prime ministers took place but party leaderships were changed across Ireland and Britain.
Thatcher emerged with a slim majority from the 1979 Westminster elections and gave Britain its first female prime minister, while the scheming and intrigue of Fianna Fáil's parliamentary party gave Charle Haughey, by a narrow majority, the Taoiseach's position.
John Hume was elected MEP and leader of the SDLP while Jim Molyneaux replaced Harry West in what was then known as the Official Unionist Party, rebranded now as the Ulster Unionists.
Ian Paisley cemented his political leadership of the DUP  – and unionist opposition to both British and Irish Government policies on the North – by adding new seats to the DUP's Westminster representation and his own overwhelming victory in the inaugural European Parliament elections.
According to British Government papers, Paisley sent a telegram to Thatcher after his election demanding she meet with him as he was now "the undisputed leader of Ulster".
What did the Irish Government think about any of these things? Very little is revealed. The media reports focus on much other meaningless minutiae of Irish social and political life, the details of which do not show the Irish Government in a positive light. They do show a government of double standards with no real vision or grand designs for a better Ireland.
One example of Government double-standards was concern about the travel and expenses of civil servants. Government workers were told in November 1979 to only use one bar on electric heaters and wear warmer clothes to save on energy costs. In the summer, fans were only to be used when essential.
Civil servants were told not to use chauffeur-driven or hire cars and "no use of telephone, telex or cable should be sanctioned where postal communication is possible".
In the same year, Defence Minister Bobby Molloy authorised spending of £2.3 million on a new Government jet and also leasing a second while awaiting delivery of the new plane. So, one rule for the ministers and another for the civil servants.
Discrimination against women
The Irish Government's attitude towards women and institutionalised discrimination was also brought into sharp focus in the state papers released.
In 1976, the Attorney General had said he would only consider abolishing a law that gave a husband the right to sue an adulterous wife but not let a wife sue an adulterous husband if "it could be shown that public opinion supported their appeal".
In 1978, the then Minister for Justice, Gerry Collins, rejected a request by the Council for the Status of Women to change criminal law and make rape within marriage a crime. At the same time, Collins said on RTÉ radio that he did not believe that rape was on the increase and that "a number of rape incidents might never have happened if young girls were a lot more careful in who they got lifts home from parties and discos from".
A final example of Government's discriminatory attitudes towards women was also shown in a memo that proposed that rates of pay for women allowed into the Defence Forces would be "less than those of men".
International double standards
In the international arena, the behaviour of the Irish Government was bizarre.
In 1976, the then Fine Gael Foreign Affairs Minister, Garret FitzGerald, had refused sanctuary to Vietnamese 'Boat People' refugees. When the international spotlight on the plight of the boat people was greater in 1979, Fianna Fáil allowed some refugees to come to Ireland.
The Irish Government recommended that Aer Lingus keep secret the fact that it was training Egyptian Air Force personnel. At the same time, the Irish Government was secretly trying to open up trade links with Libya, even though they knew of the Libyan Government's growing contacts with the Republican Movement in Ireland. The Government didn't want to lose the trade links so they kept the deals secret. They did, however, refuse a request that the Air Corps train Libyan pilots.
Another secret the Government tried to keep in 1979 was the decision to agree to a Pentagon request to allow 12,000 US soldiers to transit through Shannon on their return from a NATO exercise in Germany. The US troop movements apparently only came to light when the American Embassy contacted the Department of Transport to ask that US customs officials be allowed to check the planes at Shannon.
The Irish Government today presents itself as being at the heart of Europe and supporting enlargement and integration. It was a different story in 1977 when a memo approved by the Government argued against the EU allowing Spain, Portugal and Greece to join on the basis that it was "unlikely that enlargement would bring to Ireland any significant balancing economic or tactical benefits". However, the Irish Government was not prepared to publicly oppose enlargement.
Perhaps the most telling example of Government behaviour in 1979 was the disclosure that Irish diplomats in Saudi Arabia were illegally smuggling alcohol into their embassies, one of the reasons for which was that there might be ministerial visits and that "ministers also like to be served liquor"!
Comrade Hillery
Examples of the Irish Government's pettiness can be seen in its treatment of President Patrick Hillery.
In June 1979, Department of An Taoiseach officials were concerned that, when unveiling a statue of Jim Larkin on Dublin's O'Connell Street, the phrase in Hillery's speech where he said  "let me express the hope that the statue will serve as a reminder to us and future generations of the debt which is owed to Jim Larkn and his comrades" should be altered, as the term 'comrade' had "communist connotations, which would be unfortunate".
Hillery also had to delete the description of the statue as being a "symbol of lasting determination to pursue his aims", as this would be an endorsement of "government by the proletariat, world socialist alliance, etc".
When Hillery wanted to go on a two-day sailing expedition that would take him out of Irish territorial waters, the Government decided to consult the Constitution and the Attorney General before they would give consent to the trip.
In February 1979, Hillery had been told not to present an award to veteran Irish writer Liam O'Flaherty as he was "frequently very cranky". Instead, Hillery was told to invite the author of 'The Informer', the 1936 John Huston film which had won four Oscars, for a short visit to Áras an Uachtaráin in the Phoenix Park.
Another reason for not giving O'Flaherty the award was that it was sponsored by a bank – AIB in this case. It seems that, in the intervening years, Fianna Fáil got over its scruples about accepting money from banks.
Also in 1979, a row broke out between the departments of An Taoiseach and Foreign Affairs over an invitation for Patrick Hillery to attend a golf tournament in Boston, USA. The Taoiseach's department demanded control of all invitations and felt that only the White House should invite Hillery to the United Stayes, not a state governor. Serious decision making at work here.
Racist Thatcher
One example of the Thatcher extremism in her early days in office was the threat in August 1979 to impose restrictions on Irish people living in Britain, including taking away their right to vote.
In July 1979, Thatcher had written in a note to her Foreign Secretary, Lord Carrington, that it was "quite wrong that immigrants should be given council houses ahead of white citizens". Thatcher had also refused to accept 10,000 refugees from Vietnam on the basis that "it was essential to draw the line somewhere" and that any citizens who had supported letting the Boat People come to Britain should "be invited to accept one into their homes".
The refusal of the U.S. to allow the RUC be armed with American revolvers also sparked the ire of Thatcher. The U.S. had refused to export the weapons on the basis that it did not want to take sides in the conflict.
Thatcher's response was to accuse the Americans of "financing terrorism". She is noted as saying: "The Americans must be made to realise that for so long as they continued to finance terrorism, they would be responsible for the deaths of U.S. citizens."
Thatcher was also galled by a proposed visit by New York Governor Carey to the Six Counties. Thatcher said:
"Northern Ireland was part of the United Kingdom and she herself would not think of discussing with President Carter, for example, US policy towards their black population."
The double standards of the Thatcher era were signalled in a letter written to British Labour Prime Minister James Callaghan in 1978, where she opposed plans to officially admit to the existence of MI6. Thatcher wrote: "Never admit to anything unless you have to."
One example of this was the refusal by the British to allow the deposed dictator, the Shah of Iran, seek refuge in Britain. A retired ambassador was sent, using a false identity, to the Caribbean to tell the Shah he was not welcome in Britain. Thatcher was, of course, "privately sympathetic to his plight".
Conflict in Ireland
The attacks on British soldiers in Warrenpoint and the explosion that killed British aristocrat Lord Mountbatten tend to dominate media reviews of 1979 and both operations exhibited the tenaciousness and skill of IRA Volunteers in planning, mounting and successfully carrying out such attacks.
They were only part of a deepening low-intensity conflict characterised by numerous examples of a dirty war being waged by the British, the futility and failures of which were leaked by An Phoblacht in a secret British Army document now known as the Glover Report. Its official title was Northern Ireland: Future Terrorist Trends and was prepared in November 1978 by Brigadier General James Glover.
The document's controversy was on two points: firstly, that it had been leaked and obtained by Irish republicans; secondly, it accepted that the IRA could not be defeated and had the capacity to carry on the war for the "foreseeable future".
A 1976 Irish Government file released this year shows clear knowledge by the Government of British Army activities. The note tells how British Army checkpoints were delaying cars at border crossings in Donegal and Monaghan not out of security concerns but to keep Donegal traffic out of the North.
Also telling was the assertion in the claim of 30 shootings at British checkpoints where their personnel allegedly came under fire. Of the 30 incidents, only two were actually verified.
This did not deter the Irish Government, under Jack Lynch and then Charles Haughey, from allowing British helicopter overflights into the 26 Counties' airspace in what Thatcher had called "hot-pursuit" operations. Lynch said in September 1979 that he had "no basic objection" to the British proposal.
Also released in the state papers was a 1978 request from the British Army for a change in the law that would allow them shoot at unarmed escaping prisoners from the Long Kesh prison.
Behind the scenes, the British Government were using every means possible to lobby against nationalists and republicans in Ireland. An October 1978 memo shows an NIO official suggesting approaching the Bishop of Armagh to remove Fr Raymond Murray from the chaplaincy post at Armagh prison, as he was too supportive in lobbying about the escalating   No Wash protest.
British Labour politician Roy Jenkins, who in 1979 was the president of the EU Commission, was used by the British Government to lobby Pope John Paul II ahead of his visit to Ireland in September 1979.
Jenkins asked the Pope not to "say anything publicly that could be interpreted as support for Irish unity" and "it would be of great advantage if the Pope could speak out against terrorists, and also those who help, assist, comfort and support them". John Paul duly delivered on the British request when addressing a congregation in Drogheda, showing once again the devious and scheming lengths the British Government were prepared to go to in Ireland.
The SDLP support internment
The SDLP's political position features in the 1979 papers with one Irish diplomat, David Nelligan, claiming that John Hume supported the introduction of internment. Nelligan wrote that Hume's thoughts "were evidently running towards the idea of internment as a solution to the IRA violence".
Nelligan said that Hume suggested:
"The authorities could publish names of suspected members of illegal organisations and require them to announce publicly that they had severed all connections with those bodies, or alternatively be interned."
The role that the British and Irish governments wanted the SDLP to play in the North was shown in a report of a February 1979 meeting between Foreign Affairs Minister Michael O'Kennedy and Northern Secretary Roy Mason.
Mason said that he had never described the SDLP as extremists but the party "must be encouraged to concentrate on short-term means for devolution". Mason said:
"Too much talk of Irish unity in the short-term made it difficult for the unionists to compromise over devolution."