10 December 2009 Edition
Remembering the Past: Sinn Féin member and five IRA Volunteers killed
BY MÍCHEÁL Mac DONNCHA

THE month between 16 November and 17 December 1984 saw the deaths of a Sinn Féin member at the hands of unionist gunmen and of five IRA Volunteers in action against the British crown forces in Counties Antrim, Fermanagh, Derry and Armagh. It was one of the most intense and tragic months of the conflict.  
Paddy Brady was a Sinn Féin activist in the St James's area of west Belfast. A tireless worker for the republican prisoners and their families, he was also extremely active in his local community. He worked as a milk roundsman and on 16 November he was shot dead outside Kennedy's Dairy on the Boucher Road. His UDA assassins escaped in a car towards the nearby loyalist Village.  
In the early hours of 2 December, IRA Volunteers in Belleek, County Fermanagh, were waiting with a landmine to ambush British military forces. They were surprised by an undercover unit of the British Army's SAS (Special Air Service). Volunteer Antoine Mac Giolla Bhrighde was with another Volunteer in a van, which was to be used to leave the ambush site, when the SAS car approached. Mac Giolla Bhrighde walked towards the car to investigate and it is believed he was then captured by the British soldiers, beaten and shot dead.  
The SAS unit was fired on by the other IRA Volunteers and British soldier Alistair Slater was killed. The Volunteers retreated across the swollen River Bannagh and Volunteer Ciarán Fleming, who was unable to swim, was swept away and drowned. His body was missing for over a fortnight. A 50-strong search party, led by Martin McGuinness and Owen Carron, scoured the banks of the river and both were among ten of the party arrested by the RUC. Volunteer Fleming's body was recovered on 21 December. He was one of the 38 republicans who had escaped from the H-Blocks of Long Kesh in September 1983.
While Ciarán Fleming was still missing, his cousin and fellow Volunteer, William Fleming of Derry, also died tragically. Nineteen-year old William Fleming and Volunteer Danny Doherty (23) were on a motorbike, driving through the grounds of Gransha Hospital, on the outskirts of the city's Waterside, on 6 December when they were shot dead by British soldiers using high-velocity weapons. Both were hit over 30 times. The RUC left the bodies of the two Volunteers in the open, where they had fallen, for over five hours.


ATTACKS ON MOURNERS
Belfast native Seán McIlvenna was the father of a large family and was an IRA Volunteer based in Dundalk. On 17 December 1984, he was part of an IRA unit that ambushed a British Army UDR mobile patrol near Blackwaterstown, County Armagh. The landmine wrecked the British Army Land Rover, injuring several of the soldiers inside. While withdrawing from the ambush site the IRA unit encountered an RUC patrol which opened fire, killing Volunteer McIlvenna.  
The funerals of Volunteers Mac Giolla Bhrighde and Fleming were notable for the attacks on mourners by the RUC, a pattern of such attacks on republican funerals having begun the previous year. Speaking at the graveside of Willie Fleming and Danny Doherty in Derry, Martin McGuinness said:  
"We are an occupied people and those brave enough to fight repression deserve nothing but respect and unfailing support from all. Only the freedom fighters of the IRA can bring Britain to the negotiating table."  
Five IRA Volunteers and a Sinn Féin member were killed 25 years ago in November and December 1984.
(clockwise from top left) Sinn Féin activist Paddy Brady, IRA Volunteers Antoine Mac Giolla Bhrighde, Ciarán Fleming, William Fleming, Danny Doherty and Seán McIlvenna 
An Phoblacht Magazine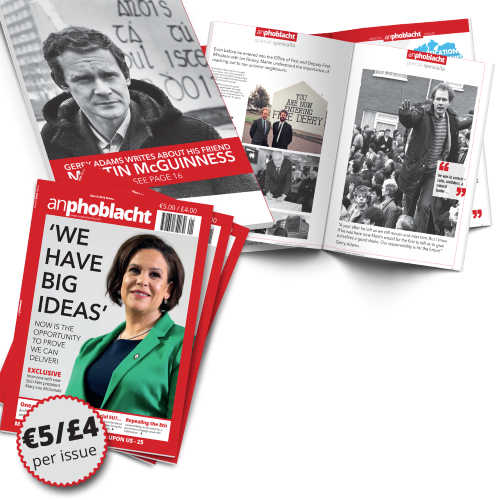 AN PHOBLACHT MAGAZINE:
The first edition of this new magazine will feature a 10 page special on the life and legacy of our leader Martin McGuinness to mark the first anniversary of his untimely passing.
It will include a personal reminiscence by Gerry Adams and contributions from the McGuinness family.
There will also be an exclusive interview with our new Uachtarán Mary Lou McDonald.
test